Russian crime syndicate, more of a terrorist group. The movie is from a book with same title by David Lagercrantz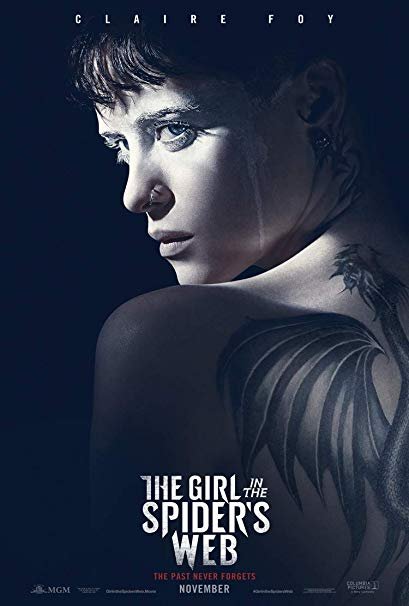 source
Movie: The girl in the Spider Web
Genre: Action, thriller
Director: Fede Álvarez
Released Date: October, 2018
Run time: 1hr 57m
Cast: Claire Foy, Sverrir Gudnason, LaKeith Stanfield, Sylvia Hoeks
The movie started with a scene of two little sisters playing chess, Lisbeth Salander (Claire Foy) and Camilla Salander ( Sylvia Hoeks) who got interrupted by their father, requesting to see Camilla.
Upon meeting their father, Lisbeth observed his melancholic callous movement on camilla. She quickly grabbed her sister's hand and ran towards another inn, in a haste to to escape through a window as her father is an abusive tyrant.
But Camilla relented and Lisbeth jumped off the story building landing with no hope of survival and stormed into the snowy alley.
Lisbeth later became a Hitwoman and also an A level hacker. She got a contract from a Computer programmer Frans Balder to retrieve a Firefall data he developed for NSA (National Security Agency). As he believes shouldn't exist, if falls in the wrong hands, could be used as mass nuclear weapon.
Lisbeth successfully stole the firefall, which attracted the crime syndicate group called "Spiders" and as well NSA agent Edwin Needham (LaKeith Stanfield). She could have destroyed it but she had no access to the password, Frans Balder concluded that she stole it and reported to security agency in Sweden.
The movie revolves mainly round the firefall program and encounter between the two sisters after both have survived in different environments.
It was later found out that Camilla was the head of Spiders terrorist group, Lisbeth fought her way through trying to protect the programmer and the software leading to many heroic and action scenes.
On a scale rating, The girl in the Spider web is predictable with the first scene as to the Protagonist & Antagonist. Then where the suspense comes in is the long wait for their encounter, as there where no scenes of their martial arts training. Therefore you can't decipher who is more skillful than the other, so await patiently for the sisters to unleash their potentials.
But still not the case, not planning to be a spoiler in case you haven't seen it.
Trailer: