클렛에서 제공하는 에어드랍입니다.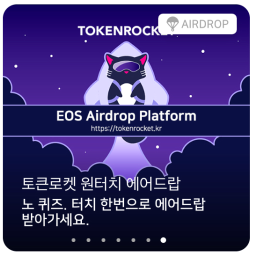 클렛을 사용하시고, EOS에 익숙하신 분들은 그냥 받으시면 됩니다.
퀴즈 같은거 풀 필요 없습니다.
아래는 토큰로켓 관련 정보입니다.
TokenRocket is an airdrop one-stop solution. Users can import their EOS accounts and check various information about cryptocurrency on the app.
좀더 자세한 사항은 아래 공식 미디엄 사이트에서 확인하시면 되겠습니다.
미디엄 : https://medium.com/@tokenrocket
---
Sponsored ( Powered by dclick )
특정 매체'만'을 접하지 말고 다양하게 접하는걸 추천합니다.