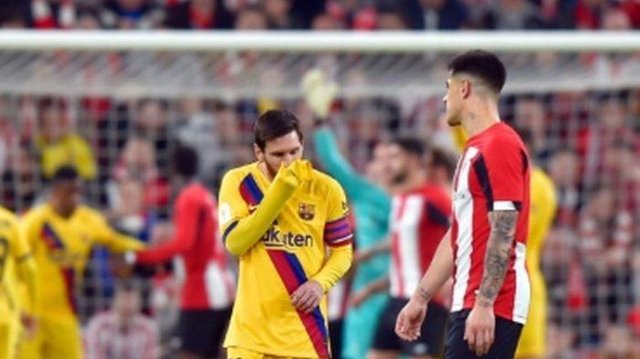 .
---
Pah glak tuh takalon Barca taloe bak Copa del Rey watei dilawan Atletic Bilbao bunoe bungoeh. Hana kusangka meubacut pih ek sampoe taloe Barca. Peuda hai dimuen meulupah lagak, tapi ngon seubab bohla diboet dari sampeng bak minet 90, si Inaki William dipuloep bohla. Sineuk meuramah Barca.
I was not happy to know Barca lost against Atletic Bilbao in Copa Del Rey this morning. I never though about it at all. Barca played well during 90 minutes but a kate goals by Inaki Williams made Barca lost 1-0.
Nyoe ka sama lagei Madrid yan keumah jih 4-3 i kawan Real Sociedad. Awak nyan dua jih klub raya tapi ka suah bungkoeh bajei bak perempat final. Nyan kuh sipak bohban, hana tatuoh teubak kiban ujoeng.
Barca followed Real Madrid that has been lost 4-3 againts Real Sociedad. That is football. Sometimes we can not predict the result.
Taloe watei lawan Bilbao meuakhei ceritera 7 kali dimuen Barca bam final piala nyan.
Barca lost against Bilbao made them ending their run of six consecutive final appearances.
Kakueh meunan aju, Barca jinoe pikei beu na piala bak la liga dan liga champion agai. Nhan pih sang brat tat suah dimeujuang.
It had happened then Barca must work hard to win La Liga and European Champion League this season. What will be, will be.