Hey everybody!
TGIF!! It was a good finish to the end of my workweek. At the end of the day, the doc had gone home; my coworker had gone as well, and I was left with the last patient to finish up measuring her for her two pairs of glasses. After she left, I locked the doors and turned off all the lights except my desk lights and one overhead in the back office where I do most of my work. I was able to get the insurance billed, the order in our office software, and the glasses ordered. It was an unusual thing to be the last one there on a Friday, but my boss is still on vacation, so I stayed to finish so it wouldn't be waiting for me on Wednesday next week when I return. I locked up and headed for home.
I had ordered a Christmas present for my husband which came today to the post office. I am so bad-I couldn't wait, so I gave it to him seriously early. You'll probably see it in the near future on one of his posts.
We connected with Jan and off we set for the country roads hike. We were walking a particularly wooded area of the road when just above us and to our right, was the sound like someone screaming. Well, we know that cougars can sound like women or children crying, so I immediately told Jan to come towards us as she was closest to the sound. It sounded off about three more times, and we decided it was a screech owl. It certainly was eerie for sure!
After we got home, I fixed some fajitas for dinner and we watched just a little TV. It's soon time for bed and once again, I am more than ready!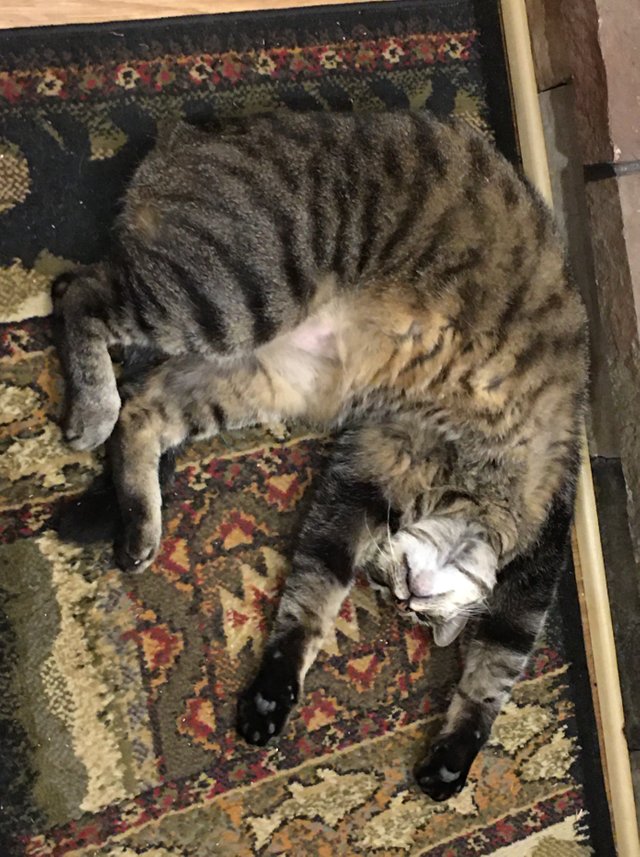 Dead kitty in front of the wood stove.
Thanks for stopping by! Don't forget to keep on steppin'! Any exercise is good for you, so keep at it. Have a wonderful day wherever you are!


13360

Daily Activity,Hiking,House Chores,Moving Around Office