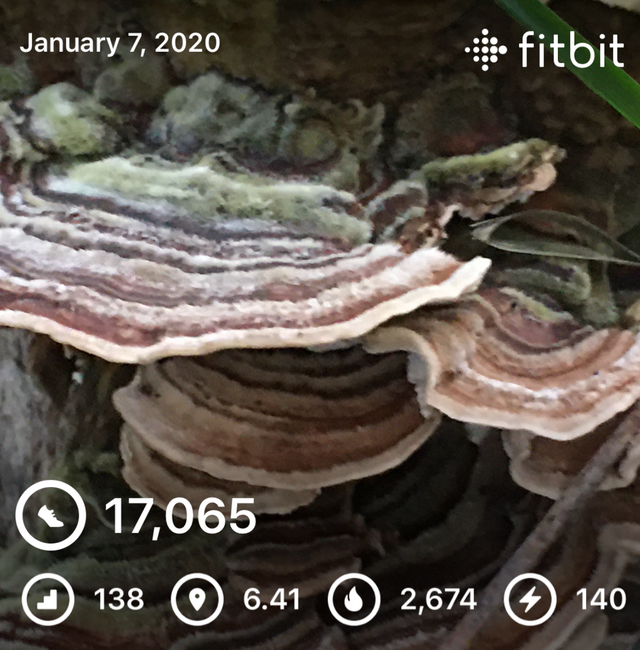 Hello everyone! Thanks for stopping by!
I set my alarm clock this morning to make sure I got up on time for my ladies Bible study! Today was the first one of the new year, and the first one I've been able to attend since the beginning of December. We were starting a new series too, so I didn't want to miss it!
It was great to see all the ladies again and to dig into the Word. I am excited to see what next week brings. This January marks the 5th year I've been with group. We always have a good time and learn a lot!
Amazingly enough, it wasn't raining today. Overnight, it rained hard continuously. I thought for sure that it would be today. By it not, it gave us the opportunity to go for the long hike. We headed up the road, and noticed one of our neighbor's door was completely open to the elements. It was windy enough, that I wondered at the sanity of our going up into the woods, but I wasn't so sure that was the cause of the door being opened. I didn't have this particular neighbor's phone number, so I called another one who often goes to watch the game with him. Unfortunately, I couldn't make contact. We decided to go on and hike.
It was pretty windy for sure, and as I stated before, I wondered about safety. There are about 3 different trees along the trail system that a precariously balanced as they previously fell part ways.The first one is just as we approach the upper trail. It is gently resting in the thinner branches of trees below it. There really isn't a lot holding it in place and when the wind starts whipping around, you kind of just run past it hoping for the best. The second one is at the head of the upper trail, and has been that way for the better part of the year. It has twisted a bit since it first fell, but is being balanced by another tree. I keep expecting it to be down, but so far it's still hanging in there. The last one is on the back side of Buck Horn Ridge. It's a recently twisted, splinter type break that is leaning over the trail and is probably the least stable of the three. Judging by the projection of where it will fall when it does, you do not want to be on that part of the trail at all! It's going to cover a good 20+ feet of the trail when it goes. There will be no where to run! However, run, I did!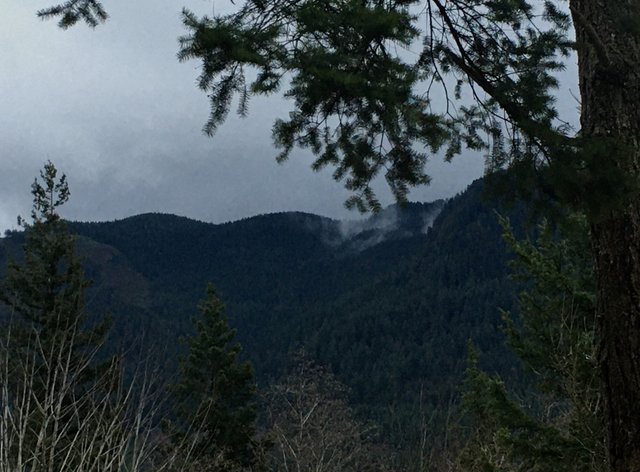 When we came back down, we check on the neighbor's house again. The door was indeed still open. I tried calling and texting the neighbor I spoke of earlier in this post, but again, no response. We finally decided to head for home, however, the neighbor who owns it was coming up the hill toward us on his way home. We flagged him down to tell him. He said it was not big deal as the door will blow open if he forgot to give it a good final tug when he leaves. Apparently, that's what happened. We live on a dead end country road, and we all know each other fairly well, so he wasn't worried about a break in. We just didn't know about this idiosyncrasy of his door.
It's still blowing out there and now is raining to go along with it. The weather is forecasting snow tomorrow, but that will only happen if the temperatures drop 25 degrees or so. We are going to need an arctic blast for that to happen! I guess we will see tomorrow.
That's going to be it for now; tomorrow is my work 'Monday' and there will be lots to do there. Have a wonderful night!
Thanks for stopping by! Don't forget to keep on steppin'! Any exercise is good for you, so keep at it. Have a wonderful day wherever you are!




17065

Daily Activity,Hiking,House Chores