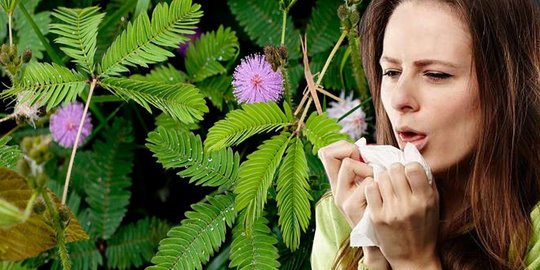 ---
Domestic Violence or abbreviated as Domestic Violence is a despicable and unlawful act in accordance with Law No. 23 of 2004 concerning the Elimination of Domestic Violence. However, this domestic violence is not against any law, even efficacious for health.
This domestic violence is a creative product of Malikussaleh University students who are conducting a Community Service Program (KKN) in Desa Ujong Kuta Batee, Kecamatan Meurah Mulia, Aceh Utara. The Group 62 students of KKN processed the shame princess leaves (mimosa pudica) into crispy chips. They creatively labeled the Forgotten Crispy Mimosa Pudica. Abbreviated as domestic violence.
It is not wrong if they call it domestic violence, because the daughter's leaves are a shame which is a type of weed plant which is often considered to be of no use other than to feed cattle.
In fact, many references mention the daughter was ashamed to have many health benefits. The site www.himedik.com mentions there are dozens of benefits of the mimosa pudica. Starting from healing wounds in diabetics, coughing, hepatitis, liver health, overcoming insomnia, stopping bleeding and infections, overcoming fever, to be considered beneficial for male strength.
There are still many other benefits that are not yet widely known to ordinary people. So it is only natural that Group 62 students mention it as the Forgotten Village Flower. Called the Flower Village, because the princess leaves are a lot of shame in the village and people who see it do not realize the great benefits contained in tiny sheets of Mimosa Pudica.
According to Doctor Gopi Krishna Maddikera of MavCure, tmimosa pudica has antibacterial, antivenom, antidepressant, aphrodisiac, anticonvulsant, anti-fertility, and anti-asthma properties. This plant also has emetic, sedative, and tonic properties.
In addition, Mimosa Pudica is very rich in alkaloids, flavonoids, non-protein amino acids (mimosin), tannins, sterols, terpenoids, and fatty acids.
According to Khairilianti from the Group of 62 Malikussaleh University students, they used the mimosa pudica as the main ingredient of this food preparation. This method of making food is quite practical and can be made by anyone.
The steps are enough to provide the mimosa pudica as the main ingredient, wheat flour mixed with starch, spices such as garlic, candlenut, kumbur, coriander, food flavoring, 1 egg, salt, and a little whiting to make it crispy.
Then the spice material is mashed and then mixed with flour and fried. "KDRT is ready to be eaten as a snack or want to be used as a complementary menu of rice, meatballs, and so on," said Khairilianti, Friday (9/20/2019).
Khairilianti and other group members hope that KDRT can become a superior product for the people of Desa Ujong Kuta Batee because raw materials can be obtained free of charge and how to process them is very easy.
Another 62 Group member, Teuku Muhammad Mukhriz, said that they had also previously conducted a socialization on how to save money for local village children. Initiated by students of the Fakultas Ekonomi dan Bisnis (Faculty of Economics and Business), Arrayyan et al., They invited children to save early to reap the rewards in the future. [Ayi Jufridar]
---
---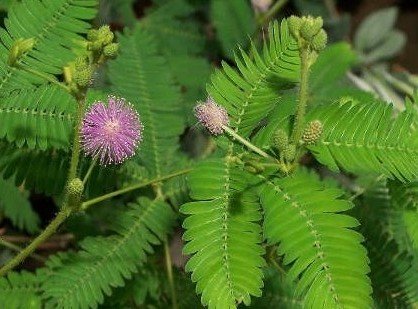 ---
KDRT Ala Mahasiswa KKN 62 dari Putri Malu
Kekerasan Dalam Rumah Tangga atau disingkat dengan KDRT merupakan perbuatan tercela dan melawan hukum sesuai dengan Undang-Undang Nomor 23 Tahun 2004 Tentang Penghapusan Kekerasan Dalam Rumah Tangga. Namun, KDRT yang satu ini tidaklah melawan hukum apa pun, bahkan berkhasiat bagi kesehatan.
KDRT yang ini adalah produk kreatif mahasiswa Universitas Malikussaleh yang sedang melaksanakan Kuliah Kerja Nyata (KKN) di Desa Ujong Kuta Batee Kecamatan Meurah Mulia, Aceh Utara. Mahasiswa KKN Kelompok 62 tersebut mengolah daun putri malu (mimosa pudica) menjadi keripik yang renyah. Dengan kreatif mereka memberi label Kembang Desa Renyah yang Terlupakan. Disingkat dengan KDRT.
Tidak salah jika mereka menamakannya KDRT, sebab daun putri malu yang merupakan tumbuhan sejenis gulma yang sering dianggap tidak bermanfaat selain menjadi makanan ternak.
Padahal, banyak referensi menyebutkan putri malu memiliki banyak khasiat bagi kesehatan. Situs www.himedik.com menyebutkan ada puluhan manfaat dari daun putri malu. Mulai dari menyembuhkan luka pada penderita diabetes, menyebuhkan batuk, hepatitis, kesehatan hati, mengatasi insomsia, menghentikan pendarahan dan infeksi, mengatasi demam, sampai dinilai bermanfaat bagi keperkasaan pria.
Masih banyak manfaat lain yang belum diketahui secara meluas bagi masyarakat awam. Jadi, wajar saja kalau mahasiswa Kelompok 62 menyebutkannya sebagai Kembang Desa yang Terlupakan. Disebut Kembang Desa, sebab daun putri malu memang banyak didapat di desa dan masyarakat yang melihatnya tidak menyadari manfaat besar yang dikandung lembar-lembar mungil mimosa pudica.
---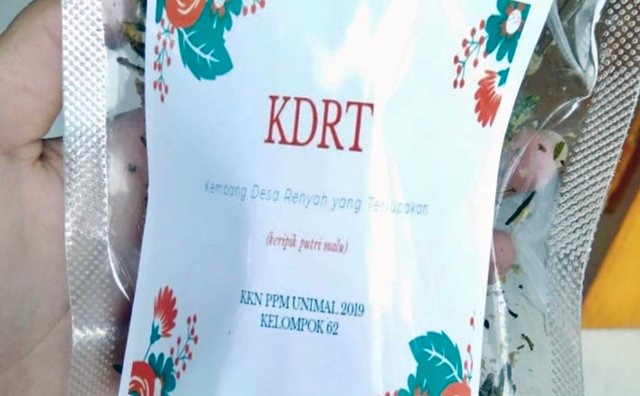 ---
Menurut Dokter Gopi Krishna Maddikera dari MavCure, putri malu memiliki sifat antibakteri, antivenom, antidepresan, afrodisiak, antikonvulsan, anti-kesuburan, dan anti-asma. Tanaman ini juga memiliki sifat emetik, obat penenang, dan tonik.
Selain itu, mimosa pudica sangat kaya akan alkaloid, flavonoid, asam amino non-protein (mimosin), tanin, sterol, terpenoid, dan asam lemak.
Menurut Khairilianti dari Kelompok 62 mahasiswa Universitas Malikussaleh, mereka menggunakan daun putri malu sebagai bahan utama dari olahan makanan ini. Cara pembuatan makanan ini cukup praktis dan dapat dibuat oleh siapa saja.
Langkah-langkahnya adalah cukup sediakan daun putri malu sebagai bahan utama, tepung gandum dicampur dengan tepung kanji, rempah-rempah seperti bawang putih, kemiri, kencur, ketumbar, penyedap makanan, 1 butir telur, garam, dan sedikit kapur sirih untuk membuat menjadi renyah.
Kemudian bahan rempah-rempah tersebut dihaluskan kemudian dicampurkan dengan tepung dan digoreng. "KDRT siap untuk disantap sebagai camilan atau mau dijadikan menu pelengkap dari nasi, bakso, dan sebagainya," ungkap Khairilianti, Jumat (20/9/2019).
Khairilianti dan anggota Kelompok lainnya mengharapkan KDRT bisa menjadi produk unggulan bagi masyarakat Desa Ujong Kuta Batee sebab bahan bakunya bisa diperoleh dengan gratis dan cara mengolahnya pun sangat mudah.
Anggota Kelompok 62 lainnya, Teuku Muhammad Mukhriz, menyebutkan sebelumnya mereka juga melakukan sosialisasi cara menabung bagi anak-anak desa setempat. Digagas mahasiswa Fakultas Ekonomi dan Bisnis, Arrayyan dkk, mereka mengajak anak-anak menabung sejak dini untuk menuai hasil di masa depan.[Ayi Jufridar]
---
---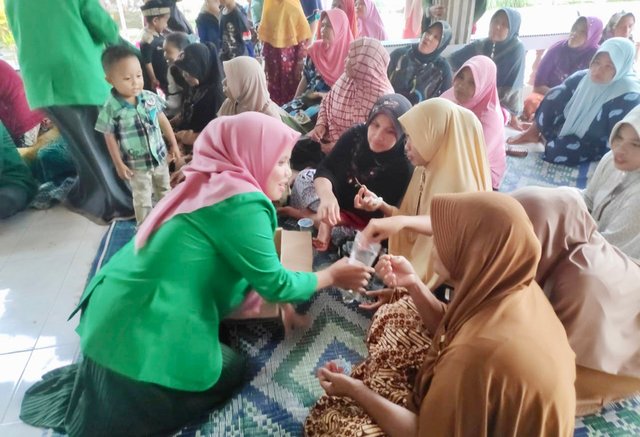 ---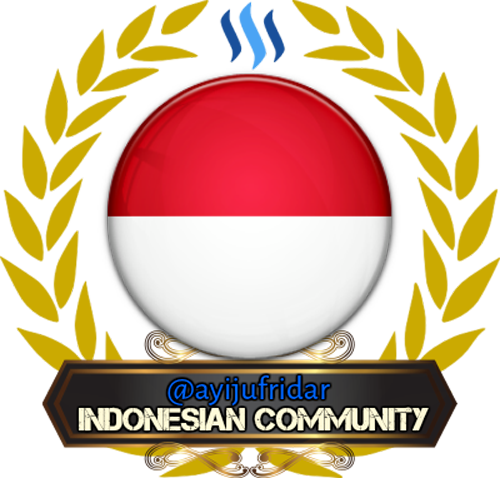 ---