Hi steemians! How are you today? I hope you are glad. Today I want to share about Pembukaan VCT Batch 5 Aceh.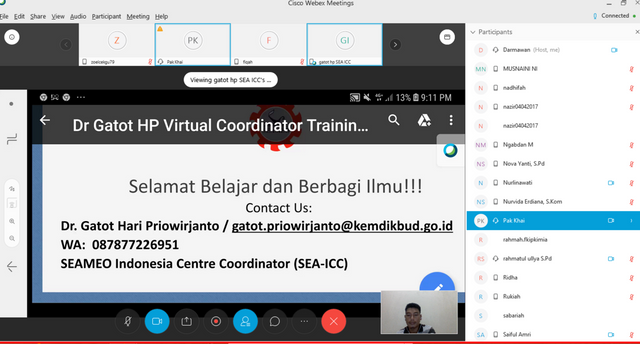 Virtual Coordinator Training (VCT Batch 5) has begun. The activity was officially opened by the Ministry of Education and Culture and the Director of 7 SEAMEO Secretariat, Dr Gatot Hari Priowirjanto on 1 August 2019 directly from Jakarta. This activity was attended by tens of thousands of participants from all over Indonesia. Activities take place virtually through the webex room. Likewise with Aceh. In this batch 5, Mr Gatot gave Aceh an area that was managed by the Aceh Regional Coordinator and the instructors involved.
Virtual Coordinator Training (VCT Batch 5) sudah dimulai. Kegiatan tersebut sudah dibuka secara resmi oleh pihak Kementerian Pendidikan dan Kebudayaan dan Direktur 7 SEAMEO Secretariat, Dr. Gatot Hari Priowirjanto pada tanggal 1 Agustus 2019 secara langsung dari Jakarta. Kegiatan ini diikuti oleh puluhan ribu peserta dari seluruh Indonesia. Kegiatan berlangsung secara virtual melalui room webex. Demikian juga dengan Aceh. Pada batch 5 ini, pak Gatot memberikan Aceh satu wilayah yang dikelola sendiri oleh Koordinator Wilayah Aceh beserta instruktur yang terlibat.
Mr Gatot paid very serious attention to education in Aceh. He specifically provided time to explain about VCT to teachers participating in Batch 5 Aceh VCT. He explained in detail about virtual learning in accordance with the 21st century. He also talked about the concept of a school hub that is able to connect schools in Indonesia with schools in Southeast Asia through virtual rooms. It is certainly very important to establish collaborative cooperation in the era of disruption.
Pak Gatot menaruh perhatian yang sangat serius terhadap pendidikan di Aceh. Beliau secara khusus menyediakan waktu untuk menjelaskan tentang VCT kepada guru-guru peserta VCT Batch 5 Aceh. Beliau menjelaskan secara detail mengenai pembelajaran virtual sesuai dengan abad 21. Beliau juga bercerita tentang konsep school hub yang mampu menghubungkan sekolah di Indonesia dengan sekolah di Asia Tenggara melalui room virtual. Hal ini tentu sangat penting untuk menjalin kerjasama yang kolaboratif di era disrupsi.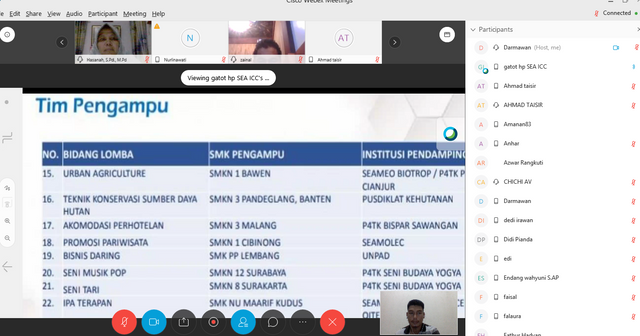 Mr Gatot invited related parties in Aceh, especially the Aceh Department of Education, to develop the concept of school hub. He will invite schools throughout Southeast Asia to establish cooperation with schools in Aceh. VCT is one way to prepare resources that can develop school hubs in the era of disruption. VCT was implemented using sky tolls in accordance with the Industrial Revolution 4.0. This is very useful in preparing competent school graduates in the era of disruption and being able to collaborate with schools outside Indonesia. Thus they are expected to have skills that can be developed throughout the world.
Pak Gatot mengajak pihak terkait di Aceh terutama Dinas Pendidikan se-Aceh untuk mengembangkan konsep school hub. Beliau akan mengajak sekolah se Asia Tenggara untuk menjalin kerjasama dengan sekolah di Aceh. VCT merupakan salah satu cara untuk menyiapkan sumber daya yang mampu mengembangkan school hub di era disrupsi. VCT dilaksanakan menggunakan tol langit sesuai dengan Revolusi Industri 4.0. Hal ini sangat berguna dalam menyiapkan lulusan sekolah yang cakap di era disrupsi serta mampu berkolaborasi dengan sekolah di luar Indonesia. Dengan demikian diharapkan mereka memiliki skill yang mampu dikembangkan di seluruh dunia.
Thank You and Be Useful
darmawan.buchari facebook