---
Faculty of Economics and Business, Malikussaleh University has established a Journal Clinic to help and encourage the acceleration of journal publications in the faculty. Research by lecturers and students will be encouraged to enter reputable national and international procedures and journals.
"We hope that lecturers and students will be more intense in conducting research and producing quality journals," said Dean of the Faculty of Economics and Business, University of Malikussaleh, Dr. Hendra Raza, Wednesday (09/10/2019).
According to him, as an initial step in carrying out the clinical assignment, FEB Unimal with the support of Dr. Khalsiah and the team took the initiative to make a public lecture and to sign a cooperation agreement (MoA) with Emavadev, a well-known international publication company from India, represented by Dr. Surya and Mr. Vandeep, Monday (10/7/2019).
When asked about choosing Emavadev, Hendra said that the company has experience and has helped the publication of dozens of lecturer journals in Unimal. Emavadev also has an international reputation and also has many collaborations with various universities.
With this MoA, he continued, Emavadev will facilitate FEB Unimal to participate in various collaborative research events and international journals, provide applications for international standard plagiarism checks, and prioritize articles from FEB Unimal lecturers to enter reputable journals up to Q1.
"Emavadev promised to form a special international journal owned by FEB Unimal which will later be in the reputation of Scopus. They also helped accelerate professors in the Unimal environment. In fact they are targeting that with this collaboration we can produce just two professors, we will be invited to participate in major research events in India, "said Hendra.
"While we were asked by Emavadev room facilities so that they could open representatives at FEB Unimal which later they would teach how to become an international journal review team. They promised this collaboration would continue continuously."
The MoA signing and general lecture were also attended by Prof. Apridar's economics professor, Prof. A Hadi Arifin, Samudera University representatives, IAIN Malikussaleh, Dean of the Faculty of Medicine, Dr. dr. Malikussaleh university.
"Hopefully this signing can produce something that we expect to achieve increased publications and increased faculty and university accreditation," says Hendra.
In general lecture activities, Dr. Surya and Mr. Vandeep, among others, explained the application to check plagiarism which is widely used sometimes only found 20 percent of plagiarism indications. However, with certain software with higher accuracy, the indication for plagiarism can reach 40 percent.[]]
---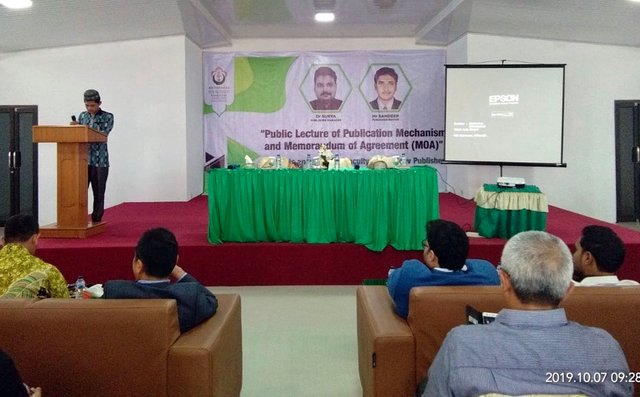 ---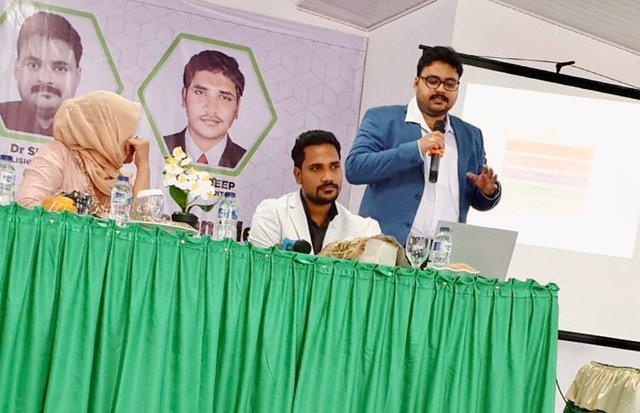 ---
Manfaat Kerjasama Fakultas Ekonomi Universitas Malikussaleh dengan Emavadev India
Fakultas Ekonomi dan Bisnis Universitas Malikussaleh telah membentuk Klinik Jurnal untuk membantu dan mendorong percepatan publikasi jurnal di lingkungan fakultas. Penelitian penelitian dosen dan mahasiswa nantinya akan didorong masuk ke proceding dan jurnal nasional serta internasional yang bereputasi.
"Kita harapkan nanti dosen dan mahasiswa semakin intens melakukan penelitian dan menghasillkan jurnal berkualitas," ujar Dekan Fakultas Ekonomi dan Bisnis Universitas Malikussaleh, Dr Hendra Raza, Rabu (9/10/2019).
Menurutnya, sebagai gerak awal pelaksanaan tugas klinik tersebut, FEB Unimal dengan dukungan Dr Khalsiah serta tim berinisiatif membuat kuliah umum dan kerjasama penandatanganan perjanjian kerjasama (MoA) dengan Emavadev, sebuah perusahaan publikasi internasional ternama dari India yang diwakili Dr Surya dan Mr Vandeep, Senin (7/10/2019).
Disinggung mengapa memilih Emavadev, Hendra menyebutkan perusahaan tersebut telah memiliki pengalaman dan telah membantu publikasi puluhan jurnal dosen di lingkungan Unimal. Emavadev juga memiliki reputasi internasional dan juga banyak menjalin kerjasama dengan berbagai perguruan tinggi.
Dengan adanya MoA ini, lanjutnya, Emavadev akan menfasilitasi FEN Unimal untuk ikut serta dalam berbagai even riset kolaborasi dan jurnal internasional, memberikan aplikasi cek plagiat berstandar internasional, serta memprioritaskan artikel dari dosen FEB Unimal untuk masuk ke jurnal yang bereputasi sampai dengan Q1.
"Emavadev berjanji akan membentuk jurnal internasional khusus milik FEB Unimal yang nantinya akan bereputasi Scopus. Mereka juga membantu percepatan profesor di lingkungan FEB Unimal. Malah mereka menargetkan kalau dengan kerjasama ini bisa menghasilkan profesor dua orang saja, kita akan diajak mengikuti even-even riset besar di India," papar Hendra.
"Sementara kita diminta oleh Emavadev fasilitas ruangan agar mereka dapat membuka perwakilan di FEB Unimal yang nantinya mereka akan mengajarkan bagaimana menjadi tim review jurnal internasional. Mereka berjanji kerjasama ini akan terus dilakukan berkesinambungan."
Penandatanganan MoA dan kuliah umum juga dihadiri guru besar ekonomi Prof Apridar, Prof A Hadi Arifin, perwakilan Universitas Samudera, IAIN Malikussaleh, Dekan Fakultas Kedokteran Unimal Dr dr Rajuddin, para pembantu dekan, ketua Program Pascasarjana Ilmu Manajemen Dr Marbawi Adamy, serta segenap civitas academica Universitas Malikussaleh.
"Semoga penandatanganan ini dapat menghasilkan sesuatu yang kita harapkan untuk mencapai peningkatan publikasi dan peningkatan akreditasi fakultas dan universitas," harap Hendra.
Dalam kegiatan kuliah umum, Dr Surya dan Mr Vandeep antara lain memaparkan aplikasi untuk memeriksa plagiasi yang banyak digunakan terkadang hanya menemukan 20 persen indikasi plagiasi. Namun, dengan software tertentu yang akurasinya lebih tinggi, indikasi plagiasi bisa mencapai 40 persen.[]
---