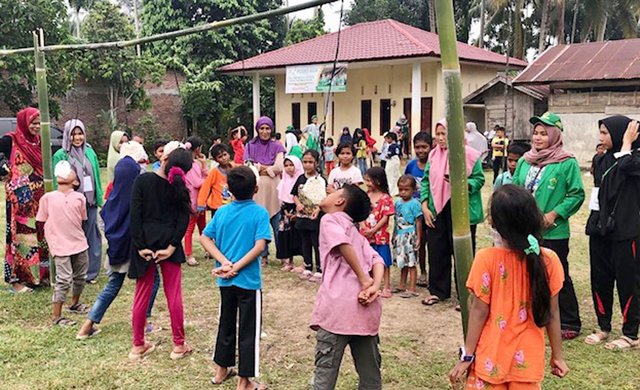 ---
The student of Universitas Malikussaleh Group 67 who is doing Community Service Program (KKN) in Gampong Bayu, Meurah Mulia District, North Aceh, celebrated their farewell by holding a competition for children.
Group 67 Community Service Community Relations, Mair Yikwa, said that the KKN implementation period was nearing its end. They are almost in a month in Gampong Bayu and the Community Service Program will end on Wednesday (9/26/2019). "We all feel at home here and are grateful for the reception of residents of Gampong Bayu," said Mair who is from Papua.
Using Gampong Bayu's meunasah yard, Mair continued, they held various competitions that made local children happy such as eating crackers, sack races, marbles competitions, spikes in the bottle, soccer gloves, and so on.
"Children really enjoy various games. They look very happy, "added Mair, a student of the Communication Studies Program at the Faculty of Social and Political Sciences.
Group member 67, Indah, said she was sad to be separated from children who had been familiar with them. "Alhamdulillah, as long as we are here, we have added brothers," Indah said as reported by Mair Yikwa in her written statement.
Class 67 Field Counselor Lecturer, Ti Aisyah, also attended various happy competitions in Bayu Village. According to him, Group 67 had already tried to provide the best work for the community. "We have felt accepted by the local community. Hopefully this will be a valuable experience for students," said Ti Aisyah. []
---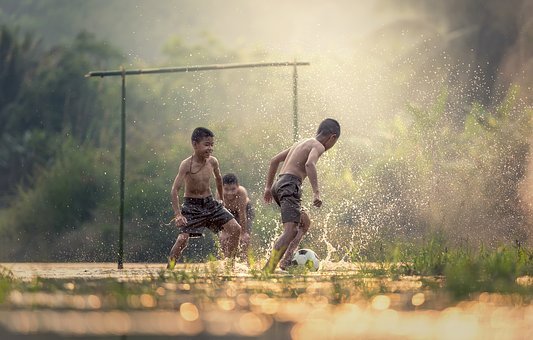 ---
Mahasiswa KKN 67 Rayakan Perpisahan dengan Aneka Lomba
Mahasiswa KKN Universitas Malikussaleh Kelompok 67 di Gampong Bayu Kecamatan Meurah Mulia, Aceh Utara, merayakan perpisahan dengan menggelar perlombaan bagi anak-anak.
Humas KKN Kelompok 67, Mair Yikwa, mengatakan masa-masa pelaksanan KKN menjelang berakhir. Mereka hampir satu bulan berada di Gampong Bayu dan akan KKN akan berakhir pada Rabu (26/9/2019). "Kami semua merasa betah di sini dan berterima kasih atas penerimaan warga Gampong Bayu," ungkap Mair yang berasal dari Papua.
Menggunakan halaman meunasah Gampong Bayu, lanjut Mair, mereka menggelar aneka lomba yang membuat anak-anak setempat gembira seperti lomba makan kerupuk, balap karung, lomba kelereng, lomba memasukkan paku ke dalam botol, sepakbola sarung,dan sebagainya.
"Anak-anak sangat menikmati bermacam permainan. Mereka terlihat gembira sekali," tambah Mair, mahasiswa Prodi Ilmu Komunikasi Fakultas Ilmu Sosial dan Ilmu Politik.
Anggota Kelompok 67, Indah, mengaku sedih harus berpisah dengan anak-anak yang selama ini sudah akrab dengan mereka. "Alhamdulillah, selama berada di sini kami sudah bertambah saudara," ujar Indah sebagaimana dilaporkan Mair Yikwa dalam keterangan tertulisnya.
Dosen Pembimbing Lapangan Kelompok 67, Ti Aisyah, juga menghadiri aneka lomba gembira di Gampong Bayu. Menurutnya, Kelompok 67 sudah sudah berusaha memberikan karya terbaik bagi masyarakat. "Kami punya merasa diterima oleh masyarakat setempat. Semoga ini menjadi pengalaman berharga bagi mahasiswa," kata Ti Aisyah. []
---