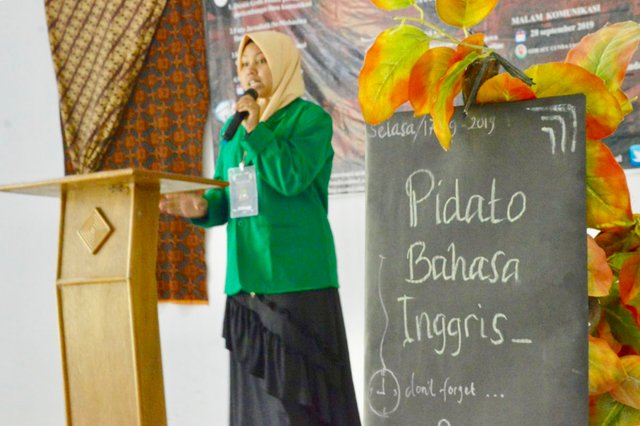 ---
Communication Science Study Program Faculty of Social and Political Sciences once again held an English speech contest at the 5th Communication Science Student Creativity Week (ILKOM PIKM) at Bukit Indah Campus, Lhokseumawe, Tuesday (09/17/19).
The Chairman of the 5th ILIK PIKM Committee, Adek Pradana, said that the competition was attended by students of various study programs at FISIP Malikusaleh University. They were very enthusiastic about participating in the competition which had become the official agenda in the Communication Study Program.
"The speech contest in English is part of a series of other competitions held in the Communication Science Student Creativity Week," said Adek Pradana.
The jury of the competition, Dr. Ratri Candrasari, said that the English speaking contest was one branch of the public speaking competition which needed to be continuously held to hone the skills of students speaking in English. "From a competition like this, students get a place to test their guts as well as show their abilities," Candrasari said.
The 5th ILIK PIKM 2019 has the theme of Civilization of Human Communication. Communication Science Student Creativity Week is a routine event for Communication Science students. The Head of Communication Study Program, Kamaruddin Hasan Msi, said that the event will be held every year and become a routine agenda.
According to him, besides giving an opportunity to Malikussaleh University students, especially Communication Studies Study Program, to hone a variety of skills in the fields of writing, speeches and other creative scientific competitions, this event also became a place for students to design an event successfully even though the budget is always minimal.
"In a number of competitions last year, the participants were not only from Malikussaleh University. Writing competitions, for example, are sometimes also open to students from all tertiary institutions in Aceh. This event is also a place for gathering students in Aceh, "said Kamaruddin.
---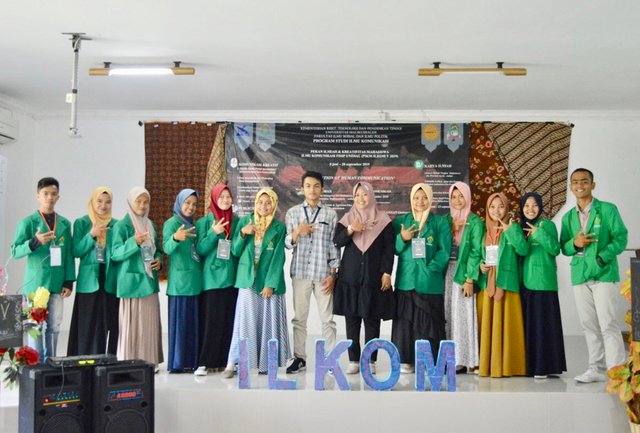 ---
Lomba Pidato Bahasa Inggris Tandai Pekan Kreativitas Mahasiswa Ilkom
Program Studi Ilmu Komunikasi Fakultas Ilmu Sosial dan Ilmu Politik kembali menggelar perlombaan pidato berbahasa Inggris pada acara Pekan Ilmiah Kreativitas Mahasiswa Ilmu Komunikasi (PIKM ILKOM) ke-5 di Kampus Bukit Indah, Lhokseumawe, Selasa (17/09/19).
Ketua Panitia PIKM ILKOM ke-5, Adek Pradana, mengatakan lomba diikuti mahasiswa berbagai program studi di FISIP Universitas Malikusaleh. Mereka sangat antusias mengikuti lomba yang sudah menjadi agenda resmi di Prodi Ilmu Komunikasi.
"Lomba pidato dalam bahasa Inggris merupakan bagian dari serangkaian lomba lain yang digelar dalam Pekan Kreativitas Mahasiswa Ilmu Komunikasi," kata Adek Pradana.
Dewan juri perlombaan, Dr Ratri Candrasari, menyebutkan perlombaan pidato berbahasa Inggris merupakan salah satu cabang perlombaan public speaking yang perlu terus digelar untuk mengasah keterampilan mahasiswa berpidato dalam bahasa Inggris. "Dari ajang lomba seperti ini, mahasiswa mendapat tempat untuk menguji nyali sekaligus unjuk kemampuan," kata Candrasari.
PIKM ILKOM 2019 yang ke-5 ini mengangkat tema Civilization Of Human Communication. Pekan Ilmiah Kreativitas Mahasiswa Ilmu Komunikasi merupakan even rutin bagi mahasiswa Ilmu Komunikasi. Ketua Prodi Ilmu Komunikasi, Kamaruddin Hasan Msi, menyebutkan ajang tersebut akan digelar setiap tahun dan menjadi agenda rutin.
Menurutnya, selain memberi kesempatan kepada mahasiswa Universitas Malikussaleh, terutama Prodi Ilmu Komunikasi, untuk mengasah berbagai keterampilan di bidang menulis, pidato, dan lomba ilmiah kreatif lainnya, even ini juga menjadi ajang bagi mahasiswa mendesain sebuah even dengan sukses meski anggaran selalu minim.
"Dalam beberapa lomba tahun lalu, pesertanya bukan saja dari Universitas Malikussaleh. Lomba menulis, misalnya, terkadang juga terbuka bagi mahasiswa dari semua perguruan tinggi di Aceh. Even ini juga menjadi ajang silaturahim mahasiswa di Aceh," tandas Kamaruddin.***
---