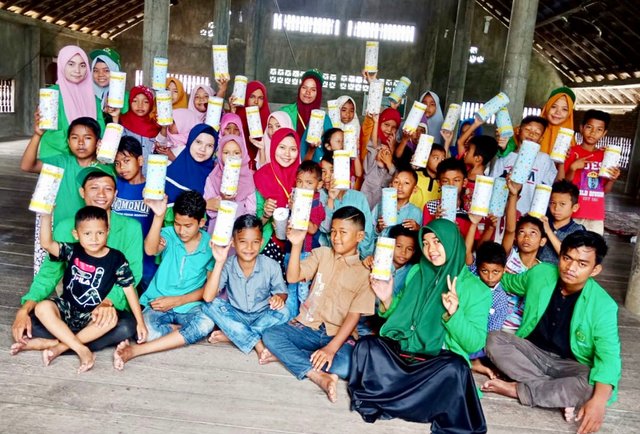 Group 97 KKN students from Universitas Malikussaleh in Desa Pulo Iboh Village, Kecamatan Kuta Makmur, Aceh Utara.
---
Student Community Service Group 33 of Malikussaleh University in Desa Meunasah Masjid, Kecamatan Meurah Mulia, Aceh Utara, utilizing plastic waste to make piggy banks as well as encouraging children to enjoy saving money.
Meanwhile, Group 97 in Pulo Iboh Village, Kuta Makmur District, also built a culture of saving among children by utilizing used boxes.
Group 33 Public Relations, Dwi Agita Syahyanti, revealed that there are at least short-term, medium-term and long-term goals of the program to make piggy bank from plastic waste. First, take advantage of existing plastic waste because Indonesia is among the second largest plastic waste producing countries in the world.
Second, inviting children to use plastic waste into savings that can be marketed in sub-district cities or even other areas in North Aceh. "Finally, we want to build a culture of saving among children," said Agita, a few days ago.
The training activity began with inviting children to collect used bottles in their neighborhood. Then the children clean the bottles, color, and give unique ornaments which are also made from bottles and used items.
This idea was initiated by Dedy Arfiansyah and Khairina, members of group 33 of the Accounting Study Program at the Faculty of Economics and Business. They invite village children to use used plastic and turn it into a unique piggy bank.
"In addition to reducing plastic waste, for the long term this also cultivates the habit of saving from an early age," said Dedy.
With the same goal, the KKN 97 group in Pulo Iboh used used cardboard to make uniquely shaped piggy banks. The work of making the cardboard piggy bank was carried out under the meunasah. They can be seen forming cardboard into rounded piggy bank and wrapping it in unique and attractive wrapping paper.
"We invite children to be involved in making savings from used cardboard. We share this savings for the children so they get used to saving money, "said Yola Tasya Marini, Community Relations Group 97 Community Relations.
Group 97 member, Miftahul Jannah, from the Faculty of Economics and Business said that the consumption level of children is very high because they are accustomed to eating snacks at school and after school. "We distribute these savings to children to get them used to setting aside allowances for savings," she said.***
---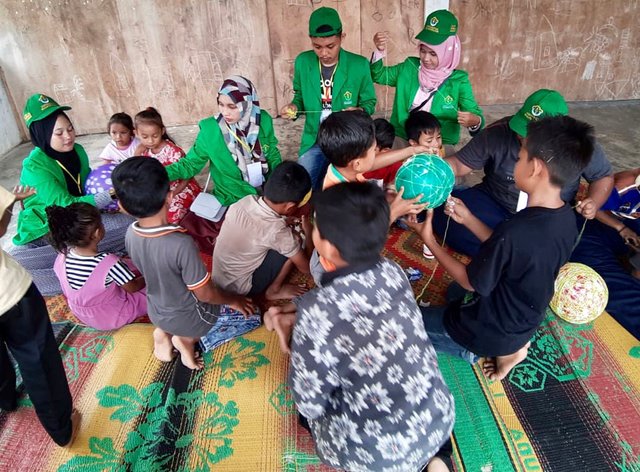 ---
Target Mahasiswa KKN Universitas Malikussaleh Manfaatkan Limbah Plastik
Mahasiswa KKN Kelompok 33 Universitas Malikussaleh di Desa Meunasah Masjid Kecamatan Meurah Mulia, Aceh Utara, memanfaatkan limbah plastik untuk membuat celengan sekaligus mendorong anak-anak untuk gemar menabung.
Sedangkan Kelompok 97 di Desa Pulo Iboh Kecamatan Kuta Makmur, juga membangun budaya menabung di kalangan anak-anak dengan memanfaatkan kardus bekas.
Humas Kelompok 33, Dwi Agita Syahyanti, mengungkapkan setidaknya ada tujuan jangka pendek, menengah, dan jangka panjang program membuat celengan dari limbah plastik. Pertama, memanfaatkan limbah plastik yang ada karena Indonesia termasuk negara penghasil sampah plastik kedua terbesar di dunia.
Kedua, mengajak anak-anak memanfaatkan limbah plastik tersebut menjadi tabungan yang bisa dipasarkan di kota kecamatan bahkan daerah lain di Aceh Utara. "Terakhir, kami ingin membangun budaya menabung di kalangan anak-anak," ungkap Agita, beberapa waktu lalu.
Kegiatan pelatihan dimulai dengan mengajak anak-anak mengumpulkan botol bekas di lingkungan mereka. Kemudian anak-anak membersihkan botol, mewarnai, dan memberikan ornamen unik yang juga terbuat dari botol dan barang bekas.
Ide ini dicetuskan Dedy Arfiansyah dan Khairina, anggota kelompok 33 dari Program Studi Akuntansi Fakultas Ekonomi dan Bisnis. Mereka mengajak anak-anak desa memanfaatkan plastik bekas dan menyulapnya menjadi celengan unik.
"Selain untuk mengurangi limbah plastik, untuk jangka panjang ini juga membudayakan kebiasaan menabung sejak dini," ujar Dedy.
Dengan tujuan sama, Kelompok KKN 97 di Pulo Iboh memanfaatkan kardus bekas untuk membuat celengan berbentuk unik. Pekerjaan membuat celengan kardus tersebut dilakukan di bawah meunasah. Mereka terlihat membentuk kardus menjadi celengan bulat dan membungkusnya dengan kertas kado yang unik dan memikat.
"Kami mengajak anak-anak ikut terlibat dalam pembuatan tabungan dari kardus bekas. Tabungan ini kami bagikan untuk anak-anak agar mereka membiasakan diri menabung uang," ujar Yola Tasya Marini, Humas KKN Kelompok 97.
Anggota Kelompok 97, Miftahul Jannah, dari Fakultas Ekonomi dan Bisnis mengatakan tingkat konsumtif anak-anak sangat tinggi karena mereka terbiasa jajan di sekolah dan sepulang sekolah. "Kami membagikan tabungan ini kepada anak-anak untuk membiasakan mereka menyisihkan uang jajan untuk ditabung," katanya.***
---