Hello,my friends!
New story about pig Svinni and co.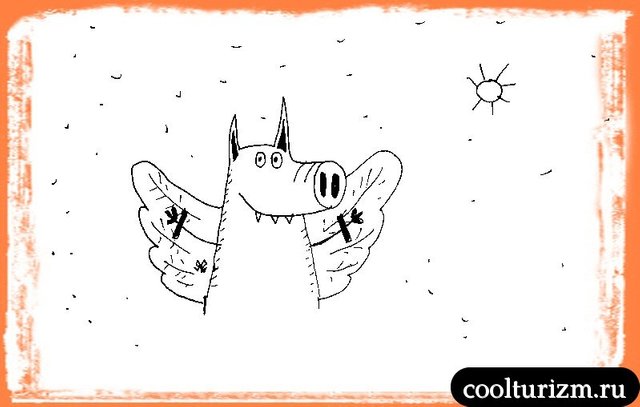 One day the piggy thinks he is a big and important bird. A high-flying bird. The pig glued a bunch of feathers to the frame and attached paw holders. Powerful wings are ready! Such power will be the envy of not only sparrow sparrows, but even proud eagles!
A cold wind is blowing outside, so it would be nice to take off closer to the Sun. It would be nice to bask in the rays of the warm sun!
Even a forest hedgehog without a school education understands that the closer to the Sun, the warmer! The piglet loves warmth.
And then the newly-born bird flew high into the sky, the wax on the wings melted, the feathers flew out, and the bird itself fell down like a stone? We know these battle stories from the crypt! It was not so!
The pig flew higher and higher! It didn't get any warmer, but the sun was coming nearer. And then the piglet hit his forehead on the firmament. From a terrible shock, the bulbs in the Sun burned out and it went out. The lights were quickly changed, and the pig was severely reprimanded! You have to sit at home, not fly here, you know)

Eines Tages hält sich das Schweinchen für einen großen und wichtigen Vogel. Ein hochfliegender Vogel. Das Schwein klebte ein paar Federn an den Rahmen und befestigte Pfotenhalter. Leistungsstarke Flügel sind fertig! Diese Macht wird nicht nur Spatzen, sondern sogar stolze Adler beneiden!
Draußen weht ein kalter Wind, also wäre es schön, näher an der Sonne zu fliegen. Es wäre schön, sich in den Strahlen der warmen Sonne zu sonnen!
Selbst ein Waldigel ohne Schulbildung versteht, je näher an der Sonne, desto wärmer! Das Ferkel liebt Wärme.
Und dann flog der neugeborene Vogel hoch in den Himmel, das Wachs an den Flügeln schmolz, die Federn flogen heraus, und der Vogel selbst fiel wie ein Stein zu Boden? Diese Kampfgeschichten kennen wir aus der Krypta! Es war nicht so!
Das Schwein flog höher und höher! Es wurde nicht wärmer, aber die Sonne kam näher. Und dann schlug das Ferkel mit der Stirn am Firmament auf. Durch einen schrecklichen Schock brannten die Glühbirnen in der Sonne aus und sie ging aus. Die Zwiebeln wurden schnell gewechselt und das Schwein wurde massiv gerügt! Du musst zu Hause sitzen, nicht hierher fliegen, weißt du)