Hello,my friends!
New story about pig Svinni and co.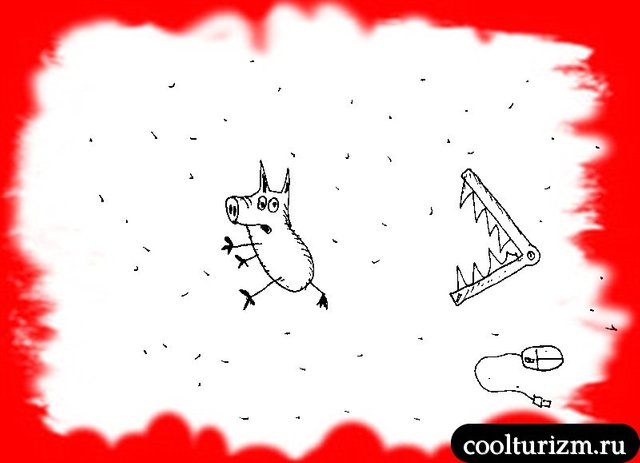 One day Svinni decided to turn on the laptop and get a little bit of an internet connection. Well, you know, before it was called "I'll just check my mail".
And now it's called getting on the net. And at the same time, hang out on the social network. Internet Networks - they are networks. Impudent spiders cleverly set traps for their victims and do not hide the web at all, even hang on it as much bright tinsel as possible to attract stupid flies. Instagram, facebook and other chronophages. A lot of very useful information in a muddy stream non-stop. Always be in touch, ho ho!
When someone is wrong on the internet. It's always annoying and infuriating!
But this time something went wrong! The laptop grinned with teeth at the pig, and the computer mouse smiled carnivore at him. Svinni ran screaming through the apartment, fleeing the treacherous maddening technology. This is the social network! The laptop closed its predatory jaws on the pig's paw ...
And then Svinni woke up. Such a horror will dream!
I don't need such internet! I'd rather go for a walk ... around the apartment.

Eines Tages beschloss Svinni, den Laptop einzuschalten und eine kleine Internetverbindung herzustellen. Nun, wissen Sie, bevor es hieß "Ich checke nur meine Post".
Und jetzt heißt es ins Netz gehen. Und hängen Sie gleichzeitig im sozialen Netzwerk ab. Internet-Netzwerke - das sind Netzwerke. Freche Spinnen stellen ihren Opfern geschickt Fallen und verstecken das Netz überhaupt nicht, hängen sogar so viel helles Flitter daran wie möglich, um dumme Fliegen anzulocken. Instagram, Facebook und andere Chronophagen. Viele sehr notwendige Informationen in einem schlammigen Bach ohne Unterbrechung. Sei immer in Kontakt, ho ho!
Wenn jemand im Internet falsch liegt. Es ist immer ärgerlich und ärgerlich!
Aber diesmal ist etwas schief gelaufen! Der Laptop grinste das Schwein mit Zähnen an, und die Computermaus lächelte ihm fleischfressend zu. Svinni rannte schreiend durch die Wohnung, auf der Flucht vor der tückischen, zum Wahnsinn treibenden Technologie. Das sind soziale Netzwerke! Der Laptop schloss seine räuberischen Kiefer auf der Pfote des Schweins ...
Und dann wachte Svinni auf. Solch ein Horror wird träumen!
Ich brauche kein solches Internet! Ich gehe lieber spazieren ... durch die Wohnung.