Hello,my friends!
New story about pig Svinni and co.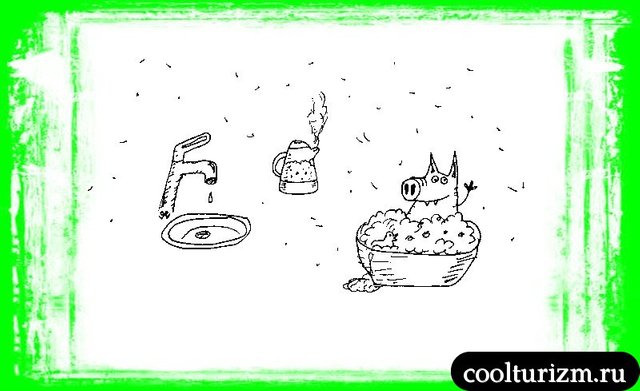 A terrible thing happened and hot water disappeared from the tap. Completely! Every last drop! Of course, there was a suspicion that some comrades drank it, but this is just a vague suspicion, and there are no facts. What to do? How to be?
Svinni pulled out a life-tested plastic combat basin from the closet. Then the pig boiled a couple of teapots and diluted the boiling water with cold water. All the same, unidentified persons drank only hot water and it pleases!
And now Svinni is splashing in the foam in the basin and enjoying life. The most big-eyed of you can spot a duck in the foam. And those who, for some reason, read the adventures of Svinni, may be very surprised. They know that the tylosaurus stole the duck in the meanest way! Alas, indeed, we must admit the fact that this is a completely different duck.
Come on?! Do you Believe it !?
It's just that this story is from those good old days, when the tylosaurus had not yet managed to steal a rubber duck. Svinni will not buy a new duck, he will rather take the old one from the Tylosaurus. The ancient lizard will face big problems!
Someone can definitely cover themselves with a basin!

Es passierte etwas Schreckliches und heißes Wasser verschwand aus dem Wasserhahn. Vollständig! Jeder letzte Tropfen! Natürlich gab es den Verdacht, dass einige Genossen es getrunken haben, aber das ist nur ein vager Verdacht, und es gibt keine Fakten. Was zu tun ist? Wie sein?
Svinni holte ein lebenserprobtes Kampfbecken aus Plastik aus dem Schrank. Dann kochte das Schwein ein paar Teekannen und verdünnte das kochende Wasser mit kaltem Wasser. Trotzdem tranken Unbekannte nur heißes Wasser und es gefällt!
Und jetzt spritzt Svinni in den Schaum im Plastik Becken und genießt das Leben. Die Großäugigsten von euch können eine Ente im Schaum erkennen. Und diejenigen, die aus irgendeinem Grund die Abenteuer von Svinni lesen, werden sehr überrascht sein. Sie wissen, dass der Tylosaurus die Ente auf die gemeinste Art gestohlen hat! Leider müssen wir zugeben, dass dies eine ganz andere Ente ist.
Nun ja?! Glaube es !? Diese Geschichte stammt nur aus der guten alten Zeit, als es dem Tylosaurus noch nicht gelungen war, eine Quietscheente zu stehlen. Svinni wird keine neue Ente kaufen, sondern dem Tylosaurus lieber die alte wegnehmen. Die alte Eidechse wird große Probleme haben! Jemand kann sich definitiv mit einem Becken zudecken!