@mariannewest has an activity "5 Minute Freewrite",
day 817, the prompt "sesame sticks" ...
Welcome everyone to participate in this activity.
Thanks to @mariannewest for hosting this event.
and sponsorer @team-ccc.
Best wishes to @isarmoewe for your early recovery.
My sesame sticks
sesame in this Long round sticks
It 's not sesame
it to be content
When we Bite down
Thick sesame flowing into the mouth
Chew the crunchy sticks
Delicious bite after bite
A whole root
Finish eating in one breath
Haha
Actually it is
We need Finish eating in one breath
Sesame seeds would flow out
Because sesame is wrapped in sticks
He is liquid
Both ends are covered by sticks
it After biting one's head
Sesame will flow out
So need eat it all at once
This is an Invitation to join #ccc for Guaranteed 👍 Daily Income 💵 and Payout 💸 for Newbies (2.0) 🐟 🐜 🐛 in #ccc 👣 and Follow 👣 the Honor Code 🏅-the Creed (Conditions and Limits Inside)
with
the latest update <<< please click to read.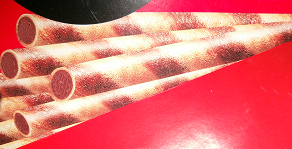 @mariannewest的活动为" 5分钟免费写",
817天,提示"芝麻棒" ...
欢迎大家参加这项活动。
感谢 @mariannewest主持此活动。
和赞助者 @team-ccc。
祝福 @isarmoewe早日康复。
我的芝麻棒
长长圆圆的棒子
里面装的不是芝麻
他装的是满足
一口咬下去
浓浓的芝麻流入口中
嚼着脆脆的棒子皮
好吃的一口接着一口
一整根
一口气吃完
哈哈
其实是
不一口气吃完
芝麻就流出来了
因为芝麻是包在棒子的里面
他是流质的
两头被棍子皮给封住
咬破一头之后
芝麻就会流出来
所以要一口气吃完
加入#ccc的邀请 Guaranteed 👍 Daily Income 💵 and Payout 💸 for Newbies (2.0) 🐟 🐜 🐛 in #ccc 👣 and Follow 👣 the Honor Code 🏅 - the Creed (Conditions and Limits Inside)
和
the latest update <<< 点击这里阅读。