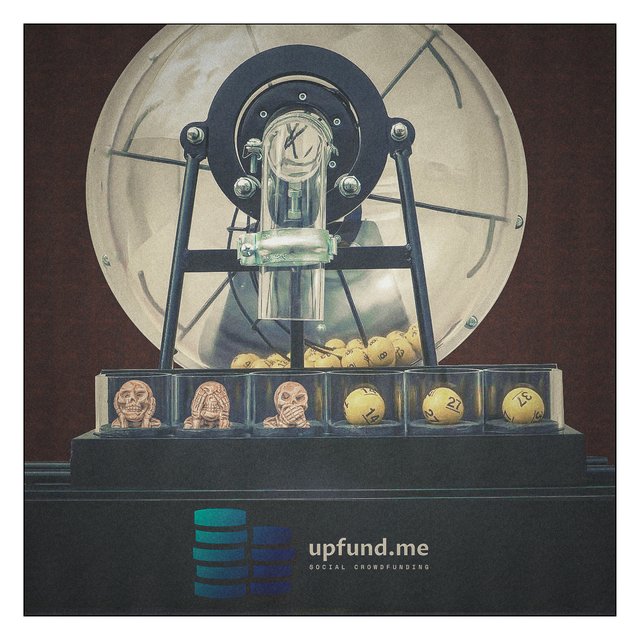 First I have to apologize, I am terribly behind in answering the comments on my posts ... and handing out the necessary Beers and Deranged and... well, you know... 😉
But it's not really my fault! The last days I was looking for my 3 skinny friends... they suddenly disappeared.
At first I thought that was nice, a little rest can never hurt. But then I got a little worried and started looking for them...
And as you can see I found them! And, of course, they were fooling around again...
Have you ever heard of the upfundme token? Well, those guys have their own discord where you can play roulette and lotto with your tokens. And somehow, my 3 little b*****ds have found a way to get in... and play the lotto in their, well, uh, special way.
Of course I had to apologize for their behavior there (I'm just getting used to it) and afterwards I had to explain to my fatless friends how to play the game...
And the result of all this? Now I am addicted myself!
You don't believe me? Then go and take a look at https://discord.gg/DRVfNzx
I guarantee you will not regret it. I wasn't a big discord fan myself, but now I can be found there almost every day...
And yes, this is promotion... but I was not asked for it and I get nothing back in return. But in these times of falling steem-engine-token-prices, making a little fun is a good alternative to sadly staring at your steemworld screen! 😉

---
You liked this post?
Right you are 😉
Just follow me here on steemit or steempeak or neoxian.city or… whatever tribe you like 😉 ( @pixelfan ) to make sure you don't miss any new work. As you can see from my results on steemitboard, I do spend a lot of time here…
BTW: I will not ask you to upvote my posts… deep down inside you know you have to 😉
Curious to see my other work?
Although I spend most of my time on steemit, you can also find me in other places… just take your pick…






This post uses the tag #cc from @commentcoin and, if their bot works, you get 1 CC when you write a (very nice 😉) comment. Enjoy!
Posted via neoxian.city | The City of Neoxian