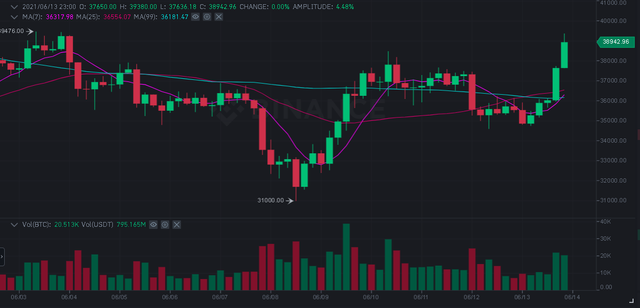 Bitcoin (BTC) is on the rise again with an 8% increase in the last 24 hours. After falling below $35000 today, BTC started a rapid rise and reached $39327. It is currently trading at $38942.
If Bitcoin (BTC) can break the resistance at $40000, it can quickly run towards a new high.
Although it seems difficult to exceed $ 40000 for now, it is not impossible. I think you can get over it after trying a few times.
Since May 12, a lot of FUD related to BTC has been spread. Concern and tension in the markets caused BTC to fall rapidly. But I think that the support at $35000 and the fact that a lot of the news are false strengthens BTC even more.
BTC needs to break above $40000 first and stay there for a while. If it can achieve this, it can go towards a rapid rise.