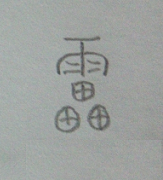 Chinese word-making art "thunder"
Today I wrote 1 Chinese characters,
This word is use pencil to write,
This word is "thunder".
I wrote 4 wordings as shown.
These four types of writing all is refer to "thunder" word,
Them is at different era, different ways of writing.
In ancient China
The word "farm" is used to refer to "drum sound". This is a fake borrowed word.
Drums are also used to refer to thunder.Because thunder is so loud, it is like a drum, so it is described as a thunder.
The four farm words are connected together, which means that the sound of thunder is a sound followed a sound.
So the thunder word is a combination of the word "rain" + "farm".
When writing,
Write the rain word first,
Write the farm word again,
Finally, connect the Tian characters with lines.

Other word-making arts
"Rain" and "small"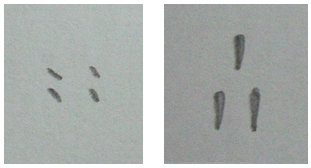 中国造词艺术"雷"
今天我写了1个汉字
这个词是用铅笔写的,
这个词是"雷"。
如图所示,我写了4个字。
这四种类型的写作都是指"雷"一词,
他们处于不同的时代,不同的写作方式。
在中国的古代
用"田字"来指"鼓声",这是一个假借字,借用"田"字来形容鼓声。
又用鼓声来指雷声,因为雷声很大,犹如鼓声,所以假借鼓声来形容。
4个田字连在一起,是表示着雷声是一声接着一声的。
所以雷字是由"雨"字+"田"字所组合而成。
在写字的时候,
先写雨字,
再写田字,
最后再把田字用线条给连在一起。
其他的造字艺术
雨和小