Fried noodles (not using fire, it is using water)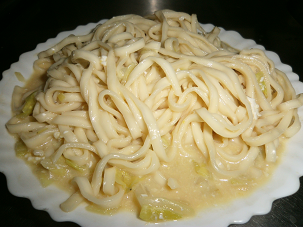 In recent years, I have fried noodles, no longer use fire, no spatula,
Change water and pot spoon.
The way of boiling, it is healthier.
Cooking method, try not to stir fry, oil fry is not conducive to health.
Ingredients.
White noodles / cabbage / eggs / soy sauce / salt.
tool.
Soup pot / spoon / induction cooker or gas stove.
step.
First divide the white noodles and cabbage, and cook them separately.
Put the cooked cabbage and white noodles into the stockpot.
Join the eggs, add soy sauce and salt,
Join water to 2/3. (The height of the water reaches about 2/3 of the noodles).
With a small fire,
While cooking, stir with a spoon, (otherwise it will stick)
About 2 minutes,
The water will slowly dry out,
When there is only a little water left,
Turn off,
After coming out,
There is still a little soup,
After about 3 minutes,
Those soups will be absorbed over,
It became a boiled fried noodles.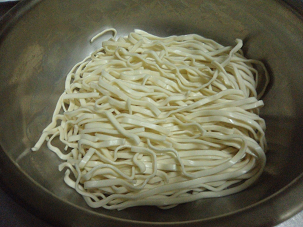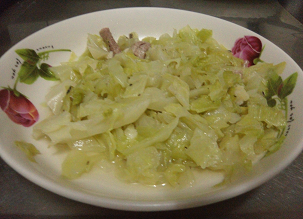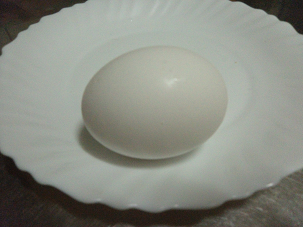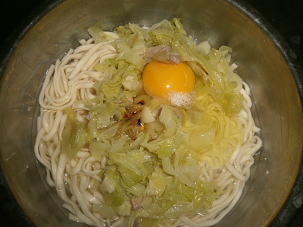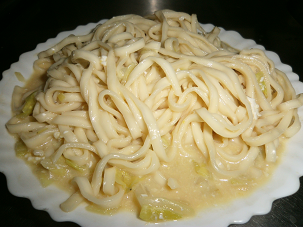 炒麵 (非用火,是用水煮的方式)
近年来,我炒麵 ,不再用火,不用锅铲,
改用水和锅匙.
用水煮的方式, 比较健康.
烹飪的方法, 尽量不用油炒, 油炒比较不利于健康.
食材.
白麵/白菜/鸡蛋/酱油/盐.
工具.
汤锅/汤匙/电磁炉或者瓦斯炉.
步骤.
先将白麵和白菜,分开,各自煮熟.
将煮熟的白菜和白麵,放入汤锅之中,
打入鸡蛋,加入酱油和盐,
加入水至2/3处. (水的高度约到达麵条的2/3处).
用小火,
一边烹饪,一边用汤匙搅动, (不然会黏锅)
大约2分钟,
水会慢慢的干掉,
当水只剩下一些些的时候,
熄火,
端出来之后,
还有一点点的汤,
约3分钟之后,
那些汤就会被麵给吸收掉了,
就成了水煮式的炒麵.