Personal Care Tools - Dental Floss (个人护理工具 - 牙线)
个人护理工具 - 牙线
每当吃完饭之后,
菜渣总是留下口腔之中,
你是用什么工具来清理留在齿缝之间的菜渣吗?
在几年之前, 我是使用木制的牙签, 如图A.其效果不好.
后来出了款塑胶的牙线棒, 如图B, 效果比A款的好一些.
现在我是用新款的塑胶制的牙线, 如图C, 效果是最好的.
C款的效果是最好的,
但也是最容易损毁的,
线很容易的断,
但清理菜渣是最有效的,
总比蛀牙要好,
蛀牙不但痛,
牙医的收费也高.
使用C款的牙线,
要注意,
当牙齿之间的缝隙很密的时候,
牙线要慢慢的压进去,
不可用力,
当你要把牙线拉出来的时候,
也不可以用力拉,
用力拉的话, 可能变成拔牙.
牙缝之间,
在牙肉的地方,
使用牙线要用按摩式的轻轻碰一碰,
不要拉着线去刷,
可以在牙缝四周涂牙膏,
当牙线在按摩牙肉的时候,
可以让牙膏也保户到牙缝间的牙肉.
以上是我的个人之经验,
仅供参考,
你的护理工具是什么呢?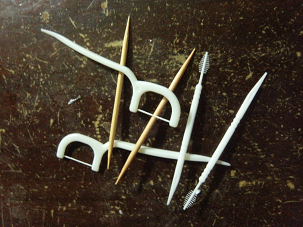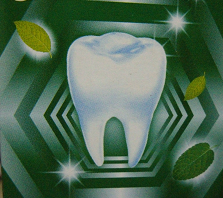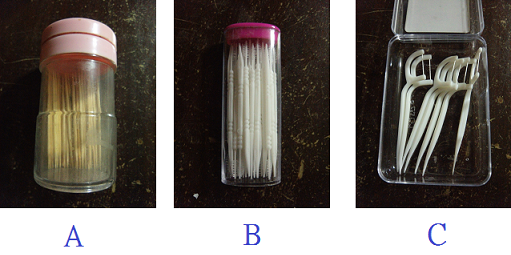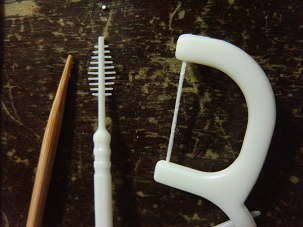 Every time after eating,
Vegetable dregs are always left at the teeth,
What tools do you use to clean the residue left between the teeth?
A few years ago, I used a wooden toothpick, as shown in Figure A. The effect was not good.
Later, have plastic floss stick was produced, as shown in Figure B, the effect is better than the A model.
Now I am using the new plastic floss, as shown in Figure C, the effect is the best.
The effect of the C model is the best,
But it is also the most vulnerable to damage,
its line is easy to break,
But cleaning up the residue is the most effective.
If cleaning is not clean , will have tooth decay,
Not only does tooth decay,
The charges for the dentist are also high.
Use the C floss,
pay attention,
When the gap between the teeth is very dense,
The floss should be pressed slowly,
Not use too big power,
When your floss want to out between the teeth,
Can't pull hard,
If you pull it hard, it may become a tooth extraction.
Between the teeth,
at the place of the flesh,
Use flossing to touch it with a massage.
Don't pull the line to brush flesh,
You can apply toothpaste around your teeth.
When the floss is massaging the flesh,
You can let the toothpaste also protect the flesh between the teeth.
The above is my personal experience,
for reference only,
What is your care tool?