English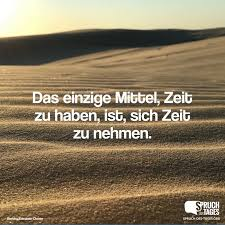 I usually start with the definition and Wikipedia usually helps me. After looking at Wiki I change that to today's topic.
Just an example:
From a philosophical perspective, time describes the progress of the present coming from the past and leading to the future. How! Neee! This gets even worse but I'll leave the definitions as they are and find my own.
I find the picture I found very accurate and good.
The only way to have time is to take your time.
The more I think about time, the faster time passes. The time there we have it again. 10 minutes is the default. What are 10 minutes? Oh dear there it starts already. I'll give it a try. The earth orbits the sun. It needs 365 days for that. (Not quite right! 365 days and 6 hours - there by we have every 4 years a leap year) with the months we leave out times. 365 days thus. 1 day has 24 hours. 1 hour has 60 minutes, that should be so 3600 seconds. Then 10 minutes are 600 seconds or 1/6 hour or or or or or or
What's my point? We can look at and explain time from many different perspectives. I think time is an important, useful tool that can help us. But time also has many negative effects. Let's look at governments. Europe summer time yes or no. The states decide that themselves. Or China! China is so big and there should normally be 4 time zones. But there is only one time zone. The Chinese live after Beijing time.
Time can cause us stress, you can't buy time, time always runs the same speed.
But what I think is most important is that we use time in a way that makes us feel good. Daqs we take care of ourselves. That we consciously perceive time and we decide about it and not about ourselves.
So and now it comes where I've been working all "time" towards it.
Time can cause us stress, time cannot be bought, time always runs at the same speed.
But what I find most important is that we use time in a way that makes us feel good. That we take care of ourselves. That we consciously perceive time and we decide about it and not about ourselves.
Yes, that was it already a little overdrawn. But hope that it is all right.
Within 10 minutes write down everything you can think of about the current topic and post your post with the tag #WednesdaysQuickie.
That's it :)
Best Regards Michael
Sources:
Definition: Wikipedia
Picture: spruch-des-tages.org
Translated with www.DeepL.com/Translator
Deutsch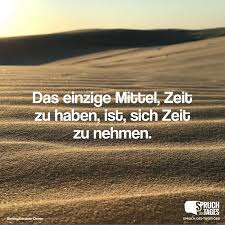 Ich fange ja meist mit der Definition an und da hilft mir meist Wikipedia. Nach dem ich bei Wiki reingeschaut habe ändere ich das bei dem heutigen Thema.
Nur ein Beispiel:
Aus der philosophischen Perspektive beschreibt die Zeit das Fortschreiten der Gegenwart von der Vergangenheit kommend und zur Zukunft hinführend. Wieeeee!! Neee! Das wird noch schlimmer aber ich lasse das mit den Definitionen mal und finde meine eigene.
Ich finde das Bild was ich gefunden habe sehr treffend und gut.
Das einzige Mittel Zeit zu haben, ist, sich Zeit zu nehmen.
Je mehr ich über das Thema Zeit nachdenke desto schneller vergeht die Zeit. Die Zeit da haben wir sie wieder. 10 Minuten ist die Vorgabe. Was sind 10 Minuten? Ohje da geht es schon los. Ich versuche es mal. Die Erde umläuft die Sonne. Dafür braucht sie 365 Tage. (Nicht ganz richtig! 365 Tage und 6 Stunden - da durch haben wir alle 4 Jahre ein Schaltjahr) Das mit den Monaten lassen wir mal weg. 365 Tage also. 1 Tag hat 24 Stunden. 1 Stunde hat 60 Minuten, das müssten so 3600 Sekunden sein. Dann sind 10 Minuten 600 Sekunden oder 1/6 Stunde oder oder oder oder
Worauf will ich hinaus? Wir können uns die Zeit aus ganz vielen Perspektiven anschauen und auch erklären. Ich denke die Zeit ist ein wichtiges, nützliches Werkzeug was uns helfen kann. Die Zeit hat aber auch viele negative Auswirkungen. Schauen wir uns mal Regierungen an. Europa Sommerzeit ja oder nein. Die Staaten entscheiden das selber. Oder China! China ist so gross und es müsste normalerweise 4 Zeitzonen geben. Doch es gibt nur eine Zeitzone. Die Chinesen leben nach der Peking Zeit.
Zeit kann uns Stress verursachen, Zeit kann man nicht kaufen, Zeit läuft immer gleich schnell.
Was ich aber am wichtigsten finde ist das wir die Zeit so einsetzen, dass es uns gut geht. Das wir auf uns achten. Das wir bewusst die Zeit wahrnehmen und wir über sie bestimmen und sie nicht über uns.
So und jetzt kommt es wo ich schon die ganze "Zeit" drauf hingearbeitet habe.
Zeit ist ein hohes Gut und wie ich finde sehr wertvoll. Lasst uns Zeit verschenken an unsere Liebsten. Es ist das schönste Geschenk was wir vergeben können.
Gerade in den nächsten Tagen werden viele Geschenke gekauft. Viele materielle Geschenke. Denkt mal darüber nach. Vielleicht könnt ihr auch Zeit verschenken. Eine Reise, einen Ausflug, einen Stadionbesuch, ein Konzert was auch immer. Die Zeit, das Erlebnis was ihr dann zusammen habt, dass kann Euch keiner mehr nehmen.
Ja das war es auch schon habe ein wenig überzogen. Hoffe aber das es in Ordnung ist.
Schreibe innerhalb von 10 Minuten alles auf, was dir zum aktuellen Thema einfällt und poste deinen Beitrag mit dem Tag #MittwochsQuickie.
Das wars schon :)
LG Michael
Quellen:
Definition: Wikipedia
Bild: spruch-des-tages.org