Deutsch | English | Italiano | Español | Français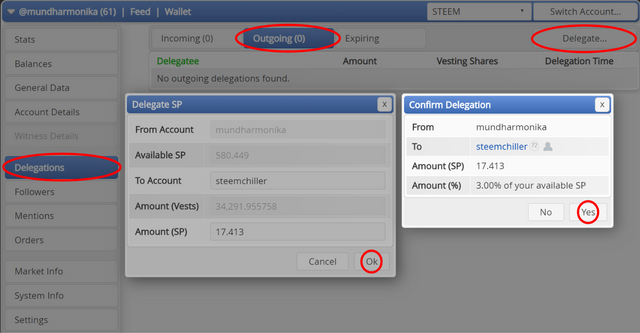 Deutsch
Begünstigte dieses Beitrags
@steemchiller 99 %
@null 1 %
---
Die sehr lobenswerte Aktion von @muelli THE FIRST #STEEMWORLD CHILLER DAY hat mich zu etwas ähnlichem inspiriert. Von den Unterstützungsmöglichkeiten
Upvotes
Resteems
Spenden
Beneficiary-Eintragungen
Delegationen
werden die ersten beiden naturgemäß von den meisten und auch am häufigsten genutzt. Nun hat sich @muelli um die 3. Möglichkeit angenommen und ich vor wenigen Tagen zum wiederholten Mal um die 4.. Fehlt also nur noch eine Aktion zur 5. Voilá:
Lasst uns am 3. Advent 3 % unserer Steem-Power (SP) für 3 Monate an den SteemWorld-Genius delegieren!
Damit erhält der Steemchiller auf das ganze Jahr gerechnet 0,75 % unseres ROI bezogen auf die Curation-Rewards. Ich denke, das ist den meisten die viele Arbeit des Steemchiller wert.
Vielleicht hat er ja bis dahin schon seinen Code bereinigt und in Open Source umgewandelt, so dass er wieder ein - diesmal dauerhaft unterstütztes - Proposal einreichen kann! Wenn nicht, kann man ja die Delegation ganz einfach weiterlaufen lassen.
Und vielleicht mag mancher ja mehr als 3 % delegieren. International sollten doch da deutlich mehr als 100.000 SP zusammenkommen!


English
Beneficiaries of this post
@steemchiller 99 %
@null 1 %
---
The very commendable action of @muelli THE FIRST #STEEMWORLD CHILLER DAY inspired me to do something similar. Of the support possibilities
upvotes
resteems
donations
beneficiary entries
delegations
the first two are naturally used by the most and also most frequently. Now @muelli has taken care of the 3rd possibility and a few days ago I have again taken care of the 4th. So there is now only an action missing for the 5th. Voilá:
Let's delegate on 3. Advent 3 % of our Steem-Power (SP) for 3 months to the SteemWorld-Genius!
Thus the Steemchiller receives 0.75 % of our ROI related to the curation rewards for the whole year. I think that's worth all the work the Steemchiller does.
Maybe he already cleaned his code until then and converted it to Open Source, so that he can submit another - this time permanently supported - proposal! If not, you can simply let the delegation continue.
And maybe some may delegate more than 3 %. Internationally there should be more than 100.000 SP for him!

Italiano
Beneficiari di questo contributo
@steemchiller 99 %
@null 1 %
---
L'encomiabile azione di @muelli THE FIRST #STEEMWORLD CHILLER DAY mi ha ispirato a fare qualcosa di simile. Delle possibilità di sostegno
upvotes
resteems
donazioni
Registrare beneficiario
delegazioni
i primi due sono naturalmente utilizzati dai più e anche più frequentemente. Ora @muelli si è occupato della terza possibilità e qualche giorno fa ho di nuovo curato la quarta Quindi manca una sola azione per i 5. Voilá:
Deleghiamo il 3. Avvento 3 % del nostro Steem-Power (SP) per 3 mesi al SteemWorld-Genio!
In questo modo lo Steemchiller riceve lo 0,75 % del nostro ROI in relazione ai premi di curazione per tutto l'anno. Penso che questo valga tutto il lavoro che fa lo Steemchiller.
Forse ha già pulito il suo codice e lo ha convertito in Open Source, in modo da poter presentare un'altra proposta - questa volta permanentemente supportata - proposta! In caso contrario, si può semplicemente lasciare che la delegazione continui.
E forse qualcuno potrebbe delegare più del 3 %. A livello internazionale ci dovrebbero essere più di 100.000 SP!

Español
Beneficiarios este aporte
@steemchiller 99 %
@null 1 %
---
La encomiable acción de @muelli THE FIRST #STEEMWORLD CHILLER DAY me inspiró a hacer algo similar. De las posibilidades de soporte
upvotes
resteems
donaciones
registro de beneficiario
delegaciones
los dos primeros son utilizados naturalmente por los más y también con mayor frecuencia. Ahora @muelli se encargó de la tercera posibilidad y hace unos días me encargué de la cuarta una vez más (https://steempeak.com/@mundharmonika/mach-mit-beitrags-anhang-zur-weiteren-unterstuetzung-des-steemchiller). Así que sólo falta una acción para el 5º. Voilá:
Deleguemos en 3. Adviento 3 % de nuestro Steem-Power (SP) por 3 meses al SteemWorld-Genio!
De este modo, el Steemchiller recibe el 0,75 % de nuestro ROI en relación con las primas de comisariado durante todo el año. Creo que eso vale todo el trabajo que hace el Steemchiller.
Tal vez ya limpió su código y lo convirtió a código abierto, para poder presentar otra propuesta, esta vez con soporte permanente. Si no es así, puede simplemente dejar que la delegación continúe.
Y tal vez algunos puedan delegar más del 3%. Internacionalmente debería haber más de 100.000 SP!

Français
Bénéficiaires de cet apport
@steemchiller 99 %
@null 1 %
---
L'action très louable de @muelli THE FIRST #STEEMWORLD CHILLER DAY m'a inspiré à faire quelque chose de semblable. Parmi les possibilités de soutien
upvotes
résteems
les dons
l'enregistrement des bénéficiaires
délégations
les deux premiers sont naturellement utilisés par les plus et aussi les plus fréquemment. Maintenant @muelli s'est occupé de la 3ème possibilité et il y a quelques jours je me suis occupé de la 4ème (https://steempeak.com/@mundharmonika/mach-mit-beitrags-anhang-zur-weiteren-unterstuetzung-des-steemchiller). Il ne manque donc qu'une seule action pour le 5ème. Voilá :
Déléguons sur 3. L'Avent 3 % de notre Steem-Power (SP) pour 3 mois au SteemWorld-Génial !
Ainsi, le Steemchiller reçoit 0,75 % de notre ROI liées aux récompenses de la conservation sur l'ensemble de l'année. Je pense que ça vaut tout le travail que fait le Steemchiller.
Peut-être qu'il a déjà nettoyé son code et l'a converti en Open Source, pour qu'il puisse soumettre une autre proposition - cette fois-ci soutenue en permanence - ! Si ce n'est pas le cas, vous pouvez simplement laisser la délégation continuer.
Et peut-être que certains pourraient déléguer plus de 3 %. Au niveau international, il devrait y avoir plus de 100.000 SP !