Hey everyone! Today I am uploading this in the light of @ddaily 's #the5reelgood contest for second week.
I used to attend TRX some years back but was never a good student 🤣 as I couldn't catch up with the (boot camp like) instructor that would grill us for 45 minutes until we are all half dead.
Having years later and only about 30 minutes workout time, getting the most of muscle endurance with our own body weight exercise would be TRX, where you use a suspension rope and train your muscles with your body weight.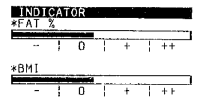 The BMI reader chart that printed out from the "smart" scale today... I am still above "average", and need to get to the zero range at least
I cannot guarantee I will be super fit by the time I am at Steemfest, but at least my target is going to at least try to get my fat % below 30; even though I am on a mid healthy range based on my BMI.
So I hope you can keep following me and support my endurance; and do check out my other (weekly) vlog of what is coming next and hopefully this channel of short vids will keep you entertained (or gain some new knowledge that I discovered)
Until then 👋🏻
---
▶️ DTube
▶️ YouTube