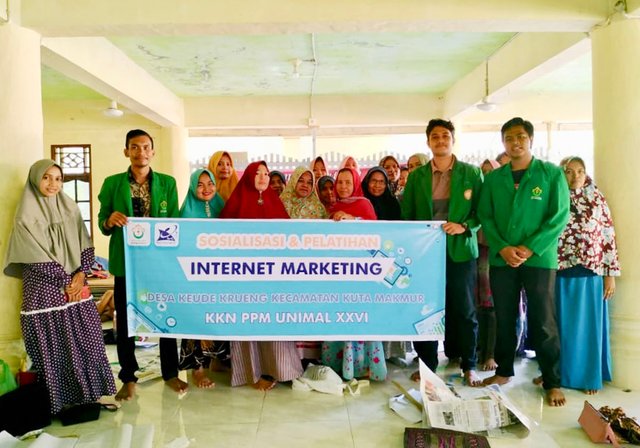 ---
The Student Community Service Group 81 of Malikussaleh University in Desa Keude Krueng, Kecamatan Kuta Makmur, Aceh Utara, provided internet marketing socialization and training to the sewing group women.
Internet marketing socialization and training is the main program put forward by Group 81 to develop village resources. The activity received a positive response from mothers who had attended sewing training.
Chairman of the 81st group, Khalis Muhammad, said the activity of internet marketing socialization and training was important for the sewing group. The women in Keude Krueng have created various innovative products in the field of fashion both headscarves, clothes, and so on.
"But these products are difficult to be introduced to the wider community because mothers here lack understanding of technology," Khalis Muhammad said on Tuesday September 10, 2019.
At present internet marketing is the main target of large companies to sell products, including micro, small and medium enterprises (MSMEs) that are massively promoting products through the internet. "Through the internet, sellers and buyers can be easily met. The behavior of the world community now wants to shop easily," added Khalis.
Based on the results of a survey of the Indonesian Internet Service Providers Association (APJII), internet users in Indonesia as of April 2019 reached 171 million, or about 64.8 percent of Indonesia's population. With the fantastic potential of internet users in Indonesia, mothers are expected to become part of global marketing.
The training was guided by Raja Malikul Fajar, Informatics Engineering student at Malikussaleh University. Training materials about internet marketing, marketing strategies, and tutorials to promote products.
The treasurer of the sewing group, Ida, said that the women gained new knowledge to promote the product more broadly. "There are already mothers who know the internet but don't know how to promote on the internet," said Ida.[]
---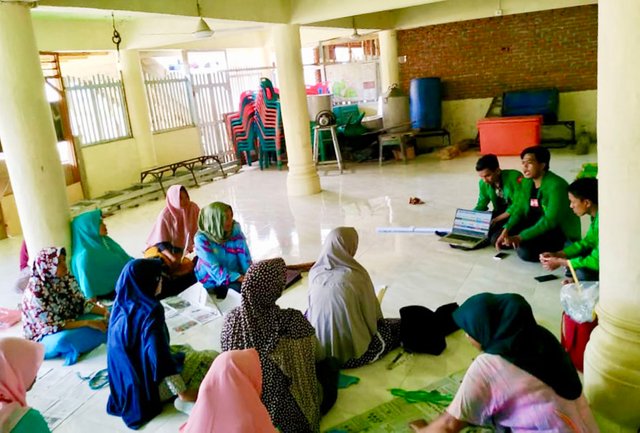 ---
Ketika Ibu-ibu Mendapat Training Internet Marketing
Mahasiswa KKN Kelompok 81 Universitas Malikussaleh di Gampong Keude Krueng Kecamatan Kuta Makmur, Aceh Utara, memberikan sosialisasi dan pelatihan internet marketing kepada ibu- ibu kelompok menjahit.
Sosialisasi dan pelatihan internet marketing adalah program utama yang diusungkan Kelompok 81 untuk mengembangkan sumber daya gampong. Kegiatan tersebut mendapatkan respon positif dari ibu- ibu yang telah mengikuti pelatihan menjahit.
Ketua Kelompok 81, Khalis Muhammad, mengatakan kegitan sosialisasi dan pelatihan internet marketing penting bagi kelompok menjahit ini. Ibu–ibu di Keude Krueng sudah menciptakan berbagai produk inovasi di bidang fashion baik itu jilbab, baju, dan lain sabagainya.
"Namun produk-produk ini sulit diperkenalkan kepada masyarakat luas karena ibu- ibu di sini kurang mengerti teknologi," ujar Khalis Muhammad, Selasa (10/9/2019).
Saat ini internet marketing adalah target utama perusahanaan- peruhasaan besar untuk menjual produk, tak terkecuali usaha mikro kecil dan menengah (UMKM) yang masif mempromosikan produk melalui internet. "Melalui internet penjual dan pembeli dapat dipertemukan secara mudah. Perilaku masyarakat dunia sekarang ini ingin belanja dengan mudah," tambah Khalis.
Bedasarakan hasil survei Asosiasi Penyelengara Jasa Internet Indonesia (APJII), pengguna internet di Indonesia per April 2019 mencapai angka 171 juta atau sekitar 64,8 persen dari jumlah penduduk Indonesia. Dengan potensi pengguna internet di Indonesia yang fantastis, diharapkan ibu-ibu menjadi bagian dari pemasaran global.
Pelatihan dipandu Raja Malikul Fajar, mahasiswa Teknik Informatika Universitas Malikussaleh. Materi pelatihan tentang internet marketing, strategi marketing, dan tutorial mempromosikan produk.
Bendahara kelompok jahit, Ida, mengatakan ibu-ibu mendapat ilmu baru untuk mempromosikan produk lebih luas. "Di sini sudah ada ibu-ibu yang tahu internet, tetapi belum tahu cara berpromosi di internet," kata Ida.[]
---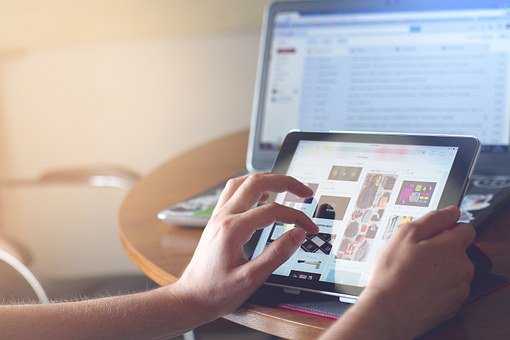 ---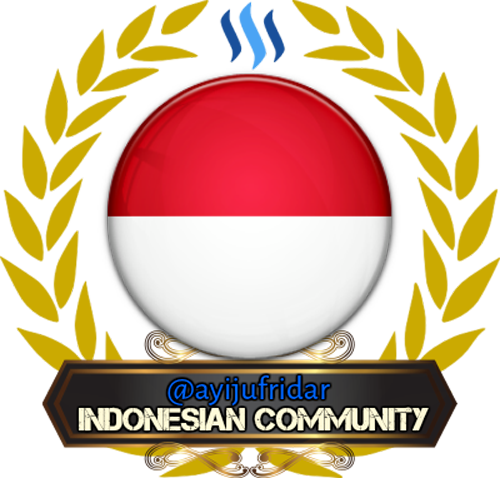 ---