Hello, my friends!
Today we will cook a spicy salted baltic herring. It is easy and simple to prepare it yourself at home. And this is a rather primitive procedure that does not require complex body movements. Literally 10 ⌛hours and you'll have a delicious lightly salted Baltic herring spicy salting ready.
The recipe is simple.
Let's Go!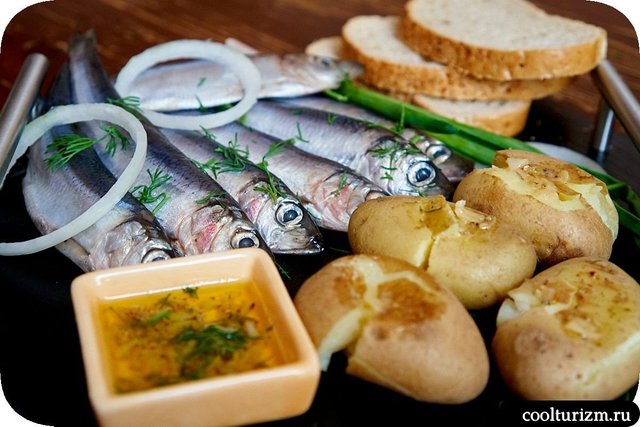 Ingredients:
● Baltic herring, fresh frozen -1 kg
● Salt -4 tbsp.
● Sugar -1 tbsp.
● Fragrant pepper -3 peas
● Bay leaf -3-4 leaves
● Black peppercorns -10 pcs
● Red pepper - a pinch
● Clove -3 pcs (optional)
1.So, we need defrosted Baltic herring, pickling mix and a bag. Mix salt, sugar, bay leaf, aromatic pepper, black and red peppers in a cup. I didn't add cloves, but I think that would be interesting too. We will make "dry" salting.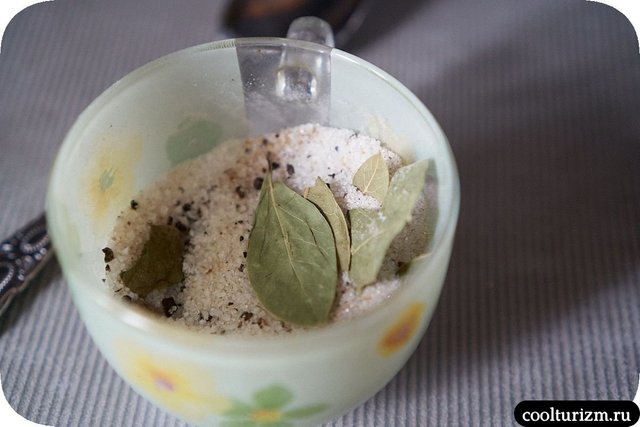 2.We need to defrost herring and rinse it thoroughly in water. Let us dry the Baltic herring. We don't clean the fish! Fill in whole! Beautiful shiny fish, normal quality, almost no broken fish.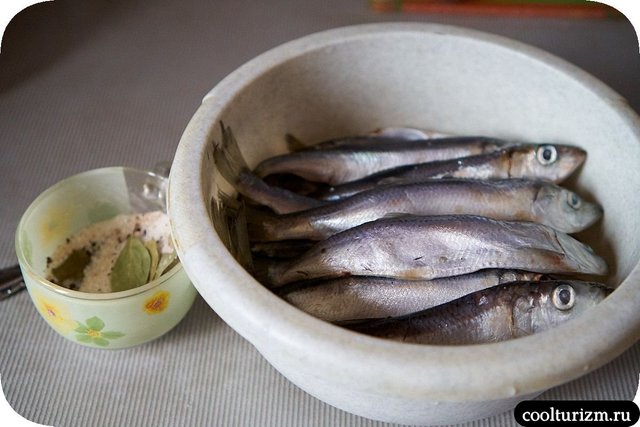 3.Take a good bag and put herring in it. Pour the salting mixture here. We tie the bag and shake it a little so that the salt is evenly distributed. You should not take all sorts of bulging salts, you need ordinary cheap rock salt. The recipe may not work with sea salt and iodized salt.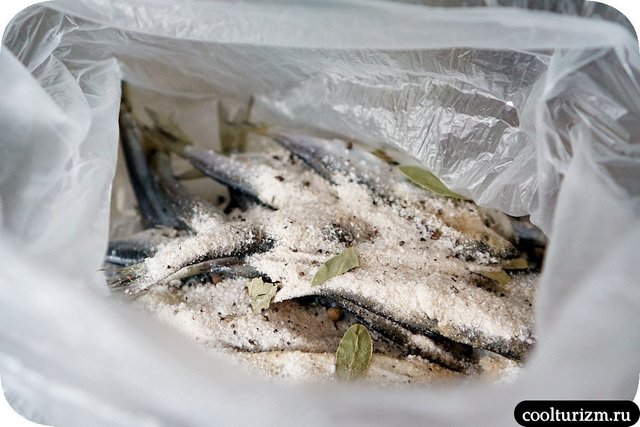 4.Now I put the package with the future spiced herring in a bowl and put it in the refrigerator. 10 hours is enough, but just in case I survived the Baltic herring for a day. The fish was thoroughly frozen beforehand while traveling from the Kaliningrad region, moreover, salt also contributed to the destruction of possible parasites, so you should not worry about possible troubles. Several times I took out the bowl and turned the herring over, juice appeared in the bag and I wanted to even salting the fish.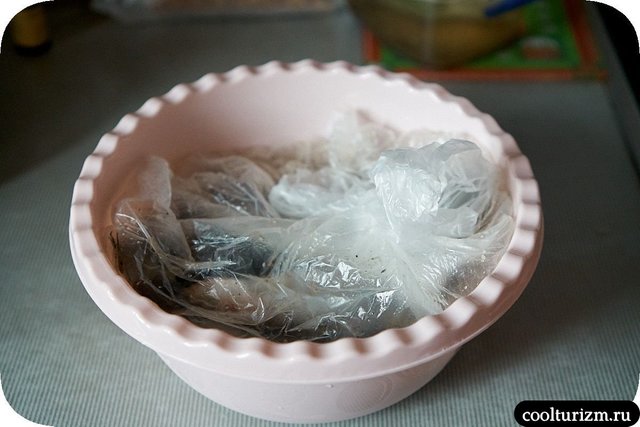 5.And now this happy moment has come!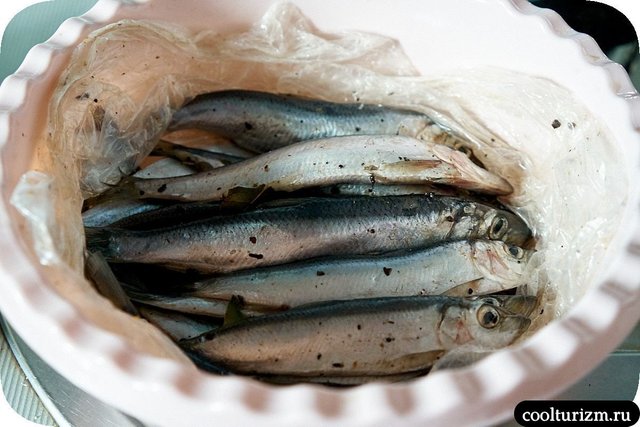 6.We wash the fish.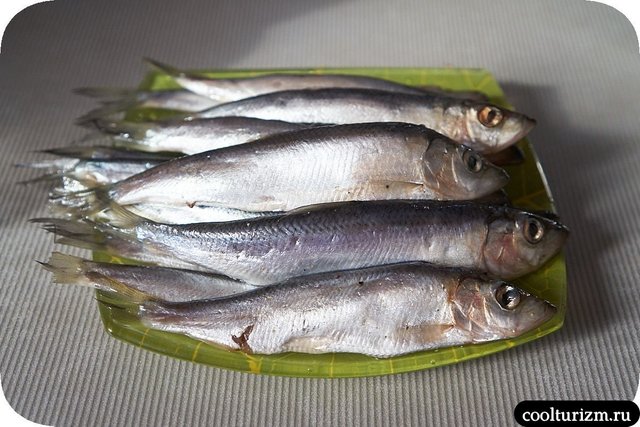 7.Now we remove the heads and intestines. Here a nice bonus awaited me, caviar was found inside some of the fish.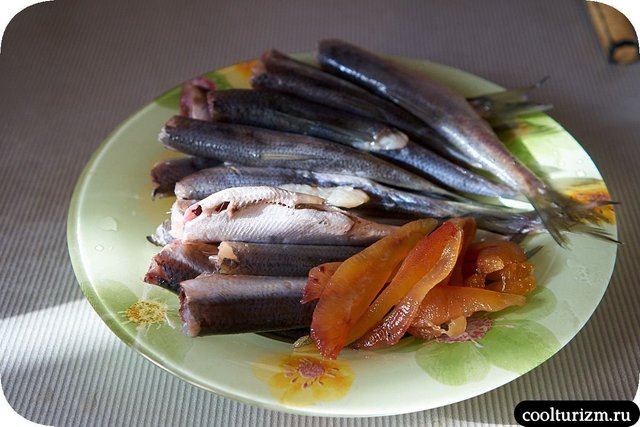 It remains only to conduct a tasting of herring spicy salting. We spread the herring on a dish.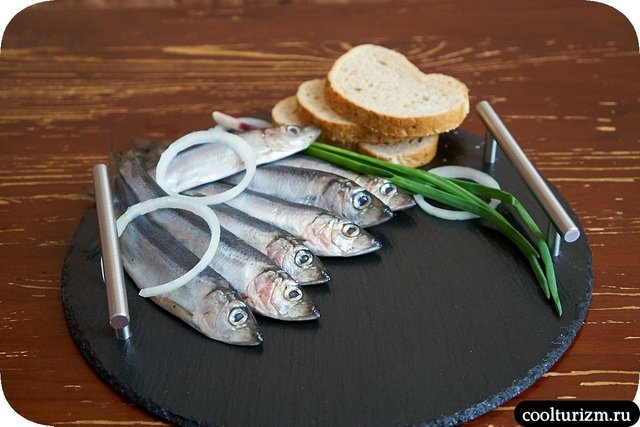 I served herring with boiled young potatoes, onions and sauce. Sauce made from butter, salt, pepper and garlic. Just put a cup of butter, salt, pepper and chopped garlic in the microwave for 1-2 minutes and the butter sauce is ready.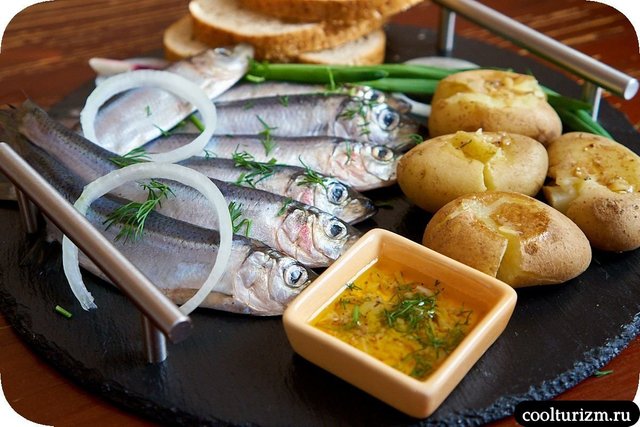 What can I tell you about taste? Not bad! Tender meat separates well from bones. Interesting peculiar taste. Something reminded of a blue whiting.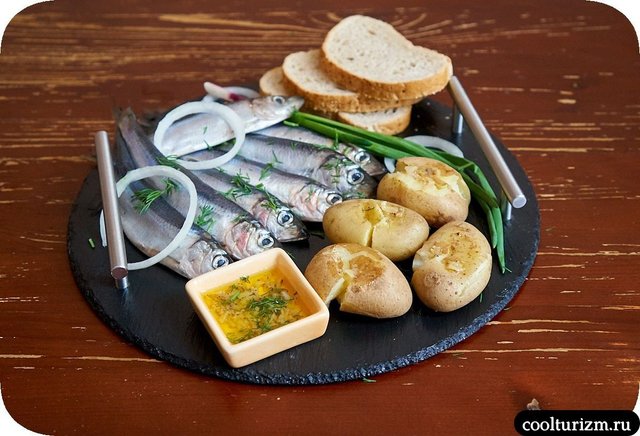 And if you also add a stack of schnapps, it will be great.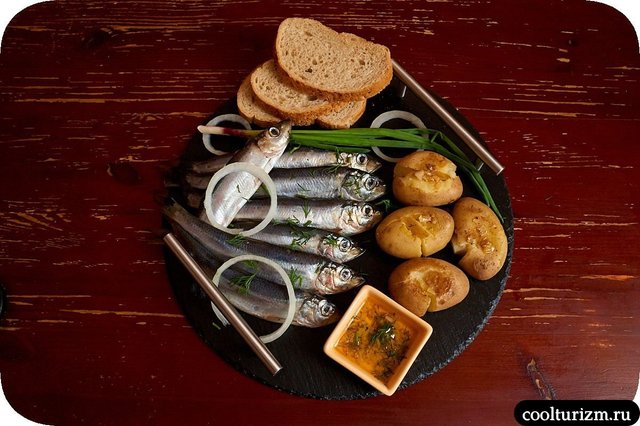 Not a bad snack for all occasions!
A kilogram of herring was eaten in a couple of tricks. I will do it again, it will be worth it!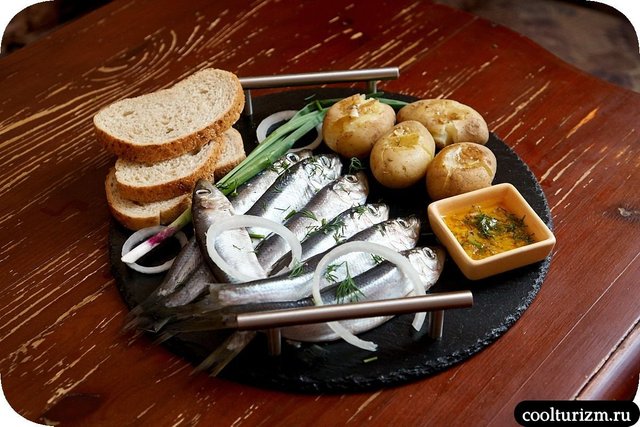 Will We Cook?

Heute bereiten wir einen würzigen Salzhering zu. Und dies ist ein ziemlich primitives Verfahren, das keine komplexen Körperbewegungen erfordert. Buchstäblich 10 Uhr und schon haben Sie einen leckeren, leicht gesalzenen Ostseehering scharf gesalzen. Das Rezept ist einfach.
Lass uns gehen!
Zutaten:
● Ostseehering, frisch gefroren -1 kg
● Salz -4 EL.
● Zucker -1 EL.
● Duftender Pfeffer -3 Erbsen
● Lorbeerblatt -3-4 Blätter
● Schwarze Pfefferkörner -10 Stück
● Rote Paprika - eine Prise
● Nelke -3 Stück (optional)
1.Wir brauchen also aufgetauten Ostseehering, Beizmischung und eine Tüte. Salz, Zucker, Lorbeerblatt, aromatischer Pfeffer, schwarze und rote Paprika in einer Tasse mischen. Ich habe keine Gewürznelken hinzugefügt, aber ich denke, das wäre auch interessant. Wir machen "trockenes" Salzen.
2.Wir müssen Hering auftauen und gründlich in Wasser spülen. Lassen Sie uns den Ostseehering trocknen. Wir putzen die Fische nicht! Ganz ausfüllen! Schöner glänzender Fisch, normale Qualität, fast kein Bruchfisch.
3.Nehmen Sie eine gute Tasche und legen Sie Hering hinein. Gießen Sie die Salzmischung hier. Wir binden die Tüte und schütteln sie ein wenig, damit sich das Salz gleichmäßig verteilt. Sie sollten nicht alle Arten von prallen Salzen nehmen, Sie benötigen gewöhnliches billiges Steinsalz. Das Rezept funktioniert möglicherweise nicht mit Meersalz und jodiertem Salz.
4.Jetzt lege ich das Paket mit dem zukünftigen Gewürzhering in eine Schüssel und stelle es in den Kühlschrank. 10 Stunden sind genug, aber nur für den Fall, dass ich den Ostseehering für einen Tag überlebt habe. Der Fisch wurde vorher gründlich eingefroren, als er aus der Region Kaliningrad reiste, außerdem trug Salz auch zur Zerstörung möglicher Parasiten bei, sodass Sie sich keine Sorgen über mögliche Probleme machen sollten. Mehrmals nahm ich die Schüssel heraus und drehte den Hering um, Saft erschien in der Tüte und ich wollte, dass der Fisch gleichmäßig gesalzen ist.
5.Und jetzt ist dieser glückliche Moment gekommen!
6.Wir waschen den Fisch.
7.Jetzt entfernen wir die Köpfe und Eingeweide. Hier erwartete mich ein netter Bonus, Kaviar wurde in einigen Fischen gefunden. Es bleibt nur noch eine Verkostung von Heringswürzsalzen durchzuführen. Wir verteilen den Hering auf einem Teller.
Ich servierte Hering mit gekochten jungen Kartoffeln, Zwiebeln und Sauce. Sauce aus Butter, Salz, Pfeffer und Knoblauch. Einfach eine Tasse Butter, Salz, Pfeffer und gehackten Knoblauch 1-2 Minuten in die Mikrowelle stellen und die Buttersauce ist fertig.
Was kann ich über Geschmack sagen? Nicht schlecht! Zartes Fleisch trennt sich gut von Knochen. Interessanter eigentümlicher Geschmack. Etwas erinnerte an Blauen Wittling.
Und wenn Sie noch einen Stapel Schnaps dazugeben, wird es großartig.
Kein schlechter Snack für alle Gelegenheiten!
Ein Kilogramm Hering wurde in ein paar Tricks gegessen. Ich werde es wieder tun, es wird sich lohnen!
Werden wir kochen?