Hello ,my friends!
Today we will cook a black rice dish. Black rice is a fashionable and beautiful topic in cooking. I will use rice with the romantic name "Southern Night".
We combine black rice with cod cheeks and vegetables in a creamy sauce. Cod cheeks can be substituted for fillets of any good fish.
The recipe is simple.
Let's Go!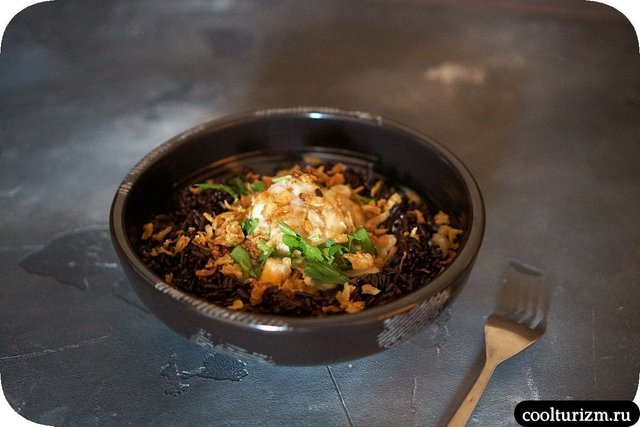 Ingredients:
● Black rice -1.5 cups
● Pumpkin - 300 gr
● Onions -1 pc
● Celery -1-2 stalks
● Cod cheeks -400-500 gr
● Cream 10% -200 ml
● Crispy fried onions -2 tbsp.
● Starch -3-4 tbsp.
● Salt, sugar, pepper, oil, herbs, spices - to taste
1.First we have to cook black rice. Black rice differs from white rice in its cooking time. Black rice takes much longer to cook. In any case, you should pay attention to the instructions on the package, black rice can also be different, do not confuse it with wild rice, that is not really rice at all. My rice was cooked for 30 to 35 minutes. Bring 1.5 liters of water to a boil, add a little salt or soy sauce and add the rice. Stir, reduce heat to a minimum (2ka) and cover the pan with a lid. Forget about rice, it will cook perfectly on its own. Now we drain the water through a colander and add a little butter to the rice. We mix. Black rice is ready!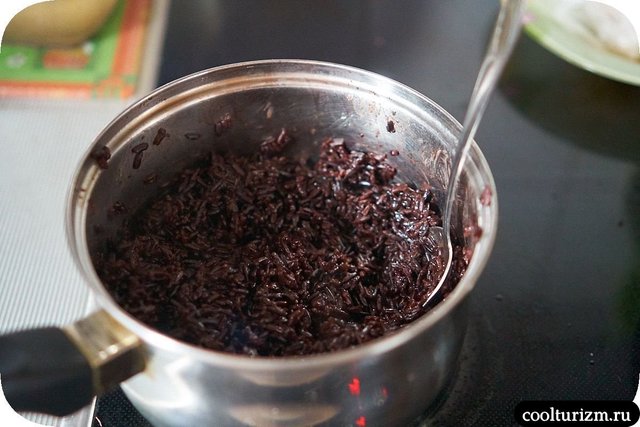 2.In parallel with cooking rice, we are also engaged in vegetables. We clean the pumpkin from the skin and seeds. Peel the onions. Chop the onion, celery stalk and pumpkin into small pieces. Fry vegetables in butter or vegetable oil. About 10 minutes, until the onion is golden. We put the vegetables aside. I do everything in the 1st pan, so I have to improvise.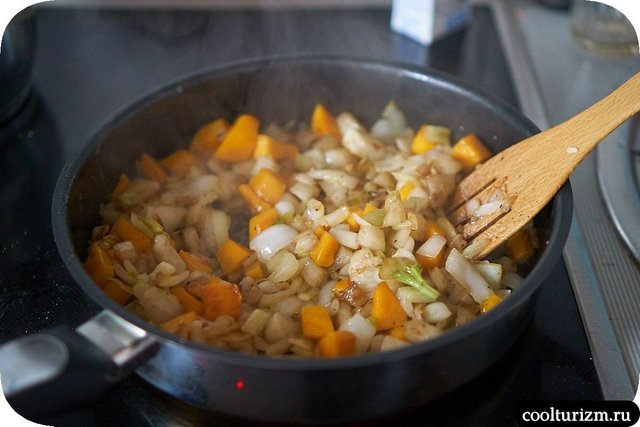 3.Take the cod cheeks and roll them in starch. Fry the cheeks in butter on 2 sides. 3 minutes per side. Remove the cod cheeks from the pan.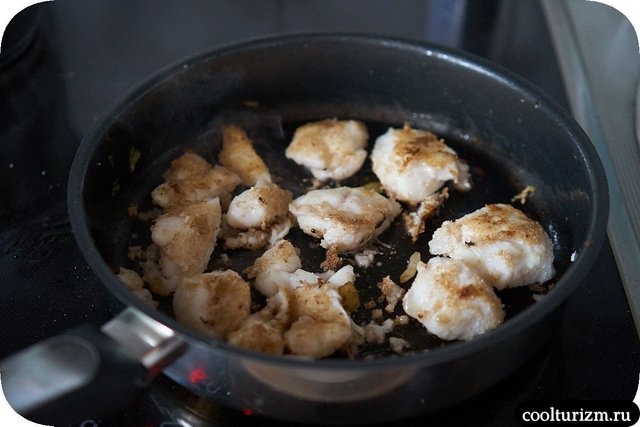 4.Now put the vegetables in the pan and add the cream. We also carefully place pieces of cod cheeks here. Add pepper and salt / soy sauce to taste. You can also add a couple of chopped garlic cloves. We reduce the heat and cook the dish under the lid for 10-15 minutes.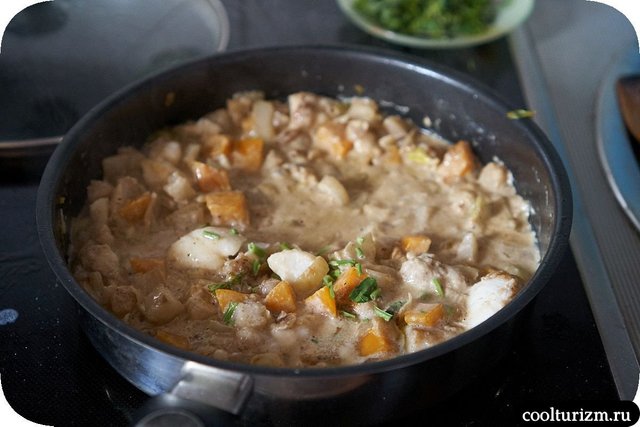 5.Put black rice in a plate. Place vegetables in a creamy sauce and cod cheeks on top. Sprinkle the dish with chopped cilantro or parsley and fried crispy onions. These crispy onions can be found in stores. This is a killer thing! Very tasty!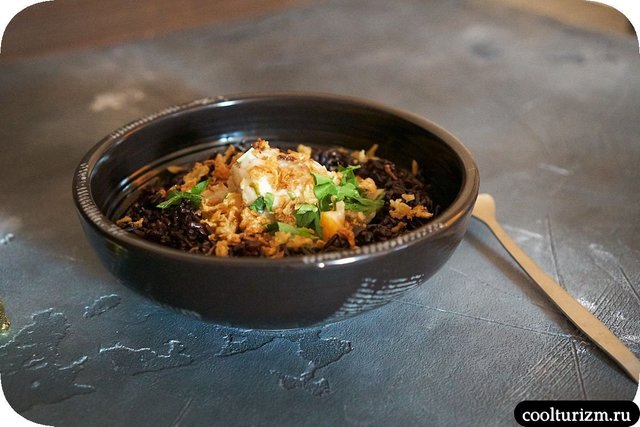 A relatively light dish. Very appetizing and bright!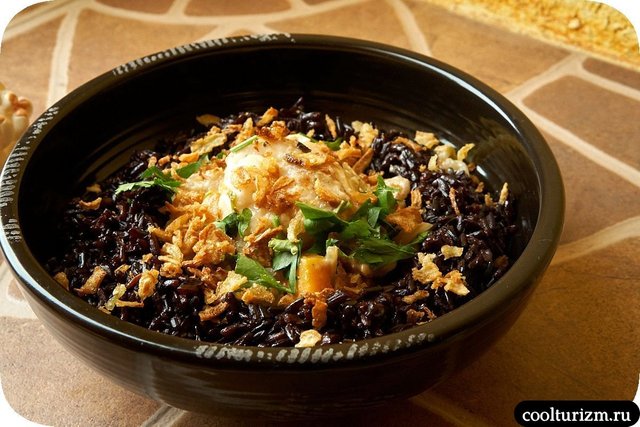 Will We Cook?

Heute machen wir ein schwarzes Reisgericht. Schwarzer Reis ist ein modisches und schönes Thema beim Kochen. Ich werde Reis mit dem romantischen Namen "Southern Night" verwenden.
Wir kombinieren schwarzen Reis mit Kabeljaubäckchen und Gemüse in einer cremigen Sauce. Kabeljaubäckchen können durch Filets von jedem guten Fisch ersetzt werden.
Das Rezept ist einfach.
Lass uns gehen!
Zutaten:
● Schwarzer Reis -1,5 Tassen
● Kürbis - 300 gr
● Zwiebeln -1 Stück
● Sellerie -1-2 Stängel
● Dorschbacken -400-500 gr
● Sahne 10% -200 ml
● Knusprige Röstzwiebeln -2 EL.
● Stärke -3-4 EL.
● Salz, Zucker, Pfeffer, Öl, Kräuter, Gewürze - nach Geschmack
1.Zuerst müssen wir schwarzen Reis kochen. Schwarzer Reis unterscheidet sich von weißem Reis in seiner Kochzeit. Schwarzer Reis braucht viel länger zum Kochen. Auf jeden Fall sollte man die Hinweise auf der Packung beachten, schwarzer Reis kann auch anders sein, nicht mit Wildreis verwechseln, das ist eigentlich gar kein Reis. Mein Reis wurde 30 bis 35 Minuten gekocht. 1,5 Liter Wasser zum Kochen bringen, etwas Salz oder Sojasauce dazugeben und den Reis dazugeben. Umrühren, die Hitze auf ein Minimum reduzieren (2ka) und die Pfanne mit einem Deckel abdecken. Vergessen Sie Reis, er kocht perfekt von selbst. Nun lassen wir das Wasser durch ein Sieb ab und geben etwas Butter zum Reis. Wir mischen. Schwarzer Reis ist fertig!
2.Parallel zum Reiskochen beschäftigen wir uns auch mit Gemüse. Wir reinigen den Kürbis von der Haut und den Kernen. Schälen Sie die Zwiebeln. Zwiebel, Selleriestange und Kürbis in kleine Stücke schneiden. Gemüse in Butter oder Pflanzenöl anbraten. 10 Minuten, bis die Zwiebel goldbraun ist. Das Gemüse legen wir beiseite. Ich mache alles in der 1. Pfanne, also muss ich improvisieren.
3.Nehmen Sie die Dorschbacken und rollen Sie sie in Stärke. Die Wangen in Butter von 2 Seiten anbraten. 3 Minuten pro Seite. Die Dorschbacken aus der Pfanne nehmen.
4.Geben Sie nun das Gemüse in die Pfanne und fügen Sie die Sahne hinzu. Hier platzieren wir auch sorgfältig Stücke von Kabeljaubacken. Nach Geschmack Pfeffer und Salz/Sojasauce hinzufügen. Sie können auch ein paar gehackte Knoblauchzehen hinzufügen. Wir reduzieren die Hitze und köcheln das Gericht 10-15 Minuten unter dem Deckel.
5.Schwarzen Reis in einen Teller geben. Das Gemüse in eine cremige Sauce legen und die Kabeljaubacken darauf legen. Bestreuen Sie das Gericht mit gehacktem Koriander oder Petersilie und gebratenen knusprigen Zwiebeln. Diese knusprigen Zwiebeln sind im Handel erhältlich. Das ist eine Killersache! Sehr lecker!
Ein relativ leichtes Gericht. Sehr appetitlich und hell!
Werden wir kochen?