Hello, my friends!
Today we will cook a two-in-one dish. We will fry pieces of meat on the ribs (you can take any meat of your choice) and serve buckwheat with vegetables and shiitaki mushrooms on cracklings for garnish. This chic buckwheat garnish can easily serve as an independent dish. The greaves make the buckwheat garnish irresistible! Buckwheat is not very popular in Europe, which is a pity.
A simple mayonnaise and tomato paste sauce will complete the picture. Fatty and satisfying! Everything we love!
The recipe is simple.
Let's Go!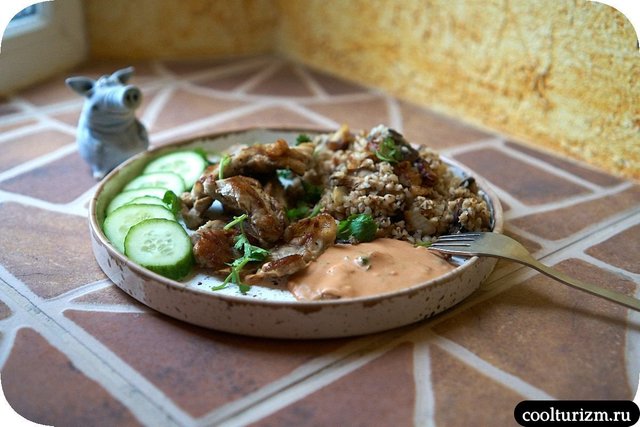 Ingredients:
● Meat on ribs -400 -600 gr
● Carrots or pumpkin -1 pcs or 300 gr
● Onions -1 pc
● Buckwheat -1-1.5 cups
● Dried shiitake mushrooms -6-10 pcs
● Pork fat (bacon) -100 -200 gr
● Mayonnaise -100 gr
● Tomato paste -2 tbsp.
● Salt, sugar, pepper, herbs, spices - to taste
1.Let's start with shiitake. Since I had dry shiitake mushrooms, I soaked them in water. It takes about 3 hours, but most of the time I leave them in the water overnight. Shiitake becomes remarkably tender. Eat them without frying. Now it's time for buckwheat and vegetables. Still know how to cook banal buckwheat? We simply boil buckwheat in salted water. Although in this case I preferred to add a couple of tablespoons of soy sauce. Cook the buckwheat until tender and drain the water. It is better to cook buckwheat and fry vegetables at the same time. First of all, we take pieces of bacon, I decided to experiment and buy unsalted bacon in the store. It's just lard without a skin for frying. Cut the bacon into small pieces and put it in a frying pan, let it sizzle. We peel the onion from the husk. Cut the onion into small pieces. Peel the pumpkin (yes, pumpkin again!) And cut into cubes. We spread the vegetables to the pieces of bacon and fry until the onions are golden. The bacon is wonderfully fried, the cracklings crunch and beckon. Now we cut the shiitake into strips and add here. Pepper to taste. I added some soy sauce and 3 tablespoons of teriyaki. You can drip the secret ingredient, oyster sauce. We mix. The vegetables take about 15-20 minutes to cook.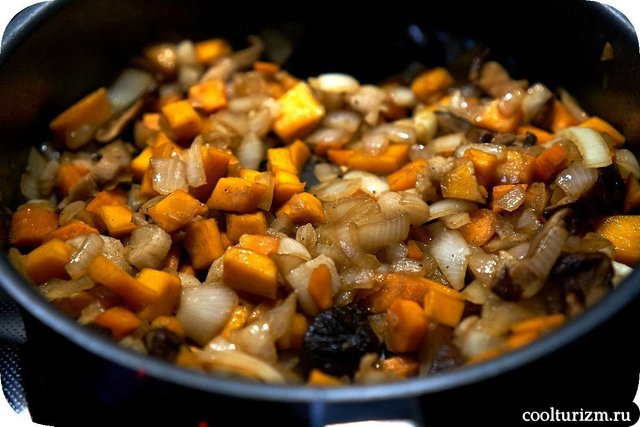 2.And now we mix buckwheat with vegetables with cracklings. If necessary, add soy sauce to taste. Buckwheat garnish is ready! Greaves, shiitake and soy sauce make this mediocre dish a masterpiece.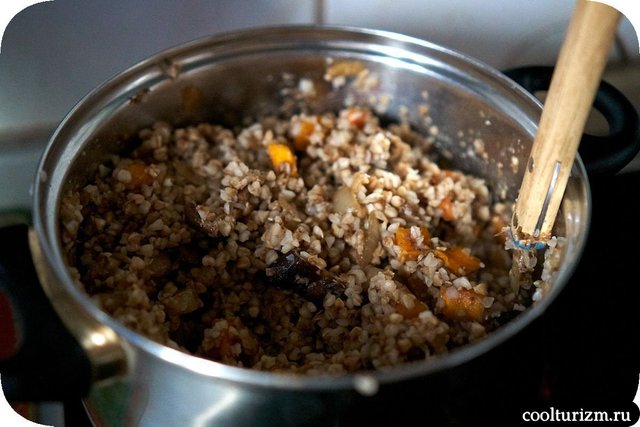 3 It remains only to fry the meat on the ribs. I had a stew type set. Fry meat from 2 sides, 5 minutes per side, for color scheme. Then add salt and pepper to taste and cover the pan with a lid. Simmer the meat for 10 minutes over low heat. Sauce! We forgot to make the sauce! Mix mayonnaise and tomato paste (or ketchup). If you took tomato paste, then add sugar. Spices to taste. Stir the sauce. You can compose the dish!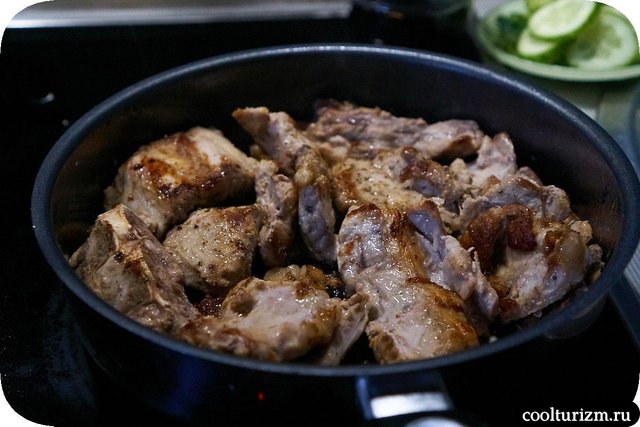 Put the buckwheat with shiitake and cracklings on a plate. Add meat and mayonnaise-tomato sauce. Greens are welcome!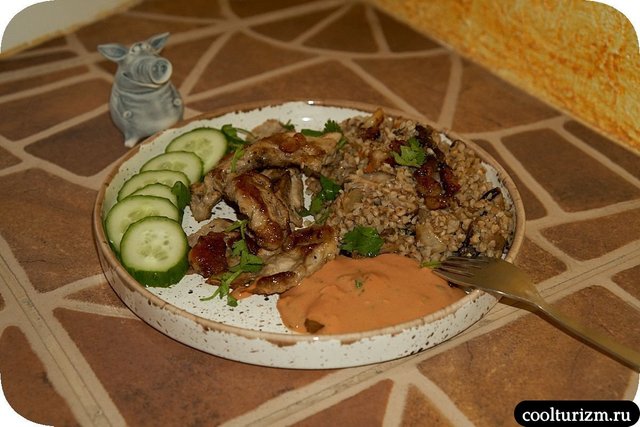 A gorgeous dish. Pig said and went to get pancreatin.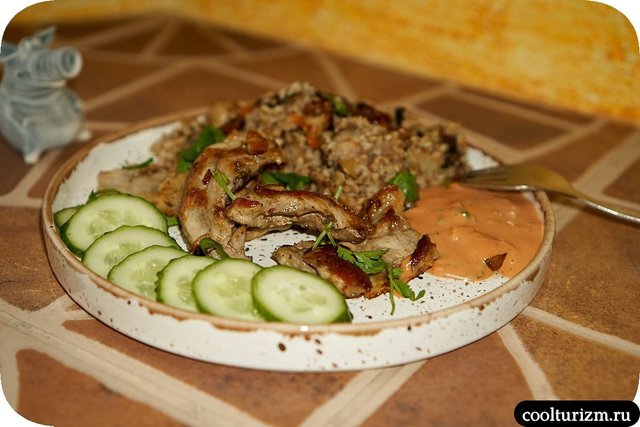 Will We Cook?

Heute bereiten wir ein 2-in-1-Gericht zu. Wir braten Fleischstücke auf den Rippen (Sie können jedes Fleisch Ihrer Wahl nehmen) und servieren Buchweizen mit Gemüse und Shiitaki-Pilze auf Schwarten zum Garnieren. Diese schicke Buchweizengarnitur kann problemlos als eigenständiges Gericht dienen. Die Grieben machen die Buchweizengarnitur unwiderstehlich! Buchweizen ist in Europa nicht sehr beliebt, was schade ist.
Eine einfache Mayonnaise und Tomatenmarksoße runden das Bild ab. Fett und befriedigend! Alles was wir lieben!
Das Rezept ist einfach. Lass uns gehen!
Zutaten:
● Fleisch auf Rippen -400 -600 gr
● Karotten oder Kürbis -1 Stück oder 300 gr
● Zwiebeln -1 Stück
● Buchweizen -1-1,5 Tassen
● Getrocknete Shiitake-Pilze -6-10 Stück
● Schweinefett -100 -200 gr
● Mayonnaise -100 gr
● Tomatenmark -2 EL.
● Salz, Zucker, Pfeffer, Kräuter, Gewürze - nach Geschmack
1.Beginnen wir mit Shiitake. Da ich trockene Shiitake-Pilze hatte, habe ich sie in Wasser eingeweicht. Es dauert ungefähr 3 Stunden, aber die meiste Zeit lasse ich sie über Nacht im Wasser. Shiitake wird bemerkenswert zart. Essen Sie sie ohne zu braten. Jetzt ist es Zeit für Buchweizen und Gemüse. Wissen Sie noch, wie man banalen Buchweizen kocht? Wir kochen einfach Buchweizen in Salzwasser. Obwohl ich in diesem Fall lieber ein paar Esslöffel Sojasauce hinzugefügt habe. Den Buchweizen weich kochen und das Wasser abgießen. Es ist besser, Buchweizen zu kochen und gleichzeitig Gemüse zu braten. Zuerst nehmen wir Speckstücke, ich beschloss zu experimentieren und ungesalzenen Speck im Laden zu kaufen. Es ist nur Schmalz ohne Haut zum Braten. Speck in kleine Stücke schneiden und in eine Pfanne geben, brutzeln lassen. Wir schälen die Zwiebel von der Schale. Die Zwiebel in kleine Stücke schneiden. Den Kürbis schälen (ja, wieder Kürbis!) und in Würfel schneiden. Wir verteilen das Gemüse auf den Speckstücken und braten, bis die Zwiebeln goldbraun sind. Der Speck ist wunderbar gebraten, die Knistern knirschen und locken. Nun schneiden wir den Shiitake in Streifen und fügen ihn hier hinzu. Pfeffer nach Geschmack. Ich fügte etwas Sojasauce und 3 Esslöffel Teriyaki hinzu. Sie können die geheime Zutat, Austernsauce, tropfen. Wir mischen. Das Gemüse braucht etwa 15-20 Minuten zum Garen.
2.Und jetzt mischen wir Buchweizen mit Gemüse mit Schwarten. Bei Bedarf Sojasauce nach Geschmack hinzufügen. Die Buchweizengarnitur ist fertig! Grieben, Shiitake und Sojasauce machen dieses mittelmäßige Gericht zu einem Meisterwerk.
3.Es bleibt nur das Fleisch auf den Rippen zu braten. Ich hatte ein Eintopf-Set. Braten Sie Fleisch von 2 Seiten, 5 Minuten pro Seite, für die Farbgebung. Anschließend mit Salz und Pfeffer abschmecken und die Pfanne mit einem Deckel abdecken. Das Fleisch 10 Minuten bei schwacher Hitze köcheln lassen. Soße! Wir haben vergessen, die Soße zu machen! Mayonnaise und Tomatenmark (oder Ketchup) mischen. Wenn Sie Tomatenmark genommen haben, fügen Sie Zucker hinzu. Gewürze nach Geschmack. Die Soße umrühren. Sie können das Gericht zusammenstellen!
Buchweizen mit Shiitake und Schwarten auf einem Teller anrichten. Fleisch und Mayonnaise-Tomaten-Sauce hinzufügen. Grüne sind willkommen!
Ein wunderschönes Gericht. sagte Schwein und ging, um Pankreatin zu holen. Werden wir kochen?