Hello, my friends!
Today we will cook a light warm chicken liver salad with teriyaki sauce, pear, pumpkin and Chinese cabbage.
There will be only a light dressing of oil, lemon juice and soy sauce. The recipe is simple but delicious.
Let's Go!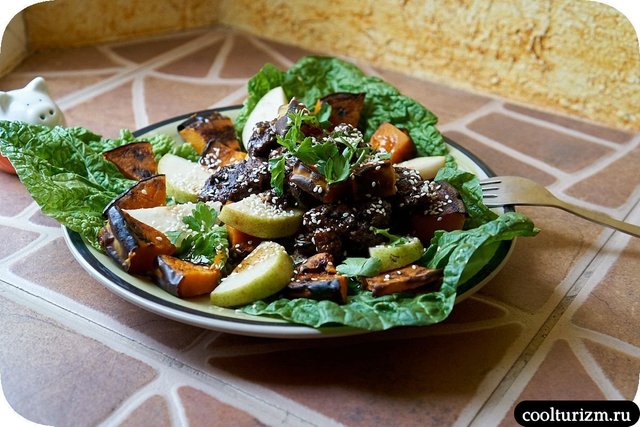 Ingredients:
● Chicken liver - 400-500 gr
● Chinese cabbage -5-8 sheets
● Pumpkin - 400 gr
● Pear -2-3 pieces
● Teriyaki sauce -3-4 tbsp.
● Vegetable oil -3 tbsp.
● Wheat flour - 3 tbsp.
● Soy sauce, pepper, sesame seeds, herbs, lemon juice, oil, spices - to taste
1.Take the pumpkin, remove the seeds, leave the peel. Cut the pumpkin into random pieces. Cooking pumpkin in a dry skillet or on an overhead grill in the oven. 250 degrees. 7-8 minutes per side. We put the pumpkin aside.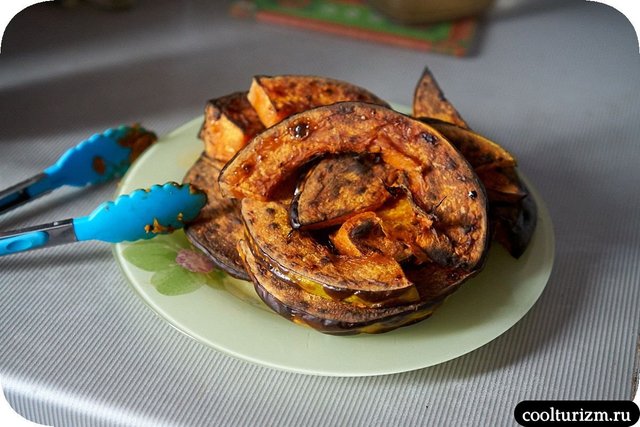 2.We wash the chicken liver and remove any doubtful places and membranes. If there are any yellowish spots, then they also need to be cut off, otherwise the liver may taste bitter and the taste will be hopelessly spoiled. Cut the liver into medium pieces and roll the pieces of liver in flour. Quickly fry the pieces of liver in oil, fry on all sides. It takes 5-8 minutes. Then add a couple of tablespoons of soy sauce and 3 tablespoons of teriyaki. Stir gently and then reduce heat to a minimum. Let the liver cook for another 10 minutes. Remove the liver and sauce from the pan.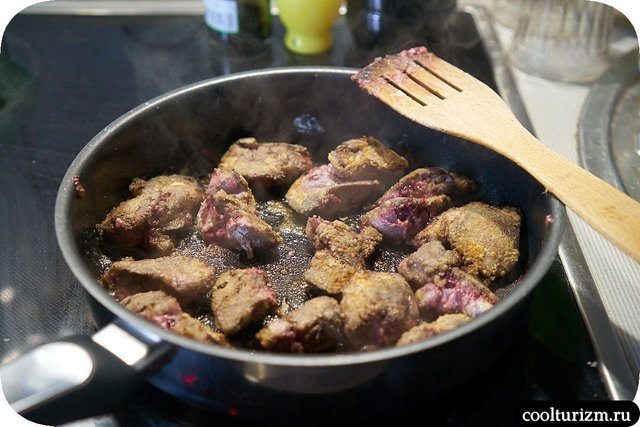 3.Wash and cut a fresh pear into random pieces. But you can fry a pear, it's up to your taste.
In this case, I used good fresh Chinese cabbage. But you can use any salad leaves.
Put the green leaves on a plate (I cut the thickest parts of the Chinese cabbage). Lay out pieces of pumpkin and pear on top. Making a quick salad dressing. Mix 3 tablespoons of vegetable oil, a teaspoon of lemon juice and a couple of tablespoons of soy sauce, you can add hot pepper. This is a salad dressing.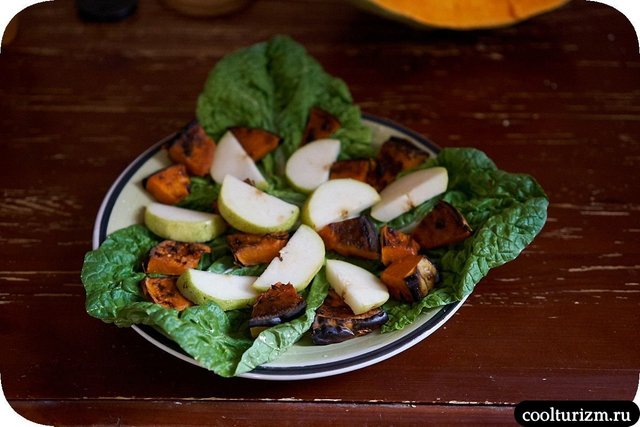 4.On top of the Chinese cabbage leaves we spread the liver in teriyaki sauce, pour the dressing over the warm salad and sprinkle with sesame seeds. Parsley or cilantro would be fine!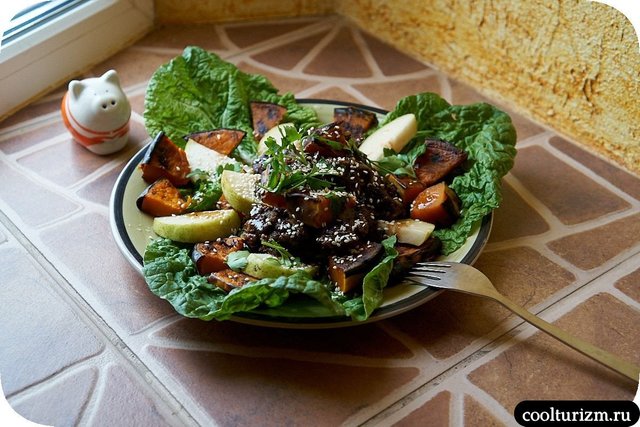 Light, delicious salad is ready!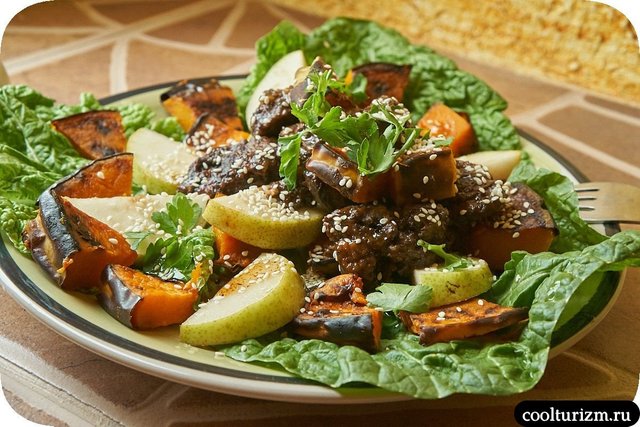 Will We Cook?

Heute bereiten wir einen leichten warmen Hühnerlebersalat mit Teriyakisauce, Birne, Kürbis und Chinakohl zu.
Es wird nur ein leichtes Dressing aus Öl, Zitronensaft und Sojasauce geben. Das Rezept ist einfach aber lecker.
Lass uns gehen!
Zutaten:
● Hühnerleber - 400-500 gr
● Chinakohl -5-8 Blatt
● Kürbis - 400 gr
● Birne -2-3 Stück
● Teriyaki-Sauce -3-4 EL.
● Pflanzenöl -3 EL.
● Weizenmehl - 3 EL.
● Sojasauce, Pfeffer, Sesam, Kräuter, Zitronensaft, Öl, Gewürze - nach Geschmack
1.Nehmen Sie den Kürbis, entfernen Sie die Kerne, lassen Sie die Schale. Schneiden Sie den Kürbis in zufällige Stücke. Kürbis in einer trockenen Pfanne oder auf einem Überkopfgrill im Ofen garen. 250 Grad. 7-8 Minuten pro Seite. Den Kürbis legen wir beiseite.
2.Wir waschen die Hühnerleber und entfernen alle zweifelhaften Stellen und Membranen. Wenn gelbliche Flecken vorhanden sind, müssen diese ebenfalls abgeschnitten werden, sonst kann die Leber bitter schmecken und der Geschmack wird hoffnungslos verdorben. Die Leber in mittelgroße Stücke schneiden und die Leberstücke in Mehl wälzen. Die Leberstücke in Öl schnell anbraten, von allen Seiten anbraten. Es dauert 5-8 Minuten. Fügen Sie dann ein paar Esslöffel Sojasauce und 3 Esslöffel Teriyaki hinzu. Vorsichtig umrühren und dann die Hitze auf ein Minimum reduzieren. Lassen Sie die Leber weitere 10 Minuten kochen und nehmen Sie die Leber und die Sauce aus der Pfanne.
3.Waschen und schneiden Sie eine frische Birne in zufällige Stücke. Aber Sie können eine Birne braten, es ist Ihrem Geschmack überlassen.
In diesem Fall habe ich guten frischen Chinakohl verwendet. Sie können aber beliebige Salatblätter verwenden.
Legen Sie die grünen Blätter auf einen Teller (ich schneide die dicksten Stellen des Chinakohls ab). Kürbis- und Birnenstücke darauf verteilen. Ein schnelles Salatdressing zubereiten. Mischen Sie 3 Esslöffel Pflanzenöl, einen Teelöffel Zitronensaft und ein paar Esslöffel Sojasauce, Sie können scharfen Pfeffer hinzufügen. Dies ist ein Salatdressing.
4.Auf den Chinakohlblättern die Leber in Teriyakisauce verteilen, das Dressing über den warmen Salat gießen und mit Sesam bestreuen. Petersilie oder Koriander wären gut!
Leichter, leckerer Salat ist fertig!
Werden wir kochen?