Hello, my friends!
We have already made rice for sushi, now all that remains is to prepare sushi or rolls. Today I will make kappa maki rolls and avocado rolls.
Kappa maki are rolls stuffed with cucumbers. Nice vegan theme!
There is no complexity in the recipe, but you need certain ingredients, a mat, and besides, you need to "fill" your hand. This is a matter of practice and automatism.
Let's Go!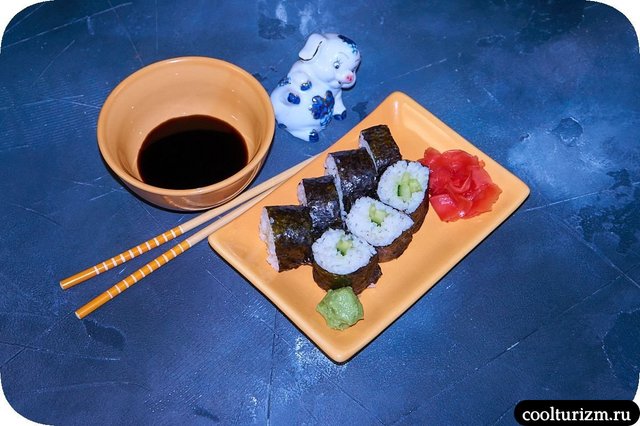 Ingredients:
● Rice for sushi - 3-5 tbsp on a roll
● Nori- 1 \ 2 -1 sheet for 1 roll
● Cucumber - 1 piece
● Avocado - 1 piece
● Wasabi - to taste
● Soy sauce, ginger - to taste
1.The rice is already cold and ready for sculpting. Cut the cucumbers into long, narrow strips. And since I still have rolls with avocado planned, I also cut the avocado into strips. After removing the skin and removing the bone.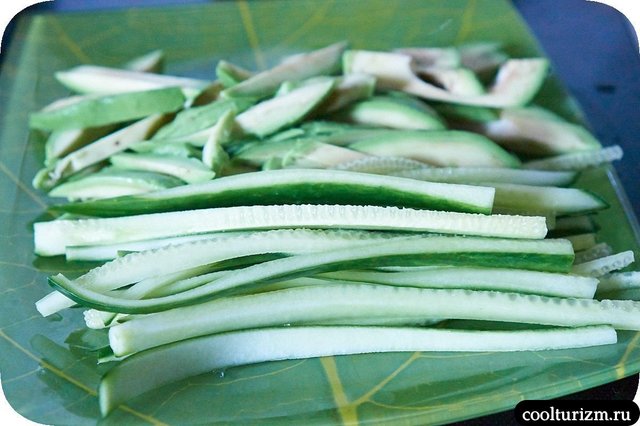 2.We will need nori sheets and a mat. Ideally, the mat should be wrapped in plastic wrap. But my film constantly sticks somewhere and falls off, so I removed it. It's easier for me to wash the mat later than to suffer like that.
You can take a whole sheet of nori, but if you have already filled your hand, then the sheet can be cut into 2 parts. Kappa maki are narrow rolls.
We spread a strip of rice. Lubricate the rice in the center with wasabi paste, but without fanaticism. Whoever does not like wasabi - you can not smear it with rice, this is more done to disinfect fish in fish rolls. Put the cucumbers on top of the wasabi strip. We estimate that the cucumbers lie in the center of the rice, we have to wrap the roll. Do not worry if the cucumbers do not work out perfectly exactly in the center, from the 2nd or 3rd time everything will work out. Here it is important to "fill" your hand.
And there should be no "snails" in the roll! There should be an even circle of rice, this is not a roll. There is no need to spread the entire surface of nori with rice, and then twist it into a "snail". It doesn't look very aesthetically pleasing, Japanese rolls don't do that.
3.Use the mat to wrap the roll. The edges of the nori can be slightly moistened with water, so the roll will not come apart. And now we squeeze the roll a little with a mat so that the filling is formed. The protruding edges can then be trimmed with a knife. We'll need a good sharp knife.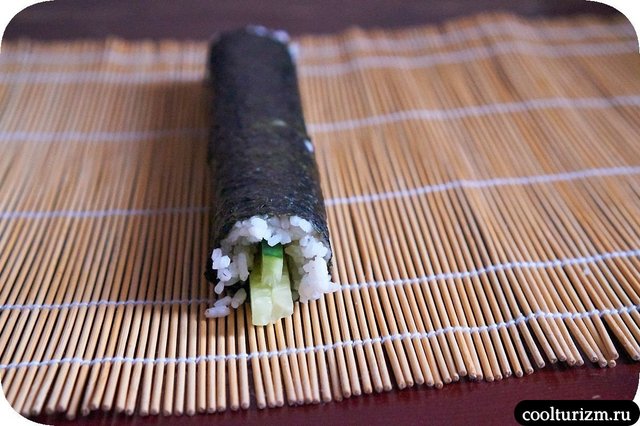 And yes, the shiny side of the nori should be on top! And on the matte side, you should apply the filling.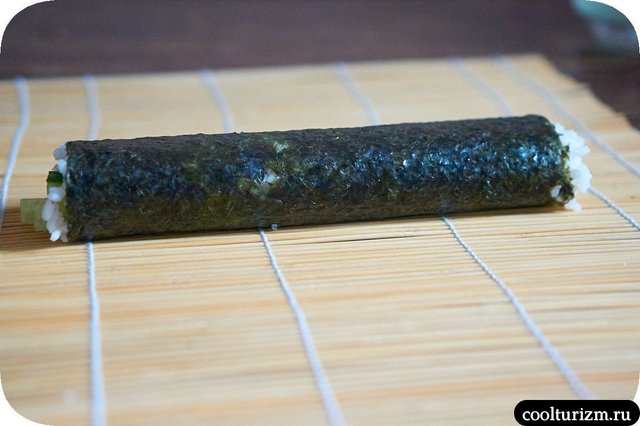 I performed about the same manipulations with avocado. Here is a strip of wasabi in the center of the rice.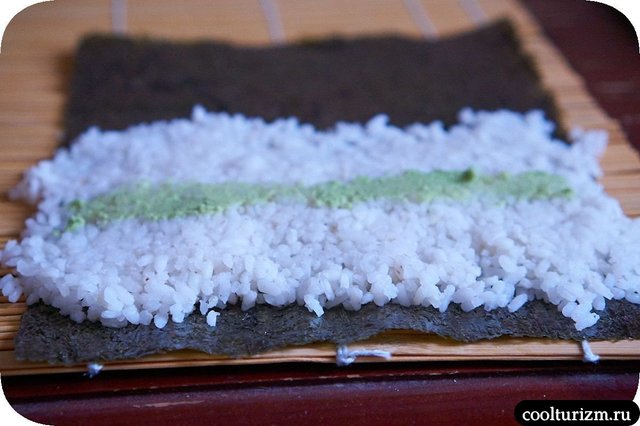 I sprinkled some sugar on the avocado, but this is not for everybody.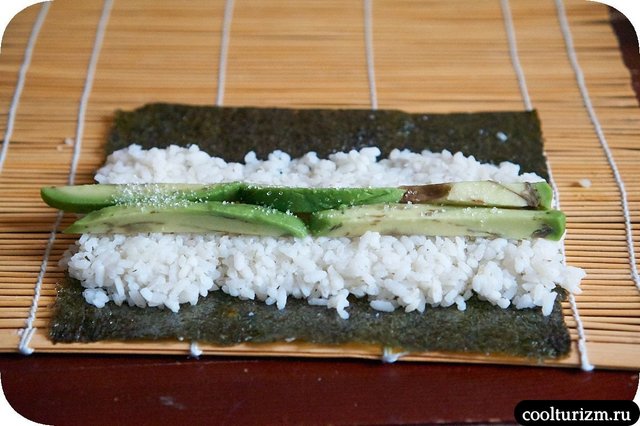 4.Rolls are ready! I've made several types of toppings, so salmon sticks out in some places. The recipe for salmon rolls will come later.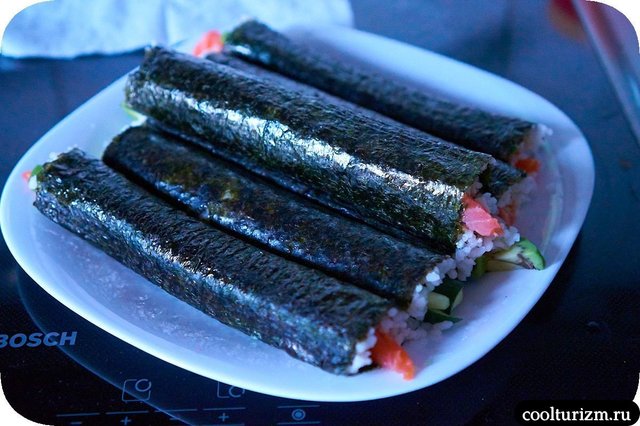 Now we cut the kappa maki with a very sharp knife. A dull knife will puncture the nori and flatten the rice filling. We use soy sauce, wasabi and pickled ginger.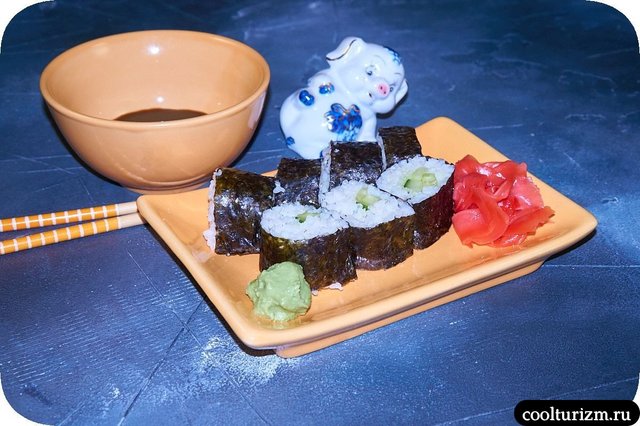 kappa maki turned out to be crooked, I have not done them for a long time. I am sure you will make everything much more beautiful!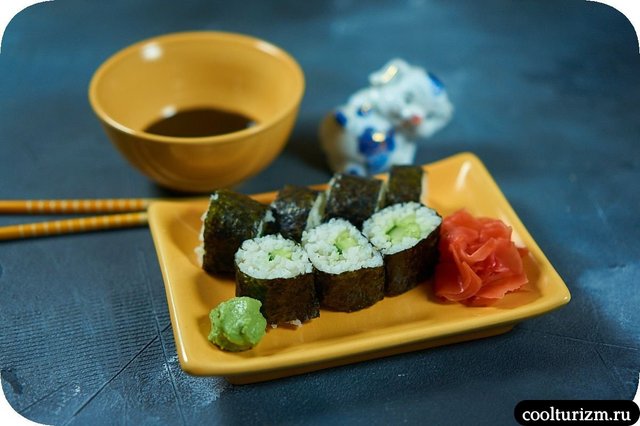 I believe in you!

Wir haben bereits Reis für Sushi gemacht, jetzt müssen wir nur noch Sushi oder rolle zubereiten. Heute werde ich Kappa Maki und Avocado rolle machen.
Kappa Maki sind mit Gurken gefüllte Brötchen. Schönes veganes Thema!
Das Rezept ist nicht komplex, aber Sie benötigen bestimmte Zutaten, eine Matte und außerdem müssen Sie Ihre Hand "füllen". Dies ist eine Frage der Übung und des Automatismus.
Lass uns gehen!
Zutaten:
● Reis für Sushi - 3-5 EL auf einer Rolle
● Nori- 1 \ 2 -1 Blatt für 1 Rolle
● Gurke - 1 Stück
● Avocado - 1 Stück
● Wasabi - nach Geschmack
● Sojasauce, Ingwer - nach Geschmack
1.Der Reis ist bereits kalt und bereit zum Formen. Schneiden Sie die Gurken in lange, schmale Streifen. Und da ich noch Brötchen mit Avocado geplant habe, schneide ich die Avocado auch in Streifen. Nach dem Entfernen der Haut und dem Entfernen des Knochens.
2.Wir brauchen Noriblätter und eine Matte. Idealerweise sollte die Matte in Plastikfolie eingewickelt werden. Aber mein Film klebt ständig irgendwo und fällt ab, also habe ich ihn entfernt. Es fällt mir leichter, die Matte später zu waschen, als so zu leiden. Sie können ein ganzes Blatt Nori nehmen, aber wenn Sie Ihre Hand bereits gefüllt haben, kann das Blatt in zwei Teile geschnitten werden. Kappa Maki sind schmale Brötchen. Wir verteilen einen Streifen Reis. Schmieren Sie den Reis in der Mitte mit Wasabipaste, aber ohne Fanatismus. Wer Wasabi nicht mag - man kann es nicht mit Reis bestreichen, dies geschieht eher zur Desinfektion von Fisch in Fischröllchen. Legen Sie die Gurken auf den Wasabi-Streifen. Wir schätzen, dass die Gurken in der Mitte des Reises liegen, wir müssen die Rolle einwickeln. Machen Sie sich keine Sorgen, wenn die Gurken nicht genau in der Mitte funktionieren, ab dem 2. oder 3. Mal klappt alles. Hier ist es wichtig, die Hand zu "füllen". Und es sollten keine "Schnecken" in der Rolle sein! Es sollte einen gleichmäßigen Reiskreis geben, dies ist keine Rolle. Es ist nicht nötig, die gesamte Oberfläche von Nori mit Reis zu bestreichen und ihn dann zu einer "Schnecke" zu verdrehen. Es sieht nicht sehr ästhetisch aus, japanische rolle tun das nicht.
3.Verwenden Sie die Matte, um die Rolle zu rollen. Die Ränder des Nori können leicht mit Wasser angefeuchtet werden, damit die Rolle nicht auseinander fällt. Und jetzt drücken wir die Rolle ein wenig mit einer Matte zusammen, damit sich die Füllung bildet. Die hervorstehenden Kanten können dann mit einem Messer abgeschnitten werden. Wir brauchen ein gutes scharfes Messer.
Und ja, die glänzende Seite des Nori sollte oben sein! Und die Füllung sollte auf die matte Seite aufgetragen werden.
Ich habe ungefähr die gleichen Manipulationen mit Avocado durchgeführt. Hier ist ein Streifen Wasabi in der Mitte des Reises.
Ich habe ein wenig Zucker auf die Avocado gestreut, aber das ist nicht jedermanns Sache.
4.Rolle sind fertig! Ich habe verschiedene Arten von Belägen gemacht, so dass an einigen Stellen Lachs herausragt. Das Rezept für Lachsröllchen kommt später.
Jetzt schneiden wir das Kappa Maki mit einem sehr scharfen Messer. Ein stumpfes Messer wird den Nori durchstechen und die Reisfüllung abflachen. Wir verwenden Sojasauce, Wasabi und eingelegten Ingwer.
kappa maki stellte sich als krumm heraus, ich habe sie schon lange nicht mehr gemacht. Ich bin sicher, Sie werden alles viel schöner machen! Ich glaube an dich!