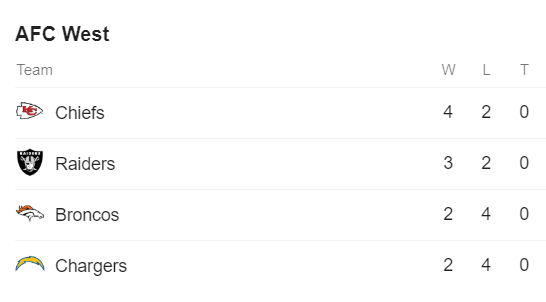 This division looks at you with the envy
of any team can win it all.
Definitely there is one team that hold all the cards
since last season.
So far till the dust settles
it is up for grab.
CHIEFS
With Mahomes in charge, they are a scoring machine.
Hill came back last week end but not enough to secure
a victory.
I like the speed they score points.
One quarter they can generate 17 points.
Dolphins has not score that much in one match so far this season.
Their defense is leaking really bad.
Two weeks ago, Colts won.
Last week Houston came by and scored 31.
If this team can re-balance, a threat will be among the whole NFL
Since Mahomes can throw, Chiefs is first in passing yards per game.
They need to protect him cause he got sacks like fly.
Not to worry for them now.
RAIDERS
They won three games so far this season.
As a whole they are playing football.
They are over .500.
Gruden would appreciate AB
if he stays and help the team moving forward.
So far they are feeling no loss, drama
and continue playing good football.
They are 8th rushing yards for the league.
Something positive to build on.
They are rebuilding swiftly.
BRONCOS
Without Luck, the team is not letting go.
They find a way to get two crucial victories.
They started the season 0-4, somehow
they found a rhythm somewhere and won two
consecutively.
Joe is around but Broncos are a defensive team.
They hold Titans scoreless.
That is a feat you see elite team does in the NFL.
Still got time to push for playoffs.
CHARGERS
This team could do better.
They started the season really bad.
Thanks Dolphins was there to get a victory.
Steelers, Broncos has won against them.
The only way Chargers won two games
they have to score 30 points.
Anything else they lose.
This division is alive and Rivers needs to react quick to secure
more wins and a job next year.
He is the father of a tribe.
Some serious match up awaits his team.
Too early to call second unit.
Chiefs runs this division.
Raiders should take this opportunity to secure more victory.
Playoffs will be available to the best and well train team.
Chiefs and Raiders are in the chase for playoffs spot.
Anything is possible.
Stay put!