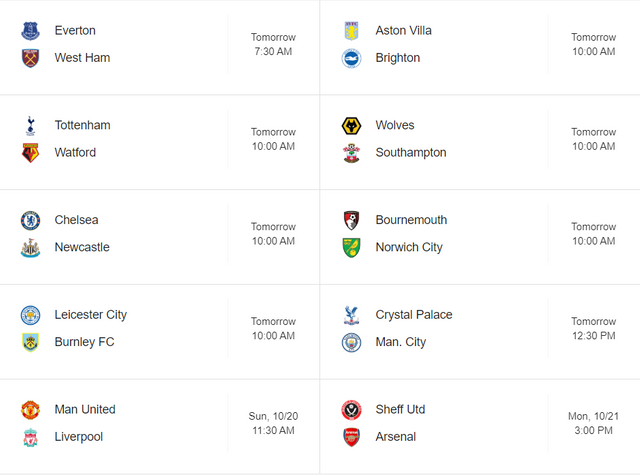 Last week there was no match in the premier league due to national match for many European countries.
I think many teams fell out of rhythm due to lack of togetherness in training.
In that case the players will play many games going forward and be really tired by November.
What match are you looking for this weekend?
Most matches will be played on Saturday.
Starting early in the US with Everton vs West Ham.
Simply I favor West Ham to win this battle in order to stay in the top 10.
Everton, I am not sure cause they lost four in a row.
They have nothing to lose for a win or a draw.
Tottenham has been on, off, on off.
Against Watford I should not say a word, we will see.
Aston Villa vs Brighton, this match only valid for the fans of both teams.
Nothing special I can say about them.
It could be a draw, believe me.
Wolves vs Southampton,
interesting for Wolves, a win can put them close to top 10
eclipsing Man U. top 20 in the standing.
It should a must win for Wolves to build more confidence and character.
Chelsea vs Newcastle,
Newcastle did prove they are better than Man U.
Chelsea should easily win this match up.
That is my personal goal and I am biased.
Bournemouth vs Norwich, this match is capital for Bournemouth
to hold on to top 10.
I know they will deliver and keep that confidence builder way high.
Leicester vs Burnley will be a match so crazy everyone will look at it.
In the US at 10 am it should be the match of the day.
The winner will maintain top 5 standing.
Hard to tell right now.
Why so many matches at 10am?
Maybe that is why the fans want.
Crystal Palace vs Man. City will be a great match for Crystal.
A win will help them to surpass City by one point.
This is their final this Saturday and only game at this time.
Go for it Crystal.
On Sunday we have Manchester United playing against Liverpool.
My expectation for this match is already set up.
If they beat Chelsea in the opening of this year,
they can beat anyone.
I wish a Manchester United victory to revigorate
their base.
Anything is possible.
Liverpool will play their style and we will see.
On Monday we have Arsenal vs Sheffield, two teams
with different scenarios and way different ideas.
Quietly Arsenal is holding on and conducting their way to the top.
Sheffield can win cause they have one in the league.
They can force a draw as well.
They can see how the standing will go and Monday pulls a miracle.
Glad to have EPL back.
Let us enjoy some good ole football.
Stay fit!