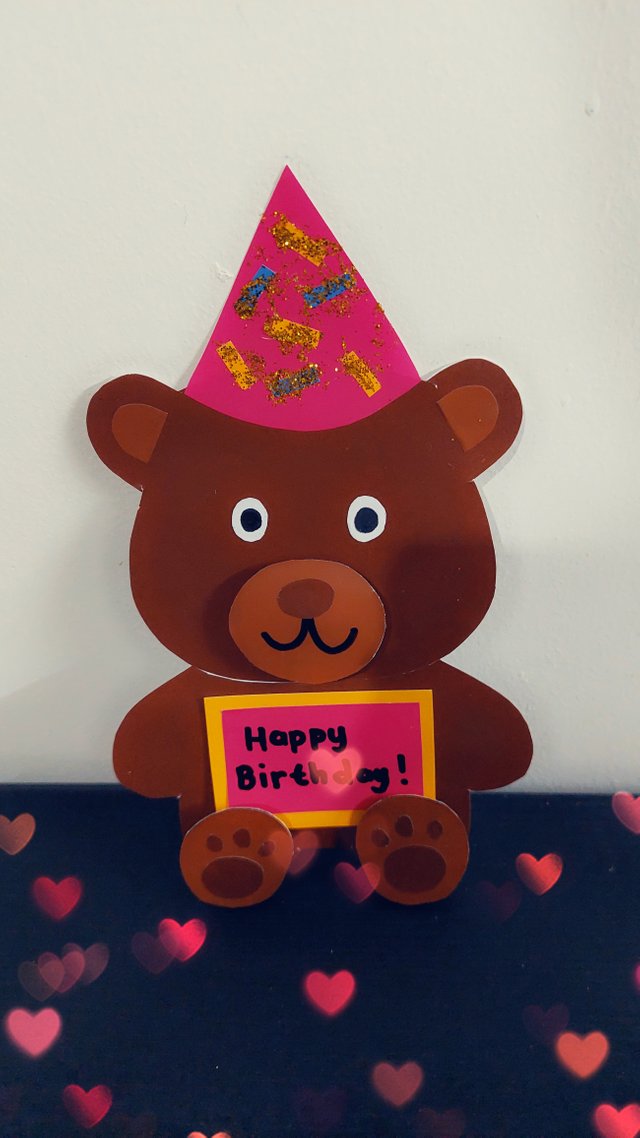 ---
Hello, friends!
If you already read my yesterday article, you might already known that for mom's birthday i made her a handmade cute bear card... and here i would like to share how i made the card easily. You could copy this idea to make a cute card for someone special, maybe your children, spouse or even parents.
---
Materials and things needed:
unused thick paper (brochure)
origami papers
drawing paper
gold glitter
stick glue
multi purpose glue
scissors
pencil
black marker
---
Steps:
1st
I tried to imagine then draw the bear i want to draw on a piece of paper with a pencil. Then i draw my ideal bear on the brochure with the card size. To get the symmetric pattern when i cut it off, i fold the paper first in the middle.
2nd
Then i copy the pattern on the drawing paper. Then cut it off. Cut the head of the bear on the pattern then copy the head pattern on the drawing paper and also cut it off. Then i transfer only body part to the brown origami and paste it with the stick glue to the drawing paper.
3rd
Copy the head part to the drawing paper then cut the pattern off for the two feet of the bear, paste it on the brown origami then paste it. With the darker brown made the paws and also cut them off.
4th
Paste them on the feet then using the drawing paper, cut a little and fold for the back of feet to make the 3D effect, paste it on the body, made 2 for the two feet then paste them on it.
5th
Made the mouth part with the brown color then draw the nose and mouth with the marker. Also make the 3D effect for it like the feet. Paste two inner ear parts with brown and draw the eyes with marker on drawing paper then cut and also paste.
6th
Prepare the party hat with pink origami then some small rectangles in orange and blue for the decoration, paste them on the hat.
7th
Put the multipurpose glue on the small rectangles on the hat then put it on the glitter. Then paste the top of the head part to the whole head body part of the bear.
8th
Last write down happy birthday on a piece of pink origami then cut it off then paste it on orange origami for the frame, after that also cut it off. Now, paste the happy birthday on the middle of bear's body. Voila, cute bear birthday card is now ready to use. And you could also write down your message inside of the bear's head.
---
Happy crafting and happy weekend, friends!