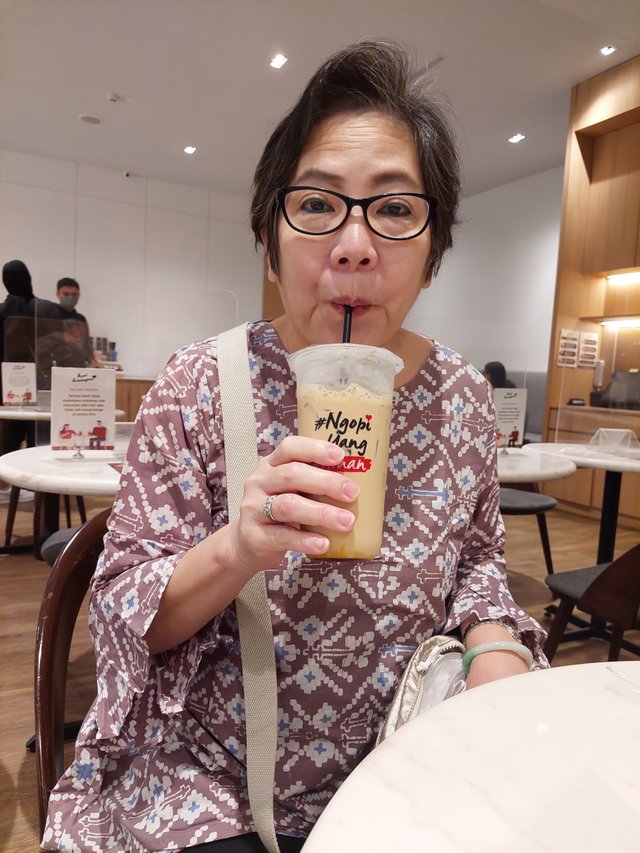 Hello, friends especially foodies!
Yesterday mom and i were strolling in our favorite shopping center at central jakarta. When we were in one of the department store there we saw that it also had a cozy cafe, wah a local one that we missed a lot.. so we then decided to enter the cafe and took a break!
The cafe, itself, had an open area that blended with the shopping center. Here how it looked like
We straightly went to order one of mom's favorite coffee. Here was the menu that they had...
They sold some kind of coffee, tea and also chocolate.
After we had paid, the barista made it then gave it to us. Mom then received it in a distance from the barista.
The dining area they had here was quite large, cozy, clean and also neat. They also had some sofas to add the cozy ambience here. What a perfect place to have afternoon coffee or tea!
Here was the exlover memories coffee
The name of the coffee was extra ordinary, in my language, indonesian, it was called kopi kenangan mantan and if it was translated, exlover memories coffee.
It was arabica coffee mixed with perfect serving of milk and also creamer. We asked for less sugar and also less ice of this iced coffee. You could felt the arabica coffee blended perfectly with the milk and creamer, sweet and tasty. Perfect coffee for a milk coffee lover! It was one of mom's favorite milk coffee.
Oh yeah, the unique thing here was they also sold their merchandises and also old fashioned bread.
For the tasty exlover coffee in large size we only paid 18K IDR or around 1.27 USD cause i paid with a platform of payment which gave me 6K IDR of coin cashback. What an affordable price, isn't it?
Wanna try exlover memories coffee here too?
Kopi kenangan
Lewis and Caroll
UG floor Central Department Store
East Mall, Grand Indonesia
1st, MH Thamrin street
Central Jakarta
Open daily
mon-thu 10am-8pm
fri-sun 10am-9pm
All the photos here were taken with my samsung A52.