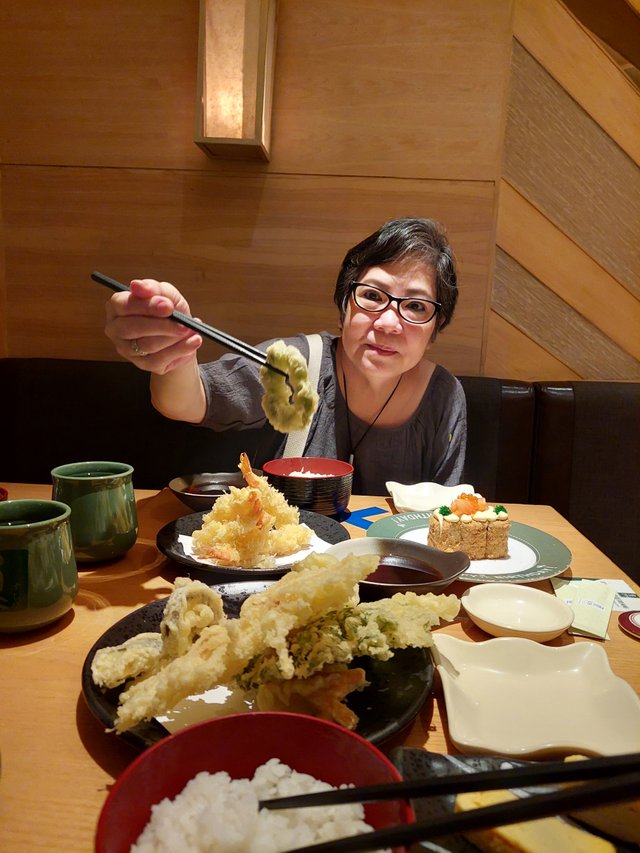 Hello, friends especially foodies!
Yesterday was saturday, a perfect day for family and finally i could relax and enjoy the weekend. Saturday is the time when we coul have time to go out to buy some of our needs and of course have dine out. Yeay, finally we could go back to dine in outside again... So after we arrived to our favorite shopping center we straightly went to the LG floor of west mall to one of my favorite Japanese restaurant.
---
THE LOOK
Here was how the restaurant looked like
---
THE HEALTH PROTOCOLS
Here they had strictly rules for us to dine in:
First, you needed to measure the body temperature outside. Mom was only 35.8 degrees, while me, I was 36.3 degrees, a bit higher than mom but actually it is my normal temperature.
Second, you needed to scan the qr code and fullfil their guest book online.
The menu they had also provided here.
Third, you only had 30 minutes to dine in after your food arrived and no additional food and beverages allowed.
---
THE DINING AREA
Here they had a large, clean and neat dining area and they strictly limited their customer number plus the large table between our table and another table was not allowed to be seated by another guest, so it was safe for our health. Look in my video, even the waiter had the duty to keep it clean all the time...
---
THE MENU
They only sold Japanese food here, and here were some of the dishes they had
Their speciality here were sushi and we didn't order any, but when we ordered the waitress asked us if there any of us had a birthday within 7 days before and after our visit, luckily mom was, her bday would be on September 2nd.. and the COMPLIMENT they gave would be THE BIRTHDAY SUSHI, I kept wondering what it looked like... kind a mystery for us!
---
THE DRINK
The hot ocha came first with our chopsticks and plates. I always loved their fresh and authentic refreshing ocha.. Great Japanese green tea!
---
THE FOOD AS OUR BRUNCH
Here was our brunch
What we had here were tamagoyaki as the appetizer, then we had ebi tempura, yasai tempura, the birthday sushi rolls and of course two bowls of gohan (white rice).
THE TASTE AND THE FLAVOUR
Here I would like to share the taste of each dish we had
The first food that came was the appetizer
TAMAGOYAKI
It served warm, had the soft egg fried texture with sweet flavour. We ate it with the shoyu (Japanese Savory Soy Sauce) to bring the savory flavour. It was just OK.
Next food I would like to share..
EBI TEMPURA
The best shrimp tempura we could have in Jakarta. It had the extra crunchy but soft skin. Inside was delicately delicious shrimp which had savory flavour and a bit sweet from the shrimp original flavour. Plus it was also completed with the savory flavour of Tempura sauce. TOTALLY OISHII..
YASAI TEMPURA
Actually it was vegetables tempura. Many kind of vegetables deep fried in tempura skin. Like usually it contained three kind of mushrooms which was also included enoki, carrot, japanese green veggie (I forgot the name), eggplant, and green chilli bell. The one i thought sweet potato, it was Japanese mushroom but we, at my house, usually called it hiongko, the one that we usually have also in some chinese dishes. These veggies tempura had super crunchy skin, but it was also soft too. The flavour of it was savory. And also like the ebi tempura, it also served with tempura sauce as the dressing which had savory flavour.
The Last One, The FREE COMPLIMENT,
BDAY SUSHI
They gave the sushi rolls which came with beef floss outside, fresh salmon and fish eggs on the top. Inside the rolls there were nori (seaweed), salad and cucumber. It had sweet savory flavour and so fresh, good thing was it was free!
THE PRICE
After had finished our brunch with happy face and full tummy, we went to the cashier to pay. It was 176,193 IDR or around 12.3 USD for our super crunchy delicious brunch, you could see that the bday sushi was totally FREE. A fair price for the tasty brunch we had, you could also see that they FREE FLOW OCHA was only 3K IDR or just 0.2 USD for a cup. Really affordable!
MY CONCLUSION
This restaurant had a super delicious dishes in fair price for Japanese dishes, the service was great too. And yess i recommend this place if you want to have delicious Japanese dish in my city.
See you in my next article and have a nice day!
Business Information
SUSHI TEI
LG floor
West mall
Grand Indonesia Shopping Center
Central Jakarta
open daily 10 AM - 8 PM