오늘 저는 Steem과 SBD (Steem 달러) 간의 거래 차트에 대해 논의하려고합니다. 여기서 Steem 차트는 0.00001535 Btc이고 Sbd 차트는 0.00011600 Btc입니다. 이 수치는 이번 주에 안전한 시점이지만이 두 통화의 그래프에주의를 기울이면 가격이 낮아지고 있습니다.
때로는 특정 시간에 상승 움직임이 있지만 이는 특정 가격을 유지하는 트레이더에게는 우려 사항입니다. 이 두 통화의 그래픽은 크게 다르지 않습니다. 이는 Steem과 Sbd 사용자가 동일한 금액을 가지고 있기 때문입니다.

이 디지털 통화는 Steemit.com 가 개발 한 통화입니다. 우리 중 많은 사람들이 이미 가지고 있습니다. 그러나 달성 된 가격은 1 달러 범위에서 여전히 안정적입니다. Steem의 자체 역사를 살펴 보더라도이 가격은 저렴한 가격입니다. 이전에 Steem이 4 달러 이상에 도달했기 때문입니다. 앞으로 스팀이 높은 숫자로 올라갈 수 있기를 바라는 것이 우리의 희망이며 많은 사람들이 그런 일이 일어나기를 고대하고 있습니다.

$6.575 USD였던 Steem Dollars (SBD)의 가격과는 대조적으로 $10 USD에 근접했지만 이번 주 Sbd 가격은 큰 변동을 겪지 않았습니다. 실제로 Sbd 그래프는 거래 가치가 다른 Steem 차트와 거의 동일합니다.
아래 Steemit.com 시장을 살펴보면이 두 통화 간의 환율 비교는 1:0.130입니다. 즉, 1 Steem은 0.130 Sbd와 같습니다. 이것은 Steemit 사용자가 Sbd를 사용하여 Steem을 수집 할 수있는 좋은 기회입니다. 왜냐하면 이것은 드물게 발생하고 미래를 위해 Steem을 수집하려는 사람들에게 좋은 것이라고 생각합니다.
뿐만 아니라 사람들이 Sbd를 Steem으로 교환하고 싶다면 Steem의 가격이 더 높아질 수 있습니다. Cryptocurrency의 원리는 다소 비슷하기 때문에 누군가가 많은 양의 Crypto를 모으거나 사서 먼저 팔고 싶지 않으면 cryptocurrency의 공급이 감소했기 때문에 가격이 높아질 것입니다.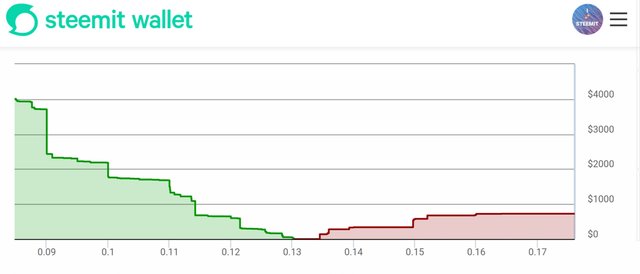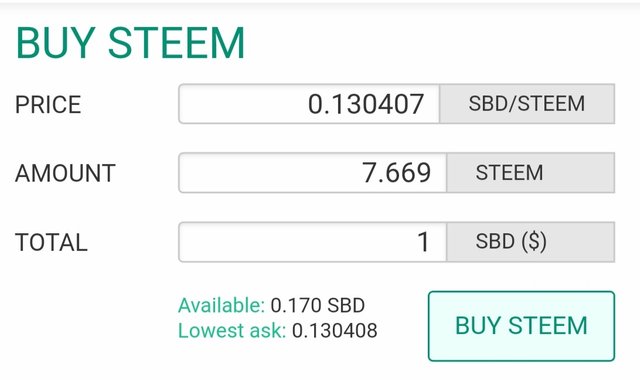 Sbd를 사용하여 Steemit.com 시장에서 Stem을 구매하고, 위의 표에주의를 기울이면 1 Sbd에서 변경하면 7.669 Steem이됩니다.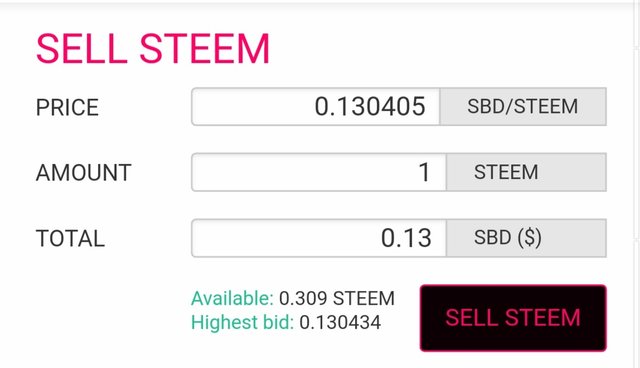 Steem을 통해 Sbd를 원하면 SBD를 얻으려면 많은 Steem이 필요합니다. 위에서 시도한 내용을 참조하십시오. 1 Steem은 0.130 Sbd에만 해당되며, 대량이면 매우 나쁠 것입니다.
---
여기에서 시간을 내 주셔서 감사합니다. 위에서 설명한 내용을 이해하시기 바랍니다.
---
ENG:
Today I am back to discussing the trade chart between Steem and SBD (Steem dollars), where the Steem chart is at 0.00001535 Btc and the Sbd chart is at 0.00011600 Btc. This figure is at a safe point this week, but if you pay attention to the graph of these two currencies the price is getting lower.
Although sometimes there is also an upward movement at a certain time, this is a concern for traders who keep on a certain price. The graphics of these two currencies are not that much different, this is because the users of Steem and Sbd themselves have the same amount.

This digital currency is a currency developed by Steemit.com , many of us already have them. However, the price achieved is still stable in the range of $1 USD, even if you look at Steem's own history, this price is a cheap price, because previously Steem has reached more than $4 USD. It is our hope that in the future Steem can climb in high numbers, many are looking forward to it happening.

In contrast to the price of Steem Dollars (SBD) which was at $6.575 USD, it was even close to $10 USD, but this week the Sbd price did not experience any major movements. In fact, the Sbd graph is almost the same as the Steem chart, only with a different trade value.
If you look at the market Steemit.com below, the exchange rate comparison between these two currencies is at 1:0.130, which means 1 Steem is equal to 0.130 Sbd. This is a great opportunity for Steemit users here to collect Steem using their Sbd, because this happens infrequently and I think it's great for those who want to collect Steem for the future.
Not only that, if people want to exchange Sbd to Steem, this will also affect the price of Steem to be higher. Because the principle of Cryptocurrency is more or less like this, if someone collects or buys a large amount of Crypto and doesn't want to sell it first, the price will be high, because the supply of crypto has decreased.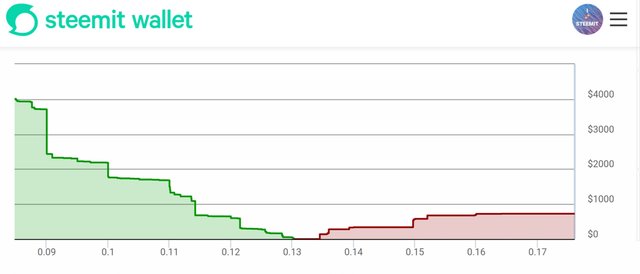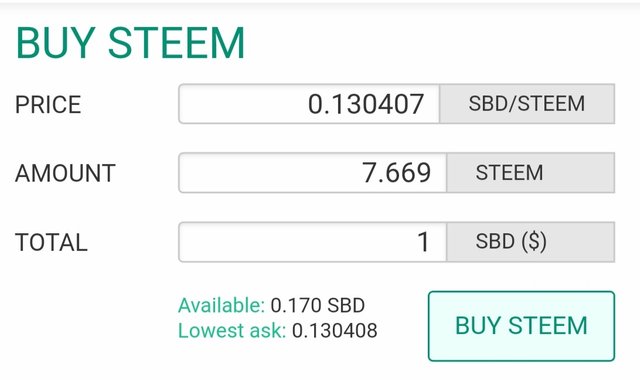 Buy Stem on the market Steemit.com using Sbd, if you pay attention to the table above, I try if I change from 1 Sbd it will be 7.669 Steem.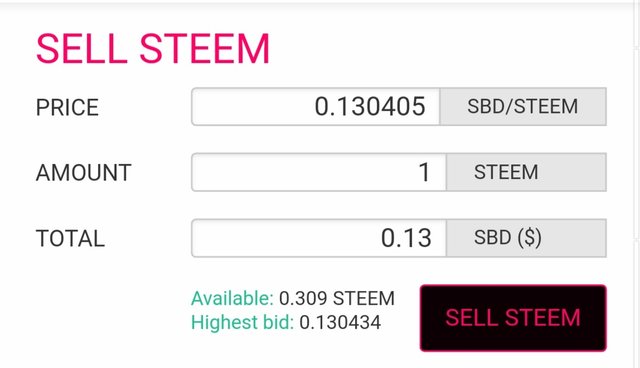 If you want Sbd via Steem, this requires a lot of Steem to get SBD, see above which I have tried there. 1 Steem is equal to 0.130 Sbd only, if it is in large quantities, it will be very bad.
---
Thank you for your time here, I hope you understand what I explained above.
Cc.
@successgr
@jondoe
By @xoxois