Hello Splinterland warriors!
I hope you will be fine and blessed it's been too late here but still wanna share the post that what i got in today's quest reward so i got 2 undead REXX and some other potion and DEC so let's talk about the great undead REXX.
UNDEAD REXX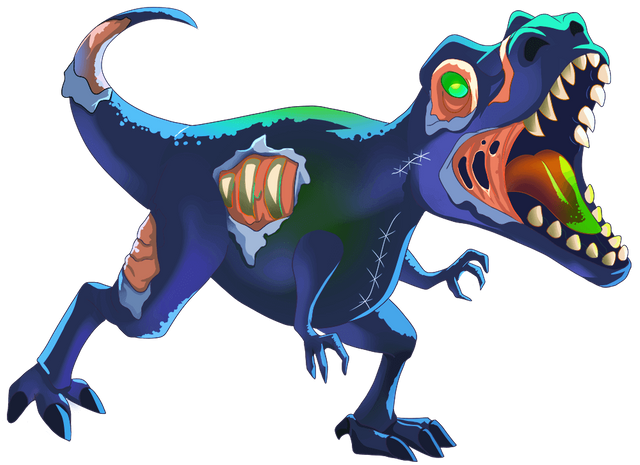 Every once in an unholy while, a brave Dark Eternal missionary is able to raise a fallen Rexxie from the dead and escape the Grasslands without being killed by Minotaurs. In Mortis, the Undead Rexxies are put to use, pulling wagons that carry loads of Dark Matter up and down the Eternal Highway. In battle, the Dark Eternals use them mainly for fear. And crushing.
src
COMMON Death Monster
Reward Card
Mana Cap 9
Price 0.01$
Burn Value 10 DEC
Abilities
Well let's talk about Undead Rexx the Dinosaur it is a great death monster with lots of awesome abilities like trample and stunting that can be unlocked at level 6 and above. Currently, i have one undead Rexx at level 3 in Gold foil so i will upgrade it later to level 5 to unlock the trample ability which is perfect and can give you more winning chances.
Quest Rewards
Well, so these are the rewards that i claimed today after completing quest with death splinter as like yesterday, today i got quest again with death splinter so i did not skip and completed the quest again with death and got 2 DINOSAUR UNDEAD REXX that i explain above and also got round about 800 dark energy crystal tokens in my quest rewards which is awesome.
Thanks For visiting my Blog
Best Regards @moeenali