Pada Rabu lalu, @el-nailul mendapatkan tugas dari kantornya untuk melakukan monitoring proyek pekerjaan di Pidie Jaya, sehingga saya bertemu kembali dengannya dan berdiskusi tentang banyak hal tentang Steem dan komunitas Steem SEA. Program-program terobosan darinya sangat menarik demi mempertahankan eksistensi komunitas Steem SEA dan juga demi memajukan Steem di Aceh dan Indonesia.
Sekitar jam 10 malam, saya dan @el-nailul menuju ke warung kopi yang berada di kompleks Dayah Ummul Ayman II yang terletak di pinggir jalan Banda Aceh Medan, desa Meunasah Bie, Meurah Dua, Kabupaten Pidie Jaya. Dengan difasilitasi oleh @nazarul dan @ikhsan01, kami dipertemukan dengan para steemian pendatang baru.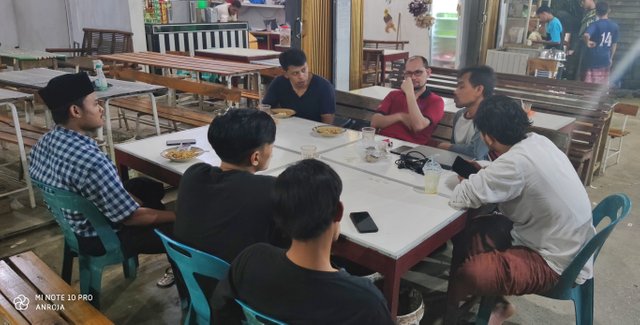 @el-nailul sedang menjelaskan tentang proyek Steem
Kami hadir di pertemuan ini atas undangan dari pendatang baru tersebut yang ingin berdiskusi secara mendalam tentang Steem dan proyek Steem. Mereka adalah @umam, @bahagia01, @khairil98, @deksyech dan @najie. Pada pertemuan ini, saya mempersilahkan @el-nailul untuk menyampaikan materi diskusi. Dengan gayanya yang kocak dan santai, @el-nailul menjelaskan tentang proyek Steem #betterlife. Dia menjelaskan panjang lebar tentang proyek tersebut. Menurut pemaparannya, saat ini proyek Steem tidak hanya berorientasi di The Diary Game saja, tapi masih banyak proyek lainnya seperti seperti Act of Kindness yang mencakup penulisan tentang aktivitas kita dalam membantu orang lain atau binatang secara sukarela. Juga ada proyek Grow Your Own, yang berfokus pada menanam benih dan tumbuhan serta juga aktivitas dalam memelihara hewan ternak.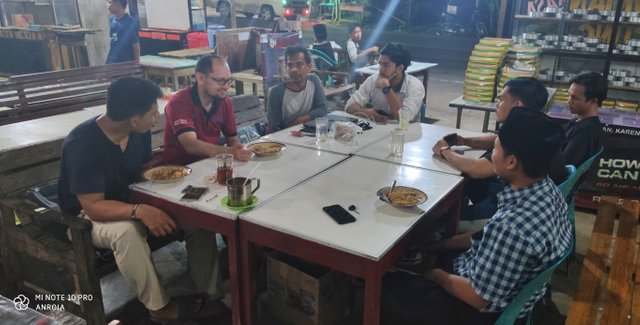 Saya yang sedang menjelaskan tentang pentingnya memperkuat komunitas dan juga mengenalkan cryptocurrency kepada mereka
Selain itu ada juga proyek Crafty Content, di proyek ini kita bisa menulis berbagai hal tentang kerajinan tangan, seperti rajutan, membuat perhiasan atau pernik-pernik, membuat tembikar atau anyaman. @el-nailul juga membahas tentang proyek Planet Positives, Learn With Steem, Mind Body Spirit dan Crypto and Me. Dalam hal ini @el-nailul juga memperkenalkan proyek charity dengan akun @steem.amal. Dia menjelaskan dengan detail tentang proyek tersebut.
Kemudian tiba giliran saya dalam memberikan penjelasan tentang komunitas Steem SEA dan proyek yang akan kami rencanakan ke depan serta kontes-kontes yang saat ini dijalankan oleh komunitas Steem SEA. Selain itu saya juga membahas tentang delegasi SP ke akun komunitas di tinjau dari segi manfaat dan hasil yang akan di dapat. Dalam hal ini saya juga mengajak para pendatang baru tersebut agar aktif dalam menulis dan memberikan komentar pada post steemian lainnya agar terjalin komunikasi dua arah sehingga saling mengenal dan terjalin persaudaraan. Sehingga dengan asas persaudaraan maka komunitas akan langgeng. Selain proyek Steem dan kontes di Steem SEA, kami juga mengajak mereka untuk berpartisipasi di kontes Steem Foods dimana @el-nailul merupakan moderator untuk Asia Tenggara.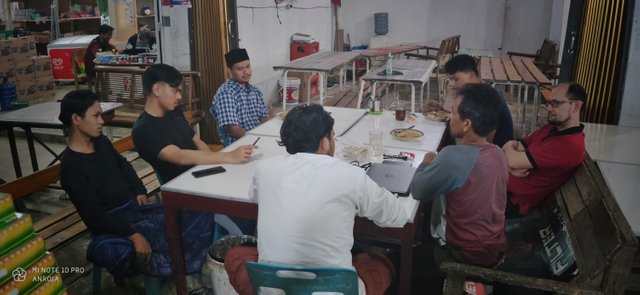 Saat berlangsungnya diskusi setelah pemaparan materi
Saya juga memaparkan sedikit materi tentang cryptocurrency agar mereka memahami tentang dasar dari blockchain. Ini erat kaitannya juga dengan proyek Steem tentang Crypto and Me. Saya juga mengajak mereka agar memahami tentang dunia crypto dan berpartisipasi di tantangan crypto yang diselenggarakan oleh tim Steemit.