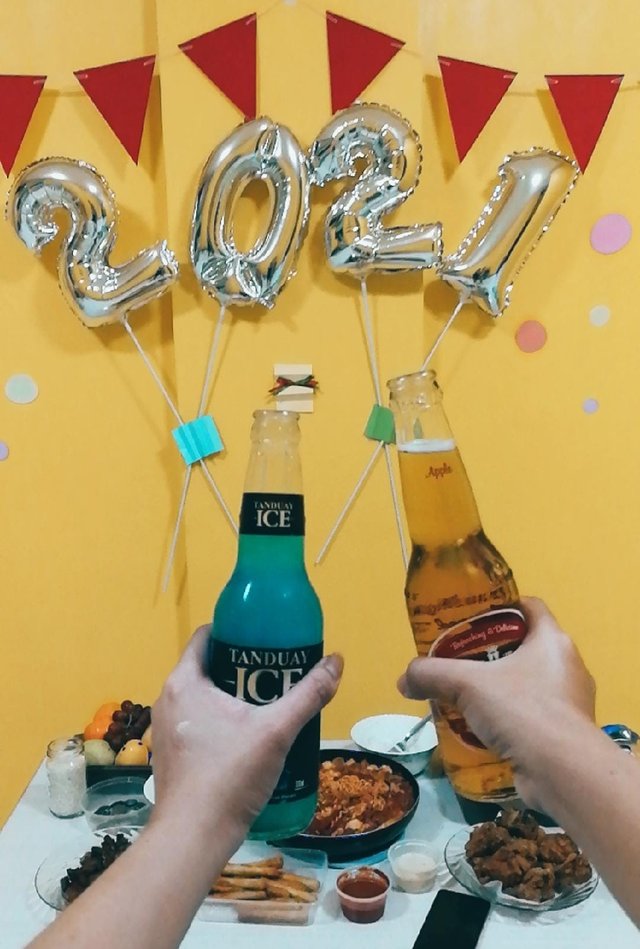 Cheers to 2021!
Happy New Year everyone!
---
It's a bit late but allow me to share with you my second New Year's celebration away from home.
Last December 2019, while I was doing the cutting and making decorations for our Christmas and New Year, I promised it'll be the first and last. I was really hoping I'll be at home celebrating the 2020 Noche Buena and Media Noche with my family. Unfortunately, a pandemic happened.
I can still remember that I kept on crying because I badly wanted to go home. However, for this Christmas and New Year, hormones didn't spike and I was just chilling around. I was supposed to have work from December 28-31, but this girl (smirk) had a self-imposed break. Yes, I had a self-imposed break on December 30 and 31. Instead, I was very anxious it was my payday and haven't received it, at that time. I had to tell my mother that her gift will be delayed a little bit; December 30 is her birthday. December 31 came, and I still haven't received it yet. Thankfully, my housemate shouldered for the meantime the expenses for our Media Noche. We had to do grocery early in the morning to avoid the crowd. We decided to have a simple celebration and have our comfort food for New Year's Eve.
No extra preparation happened. There were several attempts to message one of the heads about my salary but was overtaken by my shyness. With that, I decided to sleep.
I had a long sleep and suddenly, I woke up. I immediately checked my phone if it was just a dream that I messaged my employer, or I really messaged him. When I checked it, it's the other way around. He messaged me informing me that he already wired my December salary. I was so happy I decided to buy some decorations.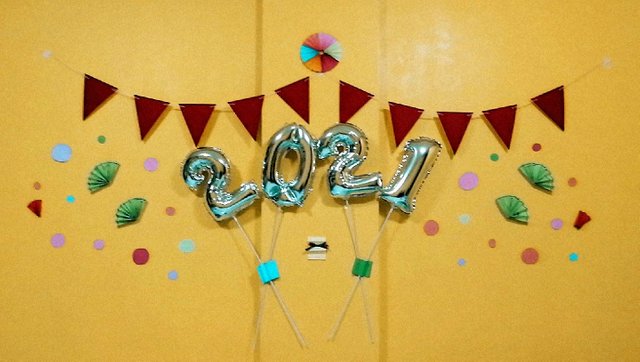 2021 Wall Decoration
Argine and I went to Gaisano Mall and bought 2021 balloons and other decors. Unfortunately, the decors that we bought weren't enough. Argine asked if we still have the decors that I made last Christmas. That was when I became emotional. I told her I made it as scratch paper because I was expecting to go home at the 2020 Christmas break. Even when the papers had a math solution at the back, I recycled it and made it as our additional decors. And it turned out well. Also, I didn't know Yellow was the lucky color of 2021. After I had finished decorating the wall, I decided to clean our apartment before making the Korean Army Stew.
At the struck of midnight, we immediately climbed out in the cemented railings of our laundry area. There were plenty of fireworks displays; I didn't know where to look at them. I couldn't help but to cry and pat myself again that it's okay, I'll be home soon with a license and a title. Then, we had the must-have photoshoot that lasted for half an hour.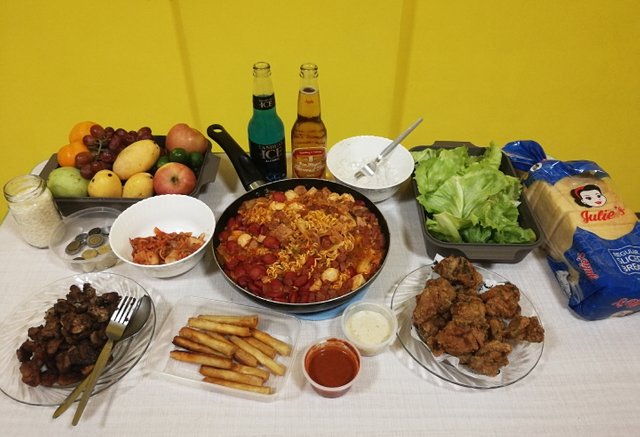 Our Media Noche Food—Korean Food!
For our food, we had an ordered fried chicken, cheese rolls, bread, grilled meat and lettuce, and Korean Army Stew. We also bought fruits and some light alcohols. I was quite amazed that the two of us were not ugly crying, unlike the previous one. But I'm pretty sure that if one of us started crying, then the other one will follow.
We slept at around 3:00 AM and woke up at 11:00 AM. Since we had leftovers, we reheated the food and ate it for our lunch. I wanted to go to Ayala Centrio Mall to see their beautiful Christmas decorations. However, I was tired and decided to stay and sleep. Then, just like a snap of my finger, it was already nighttime.
Even though my plans didn't go as I have planned, I'm still grateful for all the opportunities I received in 2020. It was definitely unexpected. Even that struggles, I'm still thankful for it.
I hope and pray that may we all have a recovering 2021!!
K N E E L Y R A C