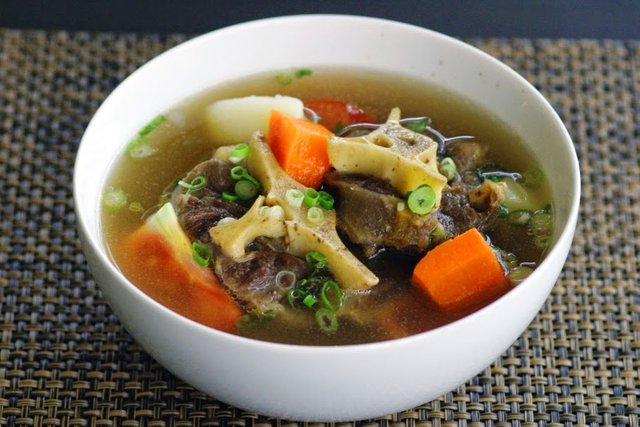 ---
Source
When you are faced with a choice, you have to choose chicken soup or chicken soup. Which one will you choose?
If the chicken soup is clearer, yes.
Meanwhile, if the chicken soup is the broth, it seems more colorful. Because maybe use coconut milk.
If I personally would choose Soto. Because it tastes more savory. So, which one do you choose?
Which do you prefer, Soto or Soup?
---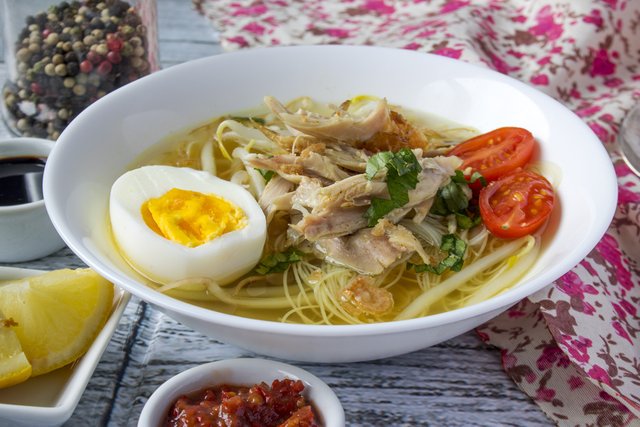 ---
Source
After doing a social experiment, it turns out that no one dominantly chooses soup, nor does anyone dominantly choose soup.
But actually if we look at the most significant difference that can be seen from the sauce.
If it's soup, the sauce is clearer, while if it's soup, the sauce is more cloudy. But can people know the difference between soup and soto?
Nutritional Content of Soto
In a bowl of soto ayam, it has a beautiful, colorful appearance with a yellow-yellow blend produced by turmeric. Then there is a white ornament by soun and cabbage.
Green by sliced ​​scallions, and red from sliced ​​tomatoes. In addition, this archipelago cuisine is rich in nutrients and nutritious.
The nutrients contained in chicken soup are quite complete. Starting from carbohydrates, proteins, fats, vitamins and also rich in minerals.
When viewed in terms of the main ingredients in it there are chicken meat, eggs, boiled, fried potatoes and soun, broth from boiled chicken bones.
Boiled chicken and eggs are a source of protein, calcium, iron, phosphorus, and also vitamin D.
Nutritional Content of Soup
How about chicken soup? If you study one by one, the ingredients in chicken soup, of course, this one food is also rich in nutrients.
Carrots, potatoes, cabbage, celery, and chicken have good content for our bodies.
Carrots are rich in vitamin A, calcium, iron, magnesium, phosphorus, potassium, sodium, zinc, vitamin C, vitamin E, and beta-carotene which can be seen from the orange color of carrots.
In addition to eye health, carrots are also able to prevent heart attacks, and will reduce cholesterol levels in the blood.
While potatoes contain potassium, vitamin C, and carbohydrates which are very good for the body.
In addition there is also cabbage which contains anti-cancer compounds, and is a source of vitamin C, vitamin A, vitamin B1 and minerals.
In the soup there are also tomatoes which contain vitamin A and vitamin C which are useful for increasing immunity.
The lycopene contained in tomatoes also helps the body reduce free radicals as an antioxidant.
In addition, there is also celery which contains a lot of nutrients and is good for lowering blood pressure.
After I thought about it, if we differentiate between soup and soto, it's just the sauce that doesn't feel right. Why is that?
Because if we talk soup. The soup has a clear gravy, not really. There's also a soup whose gravy isn't clear, but it's cloudy, like snapper soup.
Or also we call soup. Soto gravy must be cloudy. Not really. There is also a soup with a clear broth. Like soto banjar, soto Bandung, the sauce is not clear.
So, what's the difference between soup and soto?
"Actually, to find out the nutritional content of a food, we must first know what the food ingredients are from. For example, Soto. Soto has many types.
There is a clear soup, there is a soto that uses coconut milk.
Well, soto usually uses protein, it is meat or chicken. Well, whatever soup it is, it is a source of protein, because of the high protein content found in the animal ingredients used. Whether it's meat, whether it's chicken, the nutritional content is the same, namely protein.
Well, when the soto is mixed with coconut milk, in addition to protein, it also contains fat. Well, if it's soup, there's also a type of soup. There is a soup that is full of vegetables, all of which are selected, but there is also a soup that is mixed with chicken, and some even mixes meat and quail eggs. Well, if the soup doesn't have any vegetables in it, it's mixed with quail eggs, mixed with chicken, or mixed with meat. So the soup serves as a source of protein as well. Now, if it's only vegetables, then the source of its nutritional content is only as micronutrients."
Alright, until here my discussion about soup and soto, hopefully there are benefits obtained.
Best regards always.
By @midiagam