Hello, steemit Community and All Friends!
I am back with another post in which i am going to share the new reward card edition that i got from today which seems to be nice one and a little bit expensive as compared to other rare monsters.
EFREET ELDER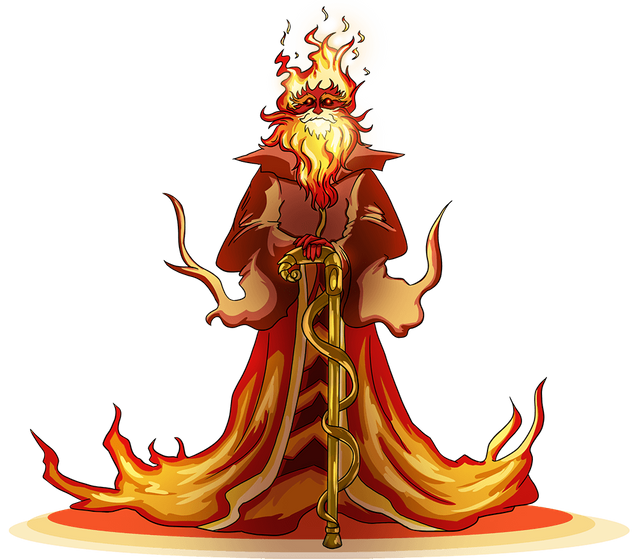 Efreet Elders carry a vast array of mystical secrets and spells that were gifted to them in ancient times by Mishna, Mitreyya's steward who resides in the Burning Lands deep. The most impressive of these is called the envelation of flame.Read more
Well, it belongs to the fire family and recently revealed from the new reward card system with some new ruleset you can see all the new information related to new reward cards and ruleset on splinterlands blog. This is the first time that i got a reward card from the new edition and this is the EFREET ELDER looks a like elder family membebr of zarlan efreet lol. By the way seems a nice card with high life and magic ability and also you can get the last stand ability at level 1 that is really amazing but the mana of this monster is a bit higher or same as other and it should be used in the high mana battles but would give you some cool abilities when you upgrade it to higher level.
ABILITIES
Well, here you can see the abilities of this monster regarding other information like mana cap, magic, speed and the life of this monster. However, the circulation of this card is round about 200 plus and in gold foil there is only 3 BCX but not yet placed in the market for sale. By the way still seems a better and nice card that i did not used yet but soon will make a separate post on this card that how it works in the battlefield.
QUEST REWARDS
Well, today it was a quest with the earth splinter that i completed easily and the quest was completed with gold 1 league with round about 2600 plus rating soon will be in diamond league in two or three days. However, here i am going to share the two days quest rewards the one is for today and also the yesterday so you can see two rare cards from today quest along with 400 dec tokens sounds interesting and the two common cards from yesterday quest along with few dec tokens and potion charges.
All images are from the Splinterlands website
If you are new to this game then signup here to play the game click here for signup
---
---
Thanks For visiting my Blog
Best Regards @moeenali