Hello Friends,
With the joy of reaching Splinterlands Champions II League for the first time, I made myself eligible to receive 120 chests from Season End Rewards and here I am gonna take you thru the rewards I got!!
There were some hiccups in claiming the rewards soon after the season ended some 9 hours back, but team of @aggroed and @yabapmatt were quickly able to get rid off that and allow us to continue battling, thanks guys!!
It was like many other season end rewards infact I think this is the Fifth or Sixth straight season ending without me able to get any Legendary or Gold Foiled cards, but I still continue to battle and keep faith in myself.
So, let me tell about whatever rewards I got, although the list will be bigger because I got 120 chests, I will try to break for each of three rows to make it easier to read and check the cards.
So, here goes the first one...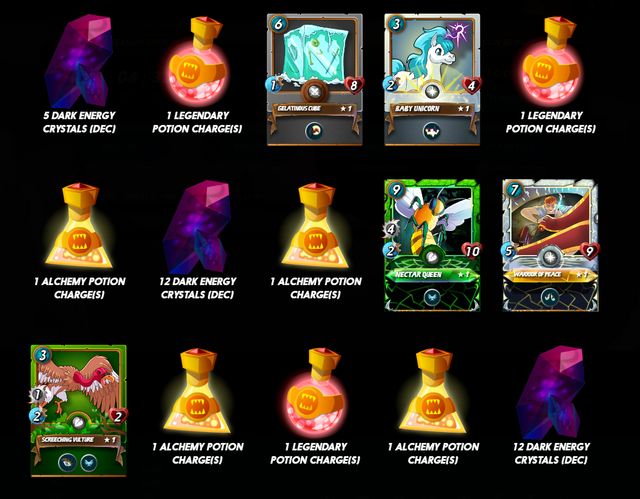 Although nothing special about these cards I keep getting season on season, some of them always fascinates us and encourages to battle more and more and Screeching Vulture is one such monster.
We can also see other common but good to have when leveled up kind of monsters in Warrior of Peace, Nectar Queen and that Gelatinous Cube.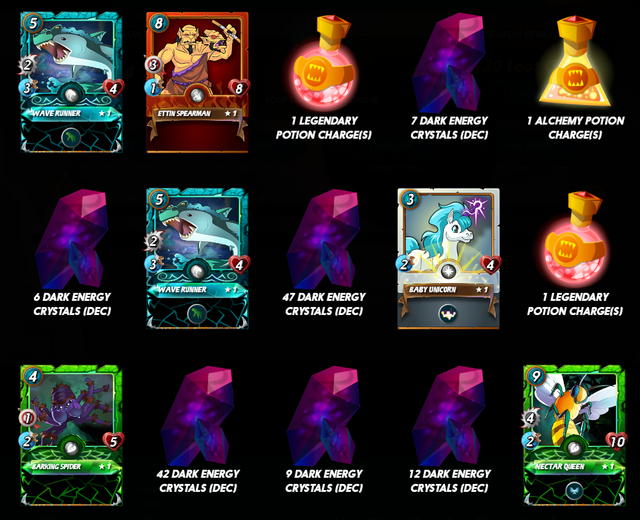 Same kind of cards here as well, with couple of chests getting me 40+ DEC in each of them.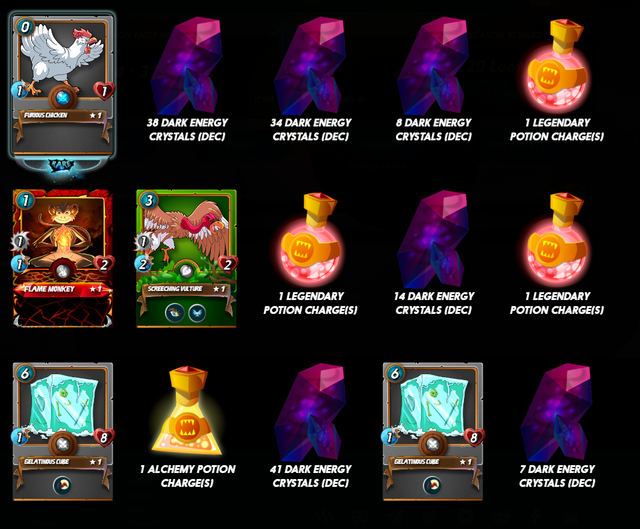 Another Screeching Vulture and few more good DEC returning chests..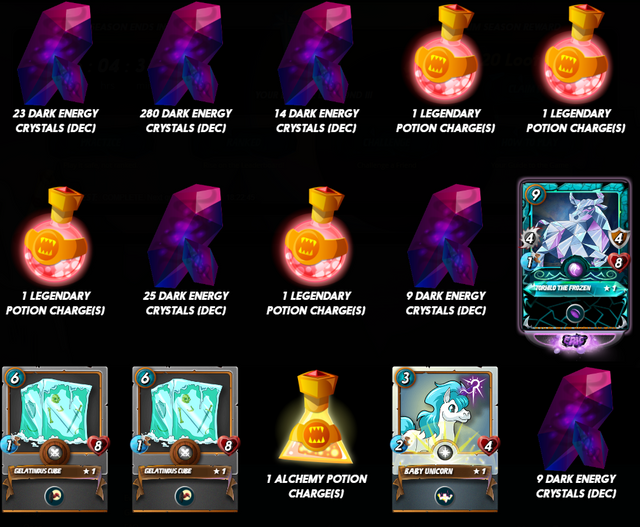 This is a notable one with an EPIC Torhilo The Frozen and a better DEC chest with 280 DEC. I got many Gelatinous Cubes today!!!!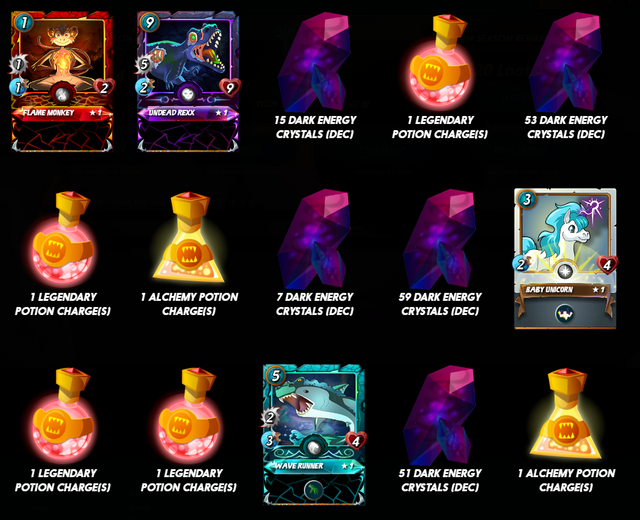 Few more good DEC ones, it's always welcome as long as the DEC keeps coming and every bit counts towards bigger one at the end!!!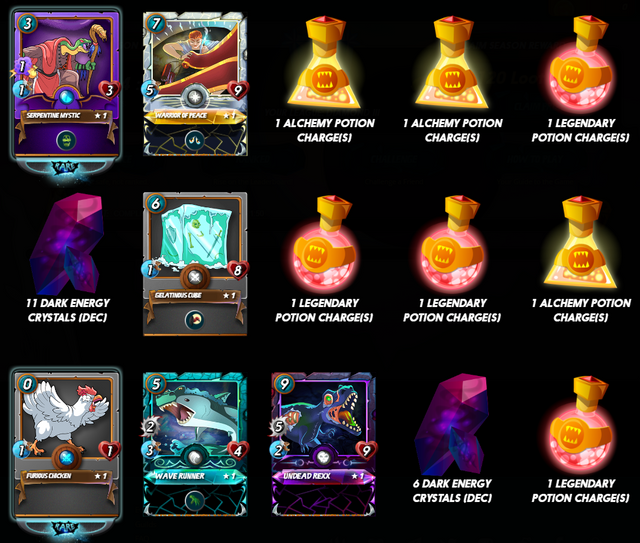 Couple of Rare ones in Furious Chicken and Serpent Mystic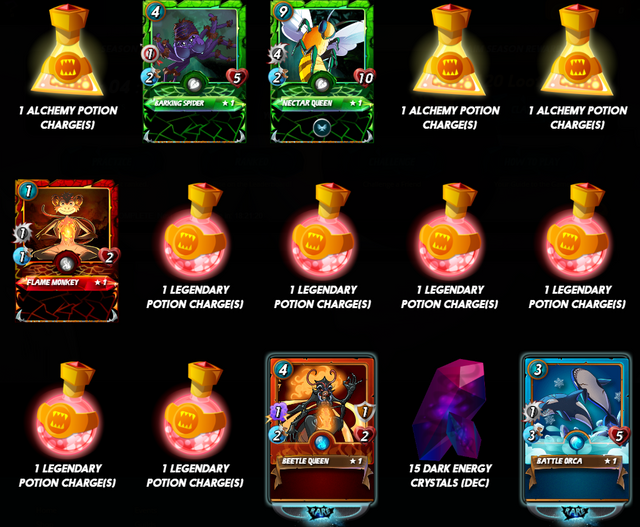 Beetle Queen is a good value addition for my weaker Fire Splinter, Nectar Queen is there everywhere.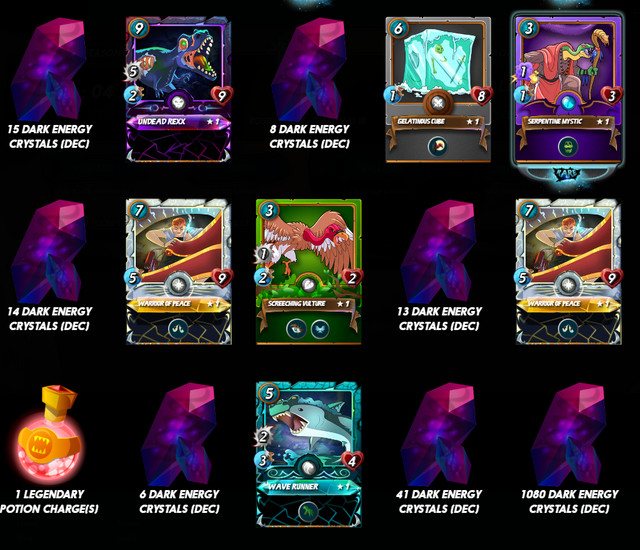 Another Screeching Vulture and couple of Warrior of Peace and not to forget that last chest with 1080 DEC!!!
A face saving one that last chest.

That's all from me now folks, hope you had better rewards than me.
If so, do share those as a blog or a comment to me as a reply here.
Thanks and Have a Wonderful Day and Good new Season!!!

Not yet signed up for Splinterlands?
You can join using my referral link: splinterlands.io and get some monsters from me :)
Also, try monstermarket.io if you haven't already for your steemmonsters cards and packs purchase and get instant cashback with every card purchase.

Thanks for the votes, comments and resteems.
I am a proud member and supporter of below communities:




Do you use eSteem?
eSteem is a Mobile📱& PC💻 app. for Steem with great features. Also, you get Incentives posting through eSteem apps.
eSteem Spotlight; eSteem provides rewards for it top users in Leader Board with most Posts, Comments and Highest Earners.
---