Hello battlers,
As the price of HIVE has gone up, I decided to purchase some Untamed packs and I could afford to buy 3 after converting Hive to Steem since the packs seems to be a bit cheaper on steem-engine.
So, the 3 packs are the most I have purchased at once and I wasn't disappointed as I got the cards almost the worth the amount I spent.
---
Let's go and check the cards I got: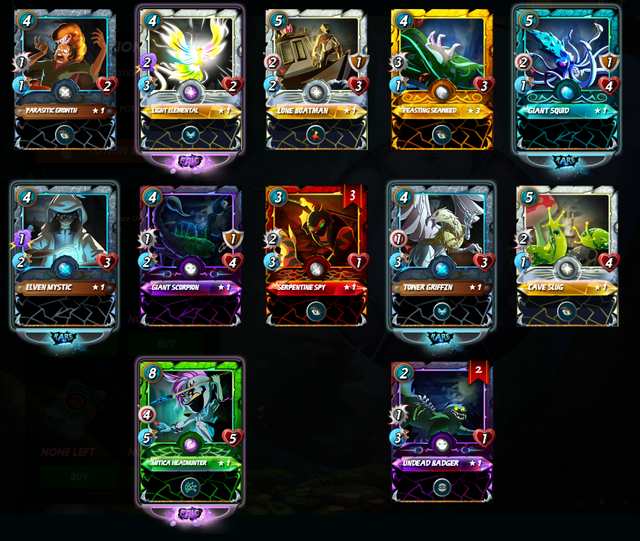 Well, NO Legendary ones in that, but 2 Epic and a Gold Foiled are not that disappointing for 3 packs.
---
Epic Cards:
1. Mitica Headhunter:
I personally like Mitica Headhunter for it's ranged attack of 4 although it's a bit high on the mana cost, but I think the speed of 5 makes it up and this will be a good companion for Javelin Thrower
2. Light Elemental:
I am not a big fan of Life Splinter and I am also yet to acquire a life summoner. So, this doesn't make much difference to my battles at this point of time.
But, this will be good when there is no magic reflect enabled monsters as it's health of 2 for the initial card isn't that much.
---
Gold Foiled:
I got a Water splinter Opportunist monster card in Feasting Seaweed and the good thing is, it comes with a melee attack of 3 for level 3.
This should be a good friend of Saber Shark and should make impact to a bit weaker Water Splinter of mine.
---
Other Notable Cards:
I have got Three more Opportunist monsters in Parasitic Growth, Cave Slug and Serpentine Spy, the monster which has featured in this week's Weekly Battle Challenge.
Others likes Giant Squid and Tower Griffin will be required later as the low level ones are not that required by me at this point of time.
---
Daily Quest Rewards:
I was fortunate to get another Gold Foiled Card from Daily Quest Rewards today and the cards I got are as below: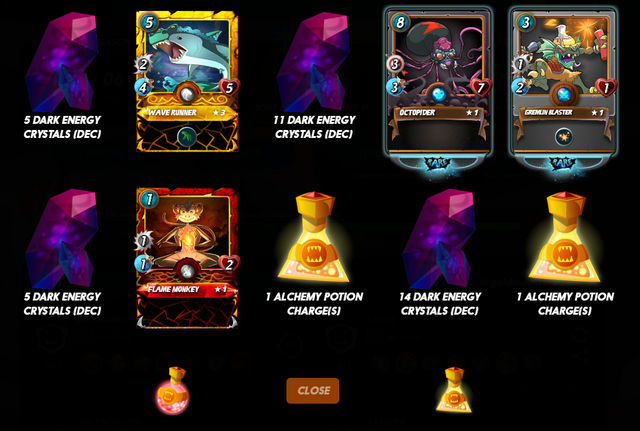 Wave Runner is the one which is Gold Foiled and is another one to add more value to my weak Water Splinter.
I personally like the Octopider for it's ability of reducing melee attack with Demoralize ability and also for the nice ranged attack it gives.
That's all from me for now guys.
Tomorrow will be a big day as the current season ends in approximately 26 hours and hopefully good one for me, for you and all :)
Take Care and Keep Battling and Blogging
---
New to Splinterlands or yet to Join?
You can join using my referral link: splinterlands.io
---