Splinterlands, previously known as Steem Monsters before rebranding was developed by Matt Rosen (@yabapmatt) and @aggroed. It is a collectible card game where you can tokenize digital game assets. This sounds incredibly complicated but in simpler words, Splinterlands has achieved in combining the benefits of online gaming with the collectibility and value of physical items. The value of the cards that you collect in the game rise as you play with them.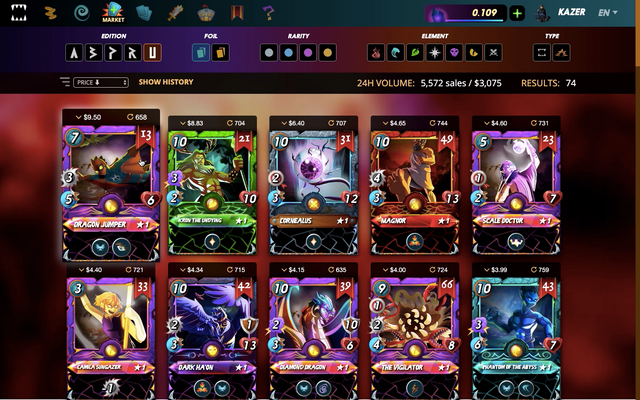 Players can buy, sell or trade these cards on the in-game market using either STEEM or TRON (the valid cryptocurrencies on Splinterlands). To earn STEEM or TRON while playing Splinterlands, you have to play ranked matches and earn Dark Energy Crystals(DEC). DEC is the in-game currency that you earn when you win ranked matches. To convert DEC into dollars, DEC has to be transferred to your Steem Engine Wallet and you can sell it on the market in exchange for Steem. Then, you can go to any blockchain exchange like Bittrex or Binance and buy dollars through Steem.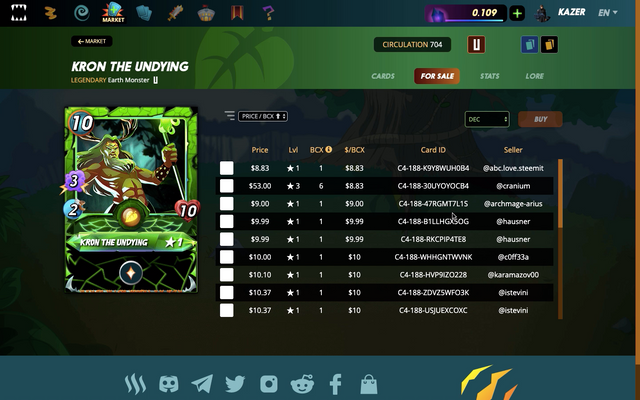 Splinterlands is a card battle game, you can buy packs for 20 dollars and get cards, buy individual cards on the market and trade your own cards. Players use these cards to battle and gain DEC, which they can either convert into real money or reinvest in the game to buy more cards. Cards are separated into 7 elements including Fire, Water, Earth, Life, Death and Neutral. The first pack the game gives you has a summoner card which is also separated by elements and can only summon cards in their own element. For example, a Fire summoner can only summon Fire cards, the exception to this are neutral cards who will fight anyone and neutral summoners can summon any card. Summoners have different perks, some may increase melee damage or increase health points. There are also common, rare, epic and legendary cards. I only have been able to collect common and rare cards. The cards for monsters are also separated since some monsters do melee attacks, some do ranged attacks, and some do magic. This might seem a little complicated but after playing a few matches, it becomes easier to understand the mana system for beginners.
Moving on, each card has mana which is how you decide which cards you will use in a match since mana is capped differently in each match. Both players have to form a deck according to the mana limit and battle. Basic summoners have 3 mana which means that I can use cards with higher mana but if I use a summoner with 5 mana then I will have to use cards with less mana. This is a great way to keep the player constantly engaged with the game since it requires the player to keep changing their loadout otherwise the player would get bored and stop playing.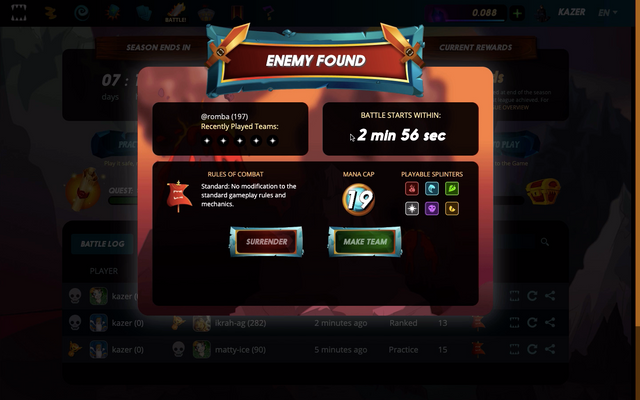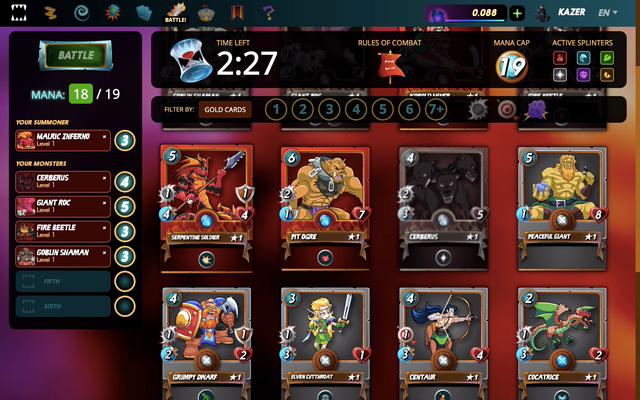 The game is pretty simple and is quite similar to other online card games such as Hearthstone but this is the only game where your cards are considered digital assets, which can be sold or traded off to other players. Splinterland has a player-driven economy rather than a developer-driven one which is normally seen in conventional games such as Fortnite and PUBG. The game's graphics and art aren't as polished as other competitors such as Gods Unchained (another online card game on Ethereum Blockchain). The biggest problem is the User Interface(UI) because it is hard to navigate, so if they could add a tour of the website at the beginning would really help find new players. Another problem was that this wasn't a file and instead of being a web browser game they should consider making a proper game file because that would allow them to really use the complete computing power of a computer.
In conclusion, Splinterlands is one of the best games that blockchain has to offer and its simple yet effective formula for changing mana limits every single match keeps the game interesting and fun. However, by making this game into a proper game file the developer team will be able to allow the game to perform to its highest potential because it would allow the team to improve graphics, make gameplay smoother and would greatly improve the overall experience for the player. Additionally, by adding an option to tour the website and allow newer players to understand how to play the game would increase their player base.
Playing and winning a couple of games: