Good day steem community, I hope you're having a good time while staying safe everywhere in the world?
I am joining the Steemit 100daysofsteem Monday Challenge, organized by @steemitblog. I will be telling you my local steem promotion plan. This is going to bring more traffic to steem, as well as benefit my immediate community.
---
Firstly, I would love to say there is so much that steem can do to solve problems in the society, especially in developing countries. Steemians must therefore establish projects that promote steem, and use the amazing platform that steem presents to solve those problems. For me, I am determined to use steem to address the prevalent challenges that most High School students in Nigeria face with communication in English Language. This will actually be a double win for these students, as they will also be earning from it.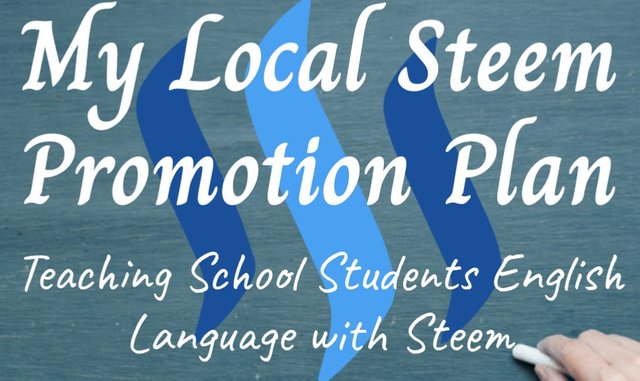 Created Using Canva
Background
The prevalent challenge that Secondary School students face with English language is that most of them have difficulty in expressing themselves in English language, especially in the aspect of writing. This is obvious in the results of students in the WAEC (West African Examination Council) and NECO (National Examination Council), as majority of them score below credit scores in English, even when they have distinction in Science, Accounting, and pragmatic subjects. This prevents most of these students from gaining admission into tertiary institutions, as a least score of a credit pass in English language is a pre-requisite for a University admission in Nigeria.
Available statistics from WAEC show that the percentage of student non-performers (those with grades D7 to F9) are usually more than 75% of the total examination candidates each year. The situation is so bad, that experts now feel that the level of English usage by our SSCE candidates suggest that English is a foreign language in Nigeria and not a second language. - Lagos Books Club
These failure rate is as a result of various factors, some of which are poor quality of teachers and teaching techniques, and the effect of social media messaging platforms where informal abbreviations and slangs have replaced the usual practice of letter and essay writing among students. Interestingly, this challenge does not defy a solution.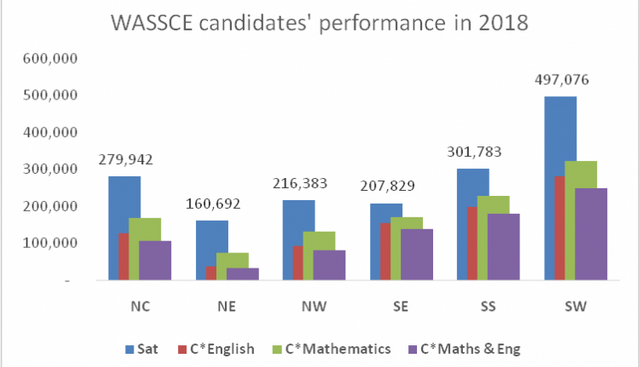 source
The chart above shows the performance of students in the West African Senior Secondary Certificate Examination in English language and Mathematics across the six geopolitical zones of Nigeria in 2018. The poor performance of students in English language is evident in the chart. I reside in the Southwestern (SW) geopolitical zone of the country.
The Scope of My Steem Promotion
Considering the problem that I am attempting to solve with steem, my attention will be focused first of all on teenagers, who are in secondary schools. This I will start with the children who are in the teenagers section of my local church. Presently, the teenagers section of my church has between 25 and 35 children who regularly attend services on Sundays. This will be my starting point, because I have a lot of influence in my local church. When this is established, I can then bring on more English language teachers on board, and we reach out to more students in the vicinity of the church, and we expand our capacity until we are able to reach as many students as possible.
How Does Steem Come Into This Plan of Mine?
If you've read from the beginning, you're probably wondering how steem fits into this plan of mine. Yes, here it is. There is a saying that the best way to be good at something is by doing it. In other words, the best way to make students much better at communicating in English language is by making them do it. Steem presents an amazing platform for showcasing one's writing skills and developing progressively in it. The incorporation of Dtube also gives a huge platform for verbal communication.
To incorporate steem into this plan therefore, it entails that these students will be taught English language both physically and virtually, and steemit will be the platform through which they will submit their assignments. This translates to a steemit account for each student. There will be weekly tasks/assignments for the students, and this will be submitted either by writing or posting a video. For example, an essay will be submitted in writing while a debate for or against a subject matter may be submitted in video and posted with DTube or YouTube.
To this end, a whatsapp group and a discord server will be created to facilitate teaching activities and for students to submit links of their assignment posts. Other steem users will also have the privilege of interacting with these students in their posts, and help them to be more engaging. These students will also find other interesting writing challenges on the steem blockchain and participate for them to improve, and for some prizes.
My Antecedents in Steem Promotion
I believe that with the right incentives, it is very easy to promote steem to my local community. I know this because with my experience when I first joined steem, I was able to introduce the platform to my friends, colleagues and church members, some of who signed up and started blogging. Some of these people are @sistem, @samal, @unique18, @gen2u, @absuccess, and so many others, whose usernames I cannot remember at the moment. Most of these people have taken a break from the platform when they were no more getting upvotes and contest prizes that could fund their data usage.
The pictures below are screenshots of my chat, back in January 2018 with my secondary school mates on our Alumni Whatsapp group, teaching them about steemit.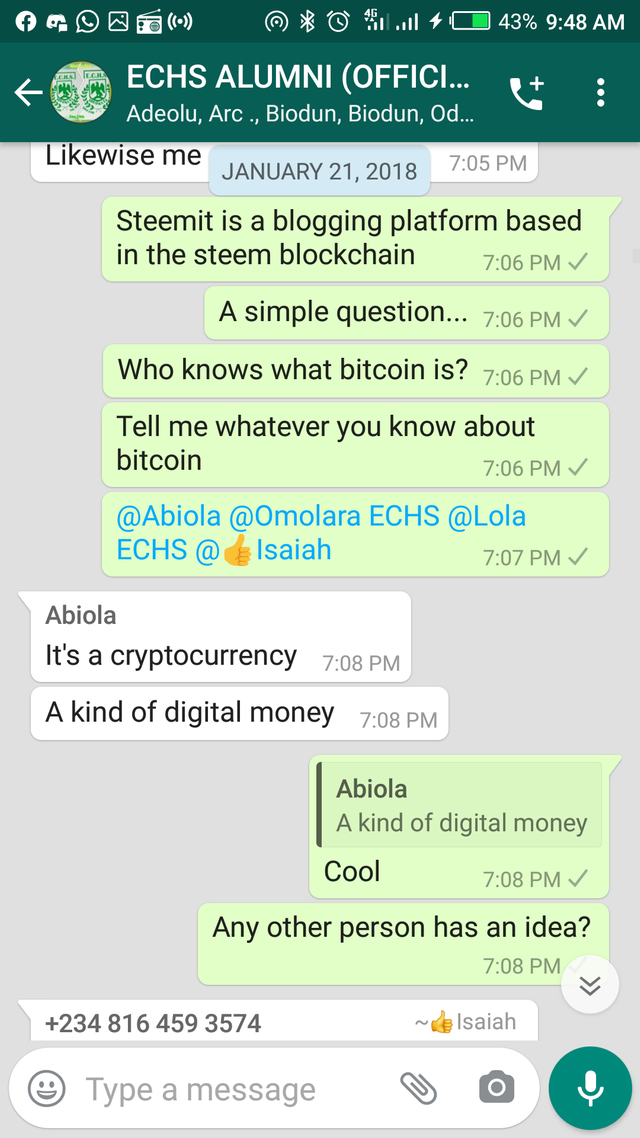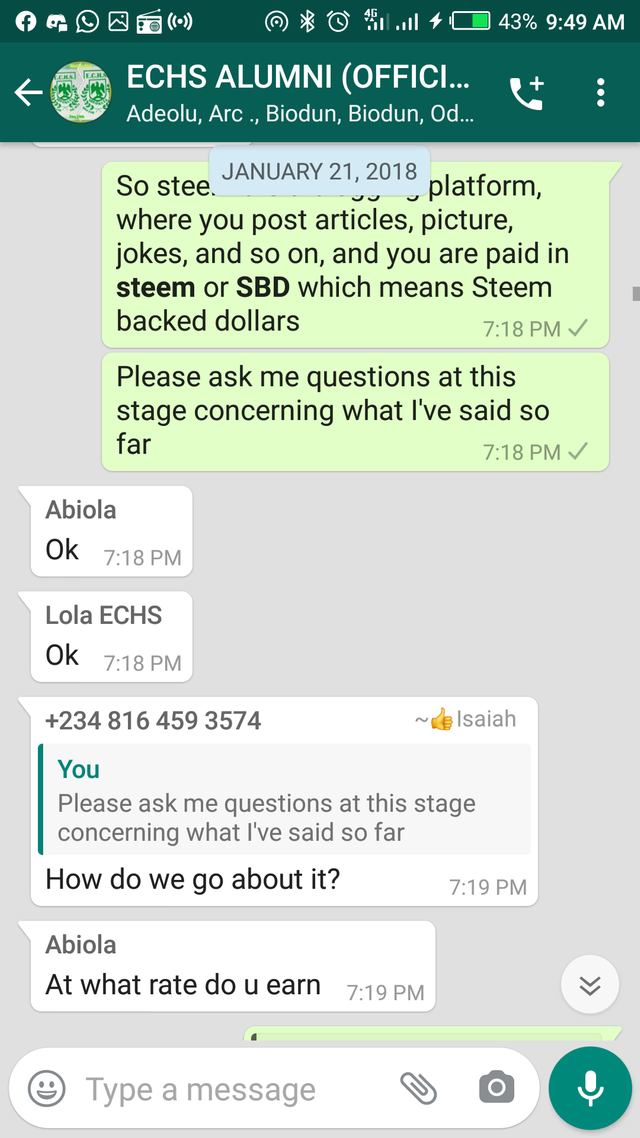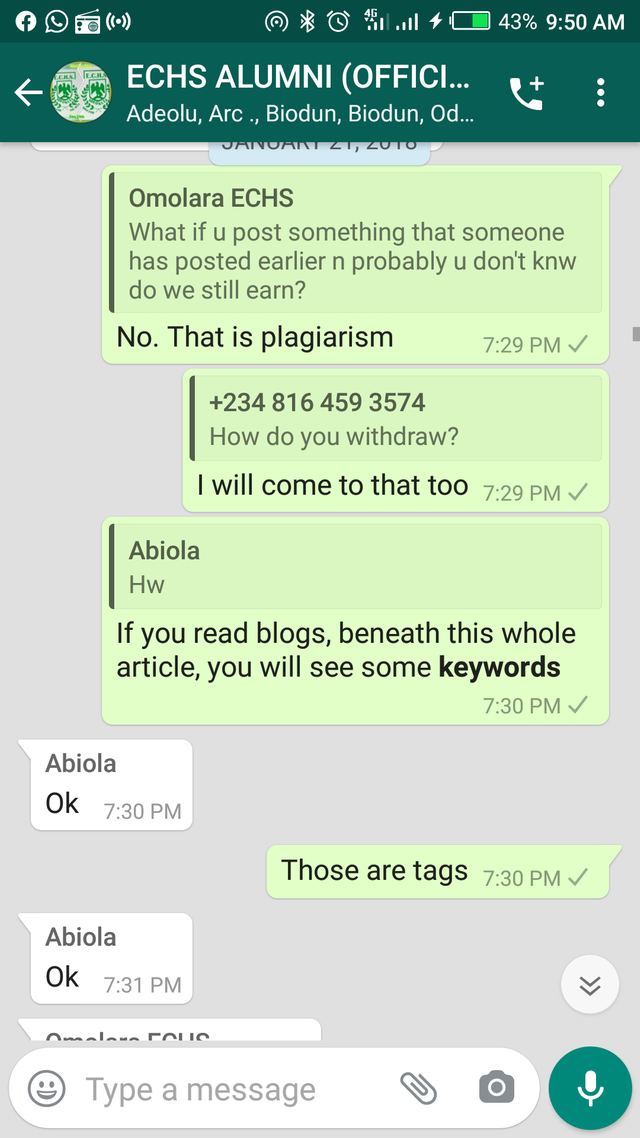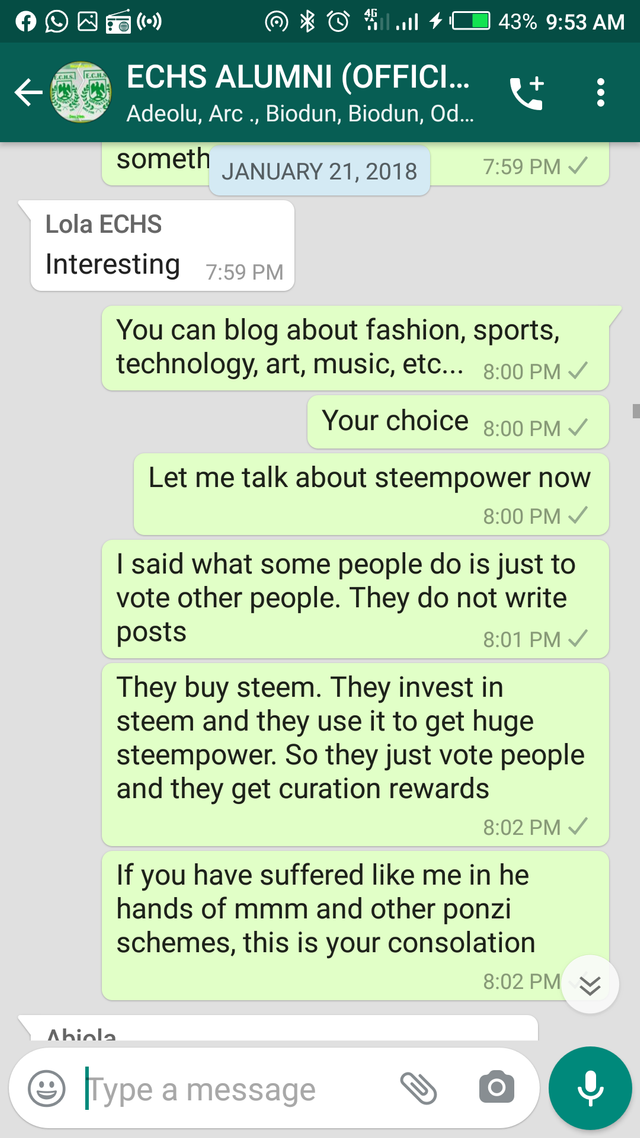 To ensure that these students are fully committed to this structure, I will organize a discussion with their parents, especially so that they will guide the students, as some of them do not even have smartphones or internet facilities. With this, they will be able to use their parents' devices, or the parents can get them cheaper devices to facilitate it. The fact that they will be earning as they do this is also an encouragement for the parents, as this will hopefully at least cater for their internet services.
A lot of steemians in Nigeria got to know about steemit when they were in the university. These students were able to improve their writing skills, as well as earn enough to sustain themselves in school. This is a very laudable achievement, especially for students in a developing nation.
I hope you consider this as a laudable project, and you will be willing to support it largely. Steem has a tradition of being an helping hand, and this is one of such opportunities to reach out, as well as bringing promising contributors to the blockchain. Thank you very much for your time.
I am...


A Proud member of #SteemAfrica