Oldest part of Dhaka, hence the name Old Dhaka. But even if you don't go with the new Dhaka compared to the age, you have to call it 'old' enough. What is the way without considering the area with four hundred years of history as 'old'?
As the structures of old Dhaka are being lost due to lack of proper preservation, so are the stories of its golden history.But still the alleys, roads, markets, areas of old Dhaka - everything seems to raise its voice about its past. Today's episode is about the past-acquaintance of some such traditional areas of old Dhaka.
   *Nawabpur

Nawabpur is one of the oldest areas of old Dhaka. The area was known as Umrapara or Umerpur as the Amirs and Umras lived here towards the end of the Mughal period.
Since the time of Islam Khan, Nawab Bahadur used to travel on this road regularly, hence the name 'Nawabpur'.
Nawabpur has been well known as a business center since the British period. At present Nawabpur is considered to be the arena of all types of electrical equipment in Bangladesh. During the day, with traffic and traffic jams, the area is no longer the same.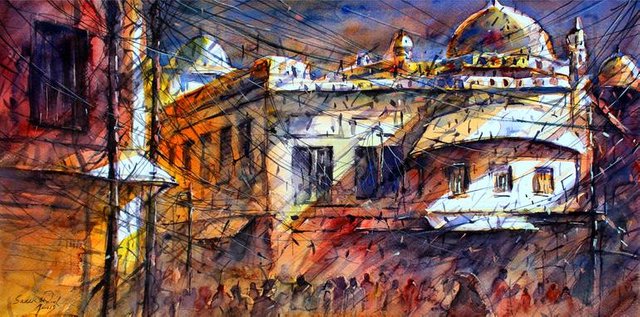 Source
    *Rokanpur

Rokanpur is an ancient town in Dhaka. It is said that a saint named Rokon Uddin Chishti lived here during the Sultanate period. The area was named Rokonpur after him. There is also a shrine named after him in this area.
To the south and west of this installation was the government road, to the east was the house of Noki Daftari, and to the north was the house of Tukani Chaprashi. In the nineteenth century, apart from government employees, the Rokanpur area was inhabited by elites.
 *Sutrapur

Those who do wood work are known as Sutradhars. In ancient Dhaka, the area was named Sutrapur after the area where the Sutradhars settled for the construction of houses, boats, etc. Sutrapur is one of the ancient mahallas of Dhaka. This area is also quite rich in terms of cultural heritage. Here is the ancient fort of Beg Murad next to the Mill Barracks.
  ★Islampur

Islam Khan Chishti was the first Mughal subedar of Dhaka and the chief of the Mughal forces. He was the founder of Mughal Dhaka. His previous name was Sheikh Alauddin Chishti. Emperor Jahangir gave him the title 'Islam Khan'.
Islam Khan Chishti has a lot of credit for the real introduction of the city-Dhaka starting from the status of the capital. Despite this, no memorable place in Dhaka was named after him. There is only one area in old Dhaka named after him - Islampur.