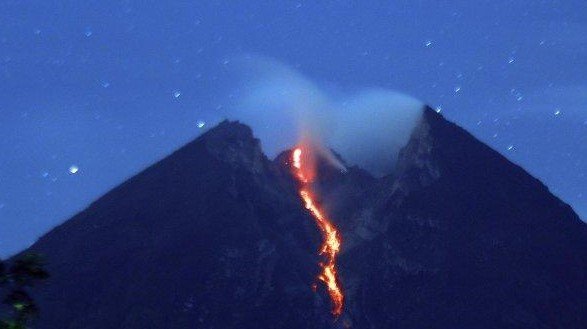 ---
WHEN staying at a hotel in Yogyakarta, not yet the plague of Covid-19 broke out, I booked a room with a view of Mount Merapi. I want to watch the sun rise and set on the peak of Merapi, which is never devoid of eruptions. Merapi also keeps a mystery, so that it is not seen as a source of disaster, but also a source of prosperity.
I assumed that a room with a window facing Merapi would be expensive as a hotel room overlooking the top of Borobudur temple. It turns out the price is the same. This is one of the tourist attractions in Yogyakarta that is cheap.
Unfortunately, that afternoon I did not get to watch the sunset because it was too late to arrive at the hotel after completing office work. Finally, tomorrow morning I wait for the sun to rise. Incidentally that morning I did not have a busy activity.
Merapi is calm right now. While watching the reddish-red sun rising from the peak of Merapi which resembles a virgin girl's breasts, I imagine the ferocity of Merapi during the last eruption in 2010 that resulted in the key guard, Mbah Maridjan, died. A number of journalists who were reporting also died of exposure to hot dust or often called wedhus gembel.
From several references, I got information that Merapi is indeed the most productive volcano in Indonesia. Reportedly, Merapi has an eruption cycle every three to five years.
Before 2010, Merapi "rampage" in 1998, 2001, 2003, and 2006. Well, that means there is a possibility that it will "cough" again in 2020. Of course you cannot expect this without analysis from a vulganologist.
Merapi is also known for a variety of mysterious stories that surround it. He is called the mountain where the jinn gather. Many victims died while around Merapi, there was no water in the hiking trail, the Kaliadem bunker not far from Merapi, and various other mystery stories.
When the sun gets brighter, the peak of Merapi is not visible at all. Perhaps, the sun has crossed at the peak of Merapi so that only visible light. However, about 10 minutes watching the sun creeping from the peak of Merapi is truly an extraordinary gift.[]
---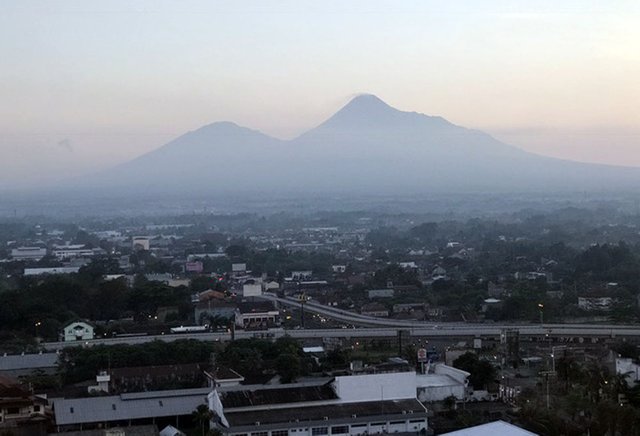 ---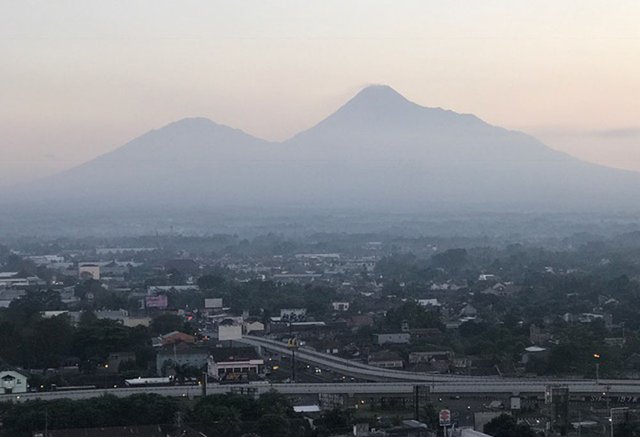 ---
Merapi yang tak pernah sepi
KETIKA menginap di sebuah hotel di Yogyakarta, belum wabah Covid-19 merebak, saya memesan kamar dengan view gunung Merapi. Saya ingin menyaksikan matahari terbit dan tenggelam di puncak Merapi yang tak pernah sepi dari letusan. Merapi juga menyimpan misteri, sehingga ia tidak sana dipandang sebagai sumber bencana, tetapi juga sumber kemakmuran.
Mulanya, saya menduga kamar dengan jendela menghadap Merapi akan mahal sebagaimana kamar hotel yang menghadap puncak candi Borobudur. Ternyata harganya sama saja. Inilah salah satu daya tarik wisata di Yogya yang murah.
Sayangnya, sore itu saya tidak sempat menyaksikan matahari tenggelam karena terlambat sampai di hotel setelah menyelesaikan tugas kantor. Akhirnya, besok pagi saya menunggu matahari terbit. Kebetulan pagi itu saya tidak memiliki kegiatan yang padat.
Merapi sedang kalem saat ini. Sambil menyaksikan matahari bersinar kemerahan yang menyembul dari puncak Merapi yang mirip payudara gadis perawan, saya membayangkan keganasan Merapi saat erupsi terakhir pada 2010 silam yang mengakibatkan penjaga kunci, Mbah Maridjan, meninggal dunia. Sejumlah jurnalis yang sedang meliput juga tewas terkena paparan debu panas atau sering disebut wedhus gembel.
Dari beberapa referensi, saya mendapatkan informasi bahwa Merapi memang gunung berapi yang paling produktif di Indonesia. Kabarnya, Merapi memiliki siklus letusan setiap tiga sampai lima tahun sekali.
Sebelum 2010, Merapi "mengamuk" pada 1998, 2001, 2003, dan 2006. Nah, berarti ada kemungkinan ia akan "batuk" lagi 2020 mendatang. Tentu saja tidak bisa memperkirakan demikian tanpa adanya analisa dari ahli vulganologi.
Merapi juga dikenal karena berbagai kisah misterius yang melingkupinya. Ia disebut sebagai gunung tempat para jin berkumpul. Banyak korban meninggal ketika berada di sekitar Merapi, tidak ada air di jalur pendakian, bungker Kaliadem yang tak jauh dari Merapi, dan berbagai kisah misteri lainnya.
Ketika matahari semakin terang, puncak Merapi tidak terlihat sama sekali. Barangkali, sinar mentari sudah melintasi di puncak Merapi sehingga yang terlihat hanya cahaya saja. Namun, sekitar 10 menit menyaksikan matahari merayap dari puncak Merapi sungguh anugerah yang luar biasa.[]
---