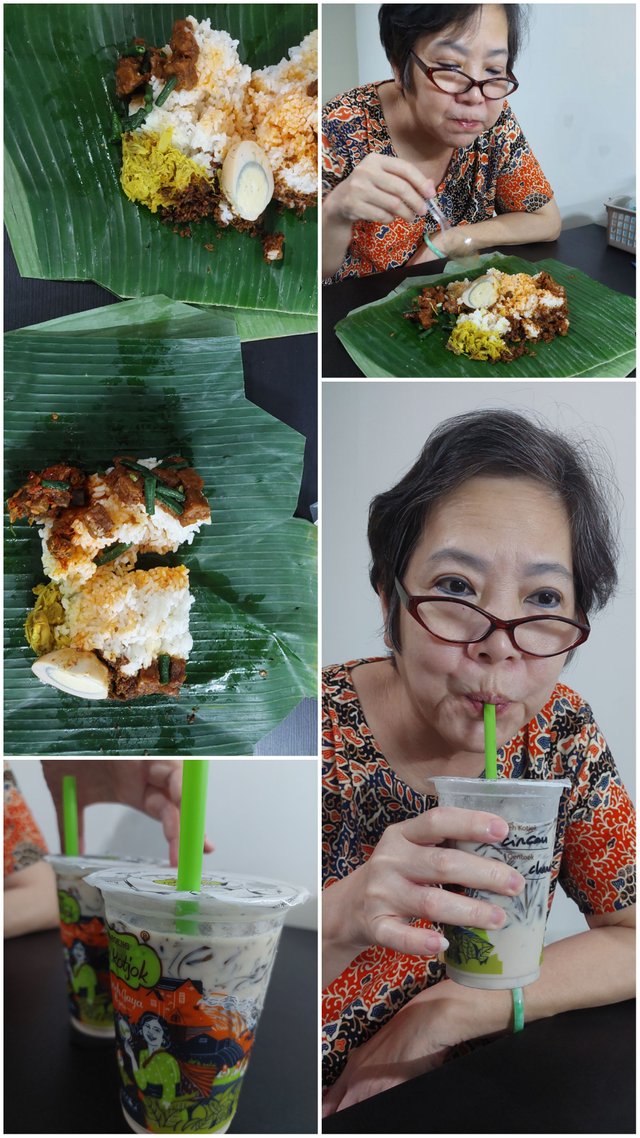 Hello, friends especially foodies!
Today i would like to share what we had for our lunch today. I missed something authentic Indonesian, sooo we ordered the food that wrapped in Banana Leaves, what called bogana rice here. Ta da, here how it looked like,
I ordered it online from a most popular bogana seller...
It contained gurih rice (cooked with coconut milk), tempeh stirred chilli with long bean, shreded curry chicken, age jerky meat, gizzard fried chilli, and pindang egg.
Thr gurih rice had savory tasty flavour. While the topping, tempeh long bean had sweet and a bit spicy flavour, age jerky meat had crunchy texture and sweet flavour, shreded curry chicken had the savory flavour, gizzard fried chilli had sweet, spicy and savory flavour, while pindang egg had light sweet flavour. Overall, it was tasty and it had quite enough portion of a dish.
And next mom asked me to order the grassjelly which was mixed with the milk tea shake.
It had sweet flavour with fresh slushed grass jelly plus ice. So it was chilling and fresh.
The price for two portions of bogana rice was 62,000 IDR after i got 30% off, so it was around 4.3 USD. While the milk tea was 34,000 IDR or around 2.35 USD for two regular glasses which were large enough for me.
So wanna try authentic Indonesian Food & Beverage too?
Business Information
Bogana milka central kitchen
150th, Tanjung duren utara 3D
West Jakarta
Open daily 7am-5pm
Waroeng Teh Kotjok
Ground Floor
Gajah mada plaza
Central Jakarta
Open daily 10am-8pm