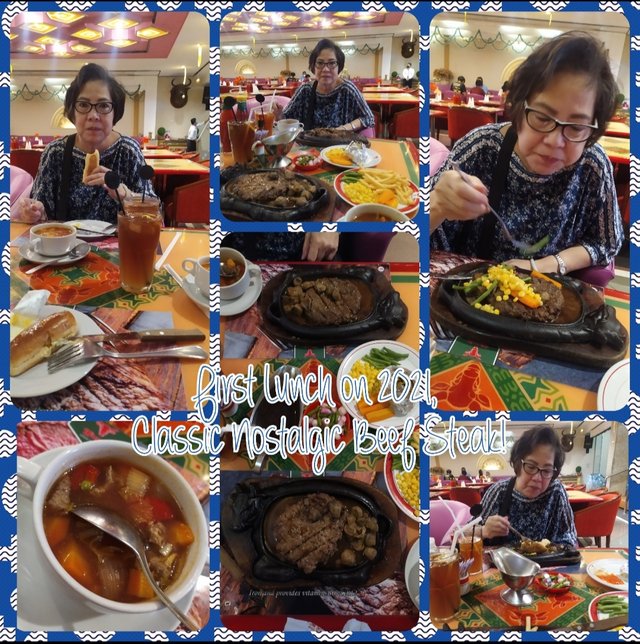 Hello, friends especially foodies!
Today i would like to share our first experience, having lunch outside for this new year. But first of all let me say happy new year 2021 for all of you! May this year, all of the better even best come to us.
Yesterday at around 11am we arrived in one of the legendary steak house in Jakarta, this time we went to their branch which was located on Hayam Wuruk Street, West Jakarta. Maybe you asked my why in the title i write down the classic nostalgic, cause this restaurant has opened since 1971 and it was really a legendary, the one you should go when you come to Jakarta.
Here how it looked like

Like usually, the restaurant was located on the 2nd floor, so we went upstair after we arrived.

They had a quite large dining area which was comfortable, clean and neat. Really a comfy place to have a dine out. Many came and came again while we had our lunch there.
Their menu

Here was a steak house their speciality was the gandy (beef) steak.
After we ordered two of the Gandy packages, a waitress came and gave us the dinner roll bread with the butter. The bread was sooo soft with the salted butter we put, totally great for an opening!

Before we had finished it, our soup came, the gandy special soup.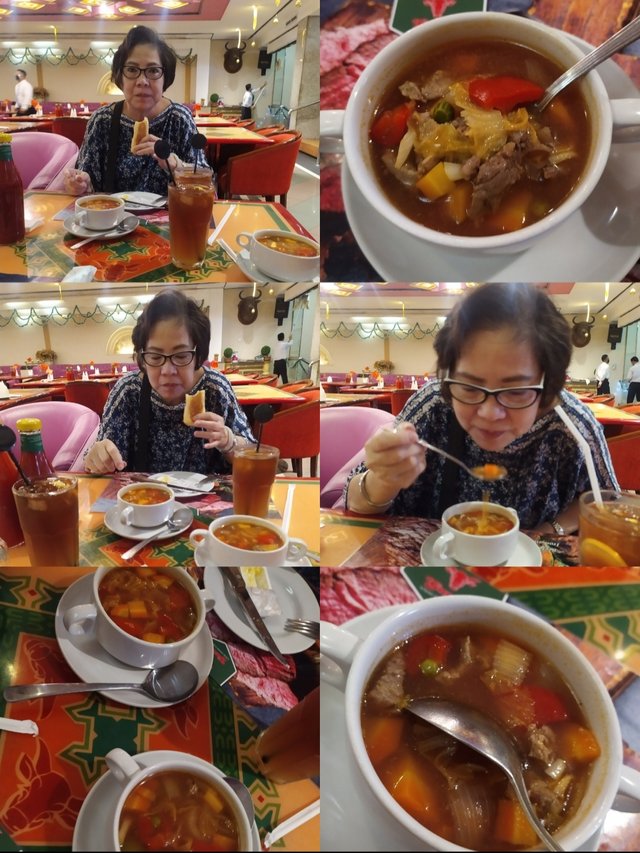 It contained vegetables, tomato and of course, beef. It had savory, sweet and sour flavour. Also delicious, but i thought that their another branch (on Menteng area) served it better.
Before we had finished it, the main dish were delivered. It was the gandy steak. The waitress put the gandy sauce on our steak.

Here was our lunch

Like usually their steak was the best. It had savory flavour, authentically beef one, cause the sauce had the beef broth and the beef was soft.

They also served it with the potato (you could choose between the baked potato or the french fries), vegetables (greenbean, carrot and corn) plus the shallot pickled (it had sweet savory and a bit spicy flavour). The beef steak here was amazing, but i prefer the one in Menteng branch too.
We also had their lemon tea, it was fresh with sweet and sour flavour.
After had finished our lunch, we asked the receipt and paid on our table with the debit card. We paid 346,500 IDR or around 24.38 USD for our lunch and also gave tip cause they had a very good service.

We took some photos with the christmas tree before we went home.

So wanna try the legendary authentic classic nostalgic beef steak here too?
Gandy
73th Hayam Wuruk street
West Jakarta
open daily 10am-9pm (but confirm first cause on some dates like yesterday, they only open until 7pm due to the government restriction)