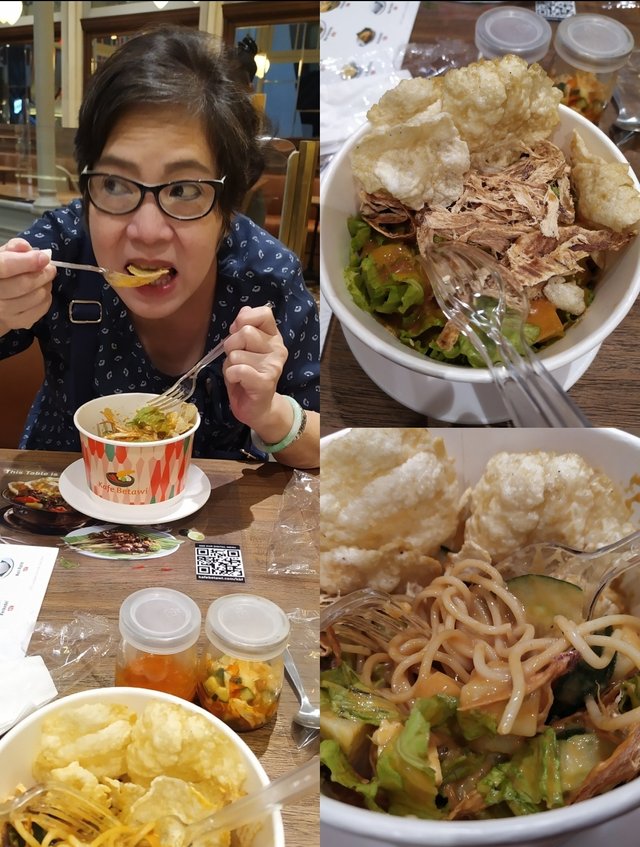 Hello, foodies!
Today i would talk about rujak juhi, a kind of salad from capital of Indonesia. Actually it is a mixture culinary from Jakarta (Betawi) - Indonesia and Chinese.
Last night, i ate rujak juhi with my mother for the dinner cause i didn't want to eat something heavy.

The Rujak Juhi contains of the fresh cut cucumber, yellow noodle, the cut fried tofu, cut boiled potato, green lettuce with the juhi (fried salted squid) and belinjo chips on top.

For the sauce, it is mainly made from peanut, and also contained palm sugar, garlic, vinegar, dried ebi, salt and chilli inside.
No wonder it is so delicious and made people addicted, it had fresh vegetables and also tasty squid with the sweet sour peanut sauce. So yummy!
If you are not in Jakarta, but want to make this rujak juhi actually it is quite simple, you only need to boil the potato, cut the lettuce and cucumber, fry the tofu, prepare the wet noodle, salted squid and also belinjo chips then make the peanut sauce.
How to make the peanut sauce? Quite easy, first you must roast the peanuts then put all the sauce ingredients that i already mentioned above in the blender. Then blend it together.
Now you could also enjoy the delicious rujak juhi at home too.