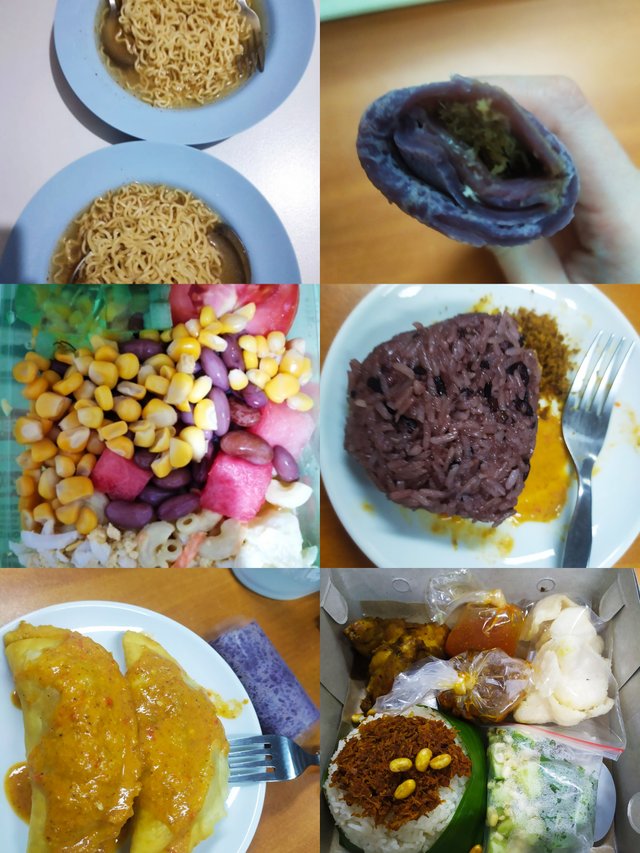 Hello, foodies!
I already made many articles that share my food experience in restaurants. But this time, i would like to share all about the taste and flavour i had in the last two days. Let's start now.
Yesterday, i only had simple dumplings and meatballs for the lunch but i forgot to take a photo of it. So just skip it and go to our dinner.
Last evening, before back home after working, i bought the salad with Mom for the take away in pizza hut at Blok M Plaza.

Here we could choose the salad ourselves on the salad bar. They now had the transparant cap for each containers in vegetables and fruits for the salad. That's great!
I chose what we liked from the salad, kind of letucce, melon, jelly, redbeans, corn, macaroni and so on.

We had it at home and really al dente, tasted so fresh and i also love their thousand island dressing. It had a complete flavour of sour, sweet and savory.
It was raining yesterday so we only had the instant noodle after the salad. Here what we had

So yummy with curly noodle and special chicken flavour, my favorite. We added the chilli powder and chilli sauce so it tasted savory, a bit sour sweet and a bit spicy. If you ever seen this brand in your country, you could try it, my most favorite brand of instant noodle.
And today, it is one of my colleague's birthday. So from morning, i got the free breakfast.

What i had were:
Pastel with spicy peanut sauce, it had savory with vegetables inside. What was special, the sauce. It tasted amazing, spicy, savory and a bit sour. So fresh and authentic Indonesian.
Also had the purple dadar gulung. The common one is the green here, so i tried the purple, made from taro. Tasted so good with coconut and red sugar inside.
I also tried the ketan item with serundeng. But i also took a bit of the peanut sauce for it. The best ketan item i ever tasted, so savory and tasty. The serundeng tasted sweet.
For the lunch i also got the box of rice with fried chicken and tofu semur.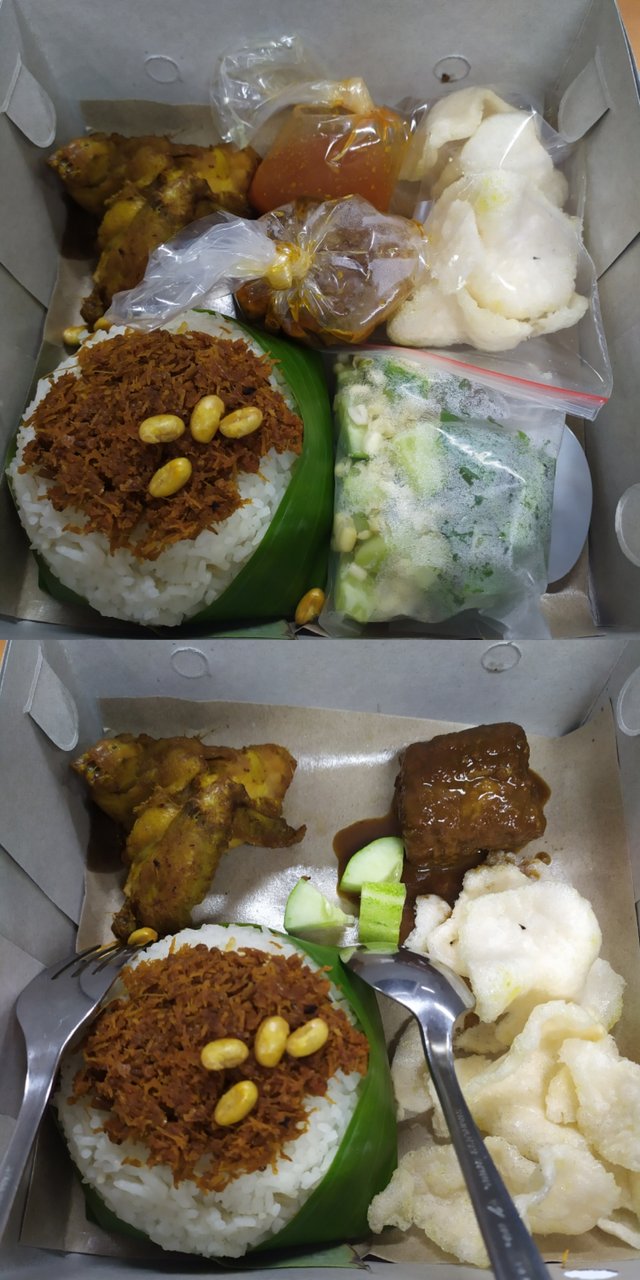 it also had serundeng from coconut on the top, but i think the serundeng i had this morning with the ketan was better. So i only loved the chicken and also fried chips here. I think the tofu was also just so so, even they cooked it traditionally. But at least this one was free too.
Ok foodies, it's enough for now, cause i would like to share complete review about tonight's dinner tomorrow, so stay tune...